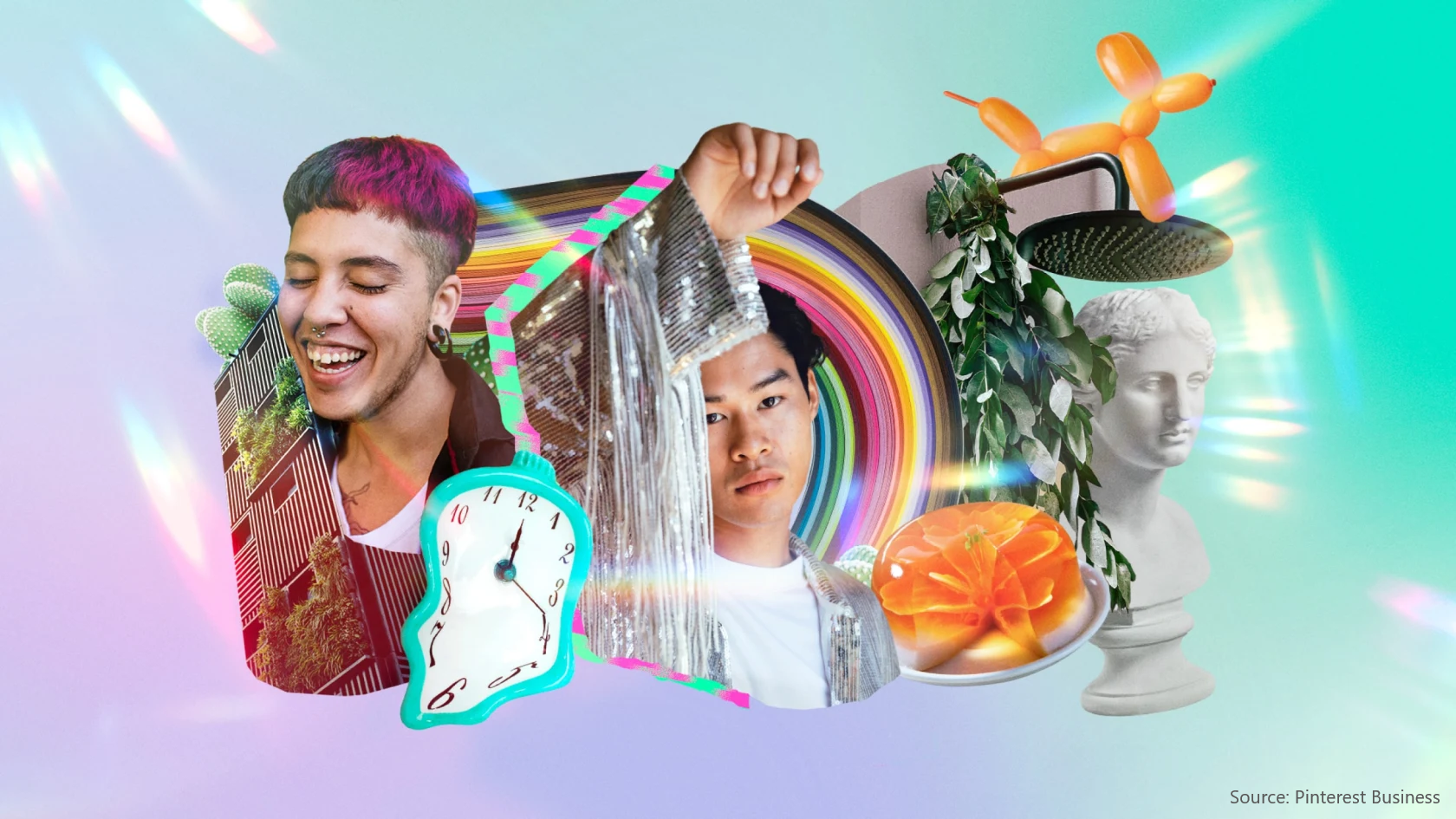 Pinterest Predict's Trends for 2023 Look Good on Paper
For the fourth year in a row, Pinterest Business has produced their "not-yet-trending" report, detailing what they believe may be the hottest new trends for 2023. For Pinterest Predicts 2023, over 500k trending search terms were analyzed and curated to make this year's list. The report's 27 trends to watch fit into categories like beauty, fashion, home and wellbeing, but they also represent stylistic approaches that can be incorporated into print design for the new year. Out of the past three years' reports, 80% of the predictions became full-on trends. Not only are these predictions likely to come to fruition, but they also tend to take off 20% faster, last 20% longer and inspire across a larger audience on Pinterest versus other platforms.
Impact on design
Across these trends, there are a few stand-out themes that span multiple audiences and categories. Trends like Gemini hair, rust married and wildflours highlight a new mixture of bright colors with natural tones, which parallels a shift toward mixing eclectic pieces with modern design in home and fashion categories. Hipstoric home search terms like "eclectic interior design vintage" and "mixing modern and antique furniture" are up by 850% and 530%, respectively. This home décor trend reaches across the Boomer Generation, Gen Xers and Zoomers, as many people are finding vintage décor as a sustainable option, choosing to honor family heirlooms and blending the things they love without abiding by someone else's style guidelines.
This lean toward a creative mix of vintage and modern styles can also be seen in the Team Jukebox's graphic design trends for 2023. If you're looking to add more character into your text, maximalist designs like expressive, "rule-breaking" typography will be popular this year, while minimal vintage style "hearkens back to a simpler time when everything was made by hand with an eye for detail." Not sure to go minimalist or maximalist? Brutalism is a mix of both, incorporating the functionality of Utilitarian Design with the rawness and bright colors of Y2K.
Putting pen to paper
Something seen across generations and lifestyles in these trends is a desire to break down barriers and feed the authentic self. Think of going back to basics while intentionally breaking tradition. This matches the oxymoronic attitudes fueling the trends in Pinterest Predicts 2023 – a dark optimism, a bright creativity with a dystopian sense of humor.
As the conversation over mental health has been normalized in recent years, many are taking digging deeper into self-improvement and self-care as a worthwhile journey toward holistic wellbeing. Trends like primal movement, now processing and good on paper place a focus on the analog side of creative expression and self-improvement. While the primal movement trend concentrates on anti-tech exercises to improve posture and combat "tech neck," now processing emphasizes alternatives to talk therapy like expressive art, art journaling and writing therapy. In fact, searches for "writing therapy" have increased by 1840% and "art journal therapy" has increased by a whopping 3755%.
Pinterest predicts both the primal movement and now processing trends will bloom in Millennial and Gen Z crowds, but there is an interesting generational audience for the good on paper trend. Paper crafts like quilling, origami, paper mâché and paper art will be a therapeutic outlet mostly for the Boomer and Zoomer Generations in 2023.
Behind the trends
If this year brings opportunities to rethink tradition or repurpose the old to mix it with the new, celebrate those moments! For print, this means it is a great year to try out a new, bold style – think bright colors mixed with neutrals, repurposed vintage and artistic representation of the mundane. You can pare down and go back to basics with a refreshing twist, or go all-in on weirdcore chic.
The gradual relaxation of restrictions in the wake of the pandemic has led to more introspection and empowerment in the midst of turbulent times. Most audiences will be looking for ways to be the main character of their stories this year as they bring moments into focus and add value to their lives in personal ways.
If your publication can provide an inclusive and freeing space where your readers feel empowered to express their creativity, that's going to look good on paper.