Kathy Cryderman, Purchasing Supervisor
Describe what you do at Walsworth.
I manage the purchasing of supplies, materials, and capital items. My mission is to get quality products, at a good value, in a timely manner.
How long have you worked at Walsworth?
34 years
What made you start working at Walsworth?
I worked here while attending college.
Do you have family who also works at Walsworth?
Yes, my husband, Brian.
What is the coolest thing you get to do at work?
Negotiate a purchase that is a win-win. It helps our customer and us at the same time.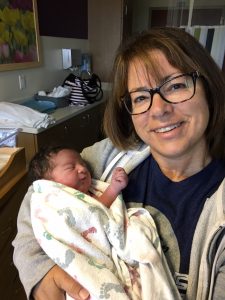 What makes you want to come to work every day?
Without a doubt the challenges. Each day there is something new to learn or a behind-the-scenes success. Whether it is a paper deadline, or a cost saving, or a paper we haven't heard of before, it is a great feeling when you are able to help make something happen to be able to meet or exceed a customer's expectation.
What would you be doing if you were not at work?
Visiting the many national parks that we are lucky to have available to us. My husband and I completed a Rim to Rim 25-mile rigorous hike across the Grand Canyon in 2018. Only 1% of those that visit the Grand Canyon will ever get to the bottom. We also hiked the Highline and Loop Trail in Glacier National Park. We met our first grizzly bear there. When we are not visiting national parks, we spend time with our new granddaughter or boating.
If you were meeting a new customer and are working on a project for them, what would you like them to know about you?
I would like our customers to know that even though the Purchasing Department does not often work directly with you, we are still working for you.
What does working at Walsworth mean to you?
Working at Walsworth has been a career path for me, not just a job. I have enjoyed the learning experiences, the people both inside and outside the company, and being able to live in a great community.
What is one piece of advice you'd give to a person who is looking for help on how to deal with our current times, with regard to your area of expertise?
Consider options. In this changing market there are always options that might improve the schedule or the price.