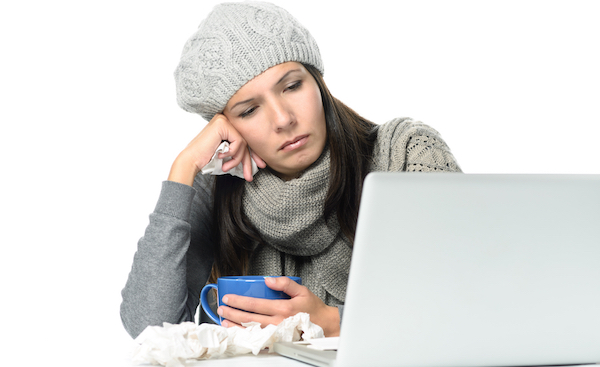 Beating the Workplace Winter Blahs
After the adrenaline rush of holiday joy (and stress!), January can be a tough month, especially if you live in a locale where most of winter is spent in below-freezing temps. It's cold, the fun is over, and spring is far away. Some people may experience depression associated with winter, but even those not so deeply affected may sometimes feel discouraged by the season.
The winter blahs can easily travel from home to office as employees traverse snow and ice on their daily commutes, sometimes without benefit of sunlight. When winter drags on, every day can feel the same: more cold, more gloom. This can negatively affect creativity and productivity.
Just as people can create ways to deal with winter in their personal lives, employers can do some things in the office that can make the winter a little more bearable for their employees.
A Winter Office Olympics combines competition and fun. Everyone chooses a few events – most of which are silly – in which to compete and watch co-workers compete in others events. Activities could be held in different stations.
Research potential events or make up your own. Some ideas include:
Wastepaper basketball, using wadded pieces of paper (if you get them from the recycle bin you can simply recycle them again).
Rubber-band shooting (length or accuracy)
Wii Sports (or similar) games such as tennis or bowling
Disk toss, tossing unwanted disks to try to get them into a box or other receptacle
Paper-clip chain, to see who can make the longest paper-clip chain in two minutes
Typing Test, which are available online, to see who can type the fastest and most accurately
Baudville, an employee recognition resource and marketer, put on games such as the desk chair sprint and ID card toss when it held an Office Olympics event for Employee Appreciation Day.
To fight the winter blues at the office, Andrew Jensen, a business efficiency, marketing and performance consultant, outlines tips for overcoming winter blues at work and suggests providing an afternoon off every other week during winter and encouraging employees to go somewhere they enjoy. Access to coupons or discounts for area coffee shops, bowling alleys, shops or other destinations could provide incentives for staff to use their extra time for something that makes them feel happy.
Jenson's tips include holding meetings in windowed rooms to take advantage of sunlight, using full-spectrum lighting, and planning stimulating new projects to coincide with the winter months. He also provides suggestions for employees to implement on their own.
Engage employee groups with a scavenger hunt in which small groups of people – say, six to 12 people – compete against other groups. For smaller companies, staff could be divided by departments.
The workers are given a list of 20-50 objects to try to find in a certain time period, perhaps 15 or 20 minutes. The list should include ordinary items, such as tape or a flashlight, that might be found in a pocket, purse, briefcase or desk; some vaguely plausible items such as an eye patch or plane ticket stub; and a few unusual items – a Star Wars figurine, collectible spoon and almond bark are just a few ideas. Insist employees stay in their own areas for the competition.
This game can generate considerable excitement as members of each group ferret out their items and cross them off the list. When time is up, gather up the lists and see who won. This is a casual game, so go by the honor system.
Give a prize to the winning team that can be shared. A few ideas:
A silly stuffed toy for each player, suitable for a desk.
A small, portable game (Phase 10, Scrabble Slam and the travel version of Apples to Apples are three ideas) for each player
A day off to be taken within the next 30 days
Gift cards to area establishments or online retailers (these could be clients)
Small baskets with fruit, nuts and candy
A scavenger hunt like this could become an office tradition as people look forward to the potential of besting their co-workers. And a not-so-obvious benefit is that this type of game encourages teamwork and combining resources.
Creating hospitable and enjoyable conditions helps keep up staff morale and boosts employee retention any time of the year. In the winter, paying special attention to this area helps cut through the winter blahs, giving your employees a chance to thrive, both personally and professionally.