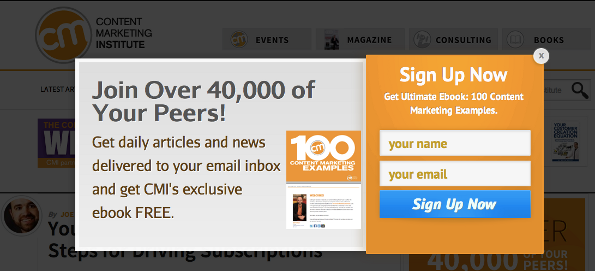 5 Steps to Creating an Email Opt-in Form that Drives Results
Before you can send out your savvy, helpful or otherwise engaging emails, you need to have someone to send them to. One of the most effective ways to gather up potential prospects is with an email opt-in form.
The form gives people the choice of signing up for your emails or not, a move that automatically helps build trust and lets them know you don't use unsavory tactics to collect addresses.
These five steps can help you create an opt-in form that drives results, based on tips from Copyblogger and Kissmetrics.
1. Decide who you want on your list.
Figuring out your target audience for your opt-in form helps you determine the tone, style and message you'll use to attract those targets. Are you looking to reach the well-educated, sophisticated crowd? A younger set of digital gurus? Create your message in a language and style that resonates with your target audience.
2. Keep your main goal in mind.
The overall aim of your opt-in form and page is to have people sign up for your mailing list. Make sure you retain that focus with every element and word. Don't distract people with links that send them scurrying elsewhere or an overlaod of information that make people forget why they landed on your opt-in form in the first place.
3. Include the must-have elements.
In addition to the opt-in form where people enter and submit their information, every opt-in page needs a headline and a rundown on benefits.
Headline, giving you an instant way to nab attention
Benefits, providing a rundown on the positive things that come with signing up for your emailing list
4. Include a call to action.
A call to action is another must-have element, one important enough to merit its own entry on the five-step list. Calls to action specifically tell people what you want them to do, and in this case you want them to sign up for your emailing list.
Kissmetrics advises turning the call to action into what it calls a "give the payoff." Instead of telling people what you want them to do for you, switch the focus to what you will do for them if they take the desired action.
Here's where your benefits can come in, perhaps even with an immediate benefit in the form of an incentive for joining your emailing list. Maybe you email them a discount coupon or a free digital magazine. Perhaps they'll receive instant access to your app.
Switching a call to action into a give the payoff can be as easy as switching the wording on a button. Instead of a button that proclaims "Submit," for example, the button that sends in their information might say something like "Send Me the Magazine" or "Sign Me Up."
5. Keep it short. Very short.
You don't need someone's life history, or even his or her name, to get them on your emailing list. All you need is their email address. Keeping your opt-in page down to a single form field that asks only for their email address is a proven way drive results.
The general rule says the more information you ask for, the less likely it is for someone to sign up. You can always gather additional information later as you engage and build your relationship with your new email list member who may one day become a loyal customer.