Meet Katelyn Johnson: Turning School's Yearbook Dreams into Reality at Walsworth
We will be featuring the Employee Spotlight series on our websites to celebrate our amazing employees and give you a chance to get to know them better.
Katelyn Johnson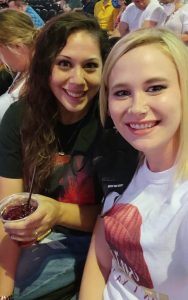 Creative Services Department – Brookfield, Missouri
At Walsworth, I work with hundreds of sales reps and schools all over the United States annually to design yearbook covers. I work virtually and in-person to develop ideas into long lasting works of art. I also set up all my yearbook files to get ready for the printing press. Communication is key in this role.
If I was to describe my position to a friend, I would say I take a school's ideas no matter how big or small and design until their dreams become a reality.
I have worked at Walsworth for three years and previously worked at an advertising agency for three years, where we interacted daily with the printing industry.
Family brought me to the area. I chose the position at Walsworth due to the amount of creative freedom I would get to have.
The coolest thing I get to do at work is seeing clients get so excited about their yearbook and class once we finalize their design idea. I love to see the pure joy of how their design came to life. Not only does the design come to life but so does the passion of the students.
Not being a morning person, my coffee mug says, "Coffee then Conquer." Caffeine makes everything better.
What makes me come to work every day is my family, co-workers and the amount of creative liberty I have in my position. I love to see what design idea the schools have for me to work with every day.
One fun fact about me is I love a good conspiracy theory! Aliens: COOL. JFK? Let's talk. Intellectual debates and discussion are fun for me.
My family, pets included, are my everything. They are my reason! I have a partner, Richard, and my eight-year-old son, Brexton, who's my mini me. I have an almost 30-pound cat, Gandalf, and my zoomie-loving couch-potato dog, Piper.
Some of my favorite hobbies, interests and activities outside of the workplace are drawing and painting, history and true crime documentaries, live music, and cleaning and organizing my house (yes, I know I'm a weirdo for the last one).
I feel Walsworth has helped me refine my graphic design skills, and all of my wonderful co-workers teach me something new every day. I feel my Photoshop skills in particular have advanced tremendously just in my three years working here.
I give back to the community by attending community functions as well as shopping local.
One of my favorite memories working at Walsworth would be the amount of love shown to me when I was hospitalized. My co-workers in the Brookfield plant took time out of their day to send me cards to the hospital. I remember not being able to have any visitors and seeing the stack of cards that came to my hospital room. It was a great feeling to see all of the support.