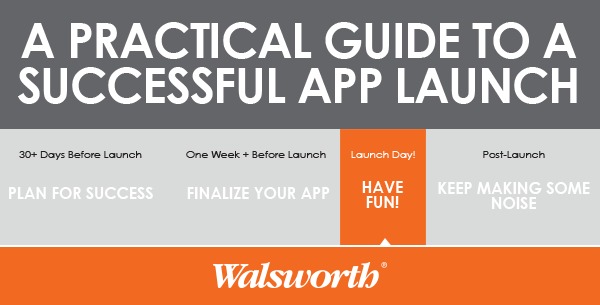 How to Launch a Successful App | Part Three – Have Fun
The day you launch your app is officially party time, and your overall goal is to enjoy every moment of it.
Having fun is the third topic in our four-part series that outlines Walsworth's exclusive "A Practical Guide to a Successful App Launch: 20 Helpful Tips."
Having fun comes from watching all your hard work and preparation come together for the real-time launch of your brand new app. It also comes from a few launch-day tasks that ensure you make the most of this long-awaited day.
Launch Day Duties
Keep track of your launch-day duties by making a to-do list or chart that outlines your tasks and lets you check them off when they're done. Entries include:
Press release: It's already written and ready to go. Now is the time to send it along to your selected distribution channels.
Email: The copy has been tested, revised and perfected. Just click to send it to selected members on your email list.
Social media: Kick off the social media campaigns you previously set up, keeping all your channels hopping with a series of announcements throughout the day.
Your blog: Publish your first blog in the series you wrote about your app, ensuring it clearly states the app has launched and is available for download today.
Other blogs: Alert bloggers who reviewed your app that it's time to publish their posts. Feel free to reach out to other bloggers with your social media and email campaigns on launch day, asking if they, too, would like to get in on all the fun.
Added Bonuses
In addition to the news of your app actually launching, you can mention a number of other juicy tidbits in your app announcements. Generate even more interest and attention by including:
A link to the app's landing page on your website
Promotion of special in-app advertiser deals
Teasers of all the extra content and features in the app
A link to or mention of your app giveaway
Keep up the steady stream of fanfare all day long, continuously engaging your audience while enticing them to give your app a whirl. Then sit back and briefly relax, but be ready to gear up for the final stage of your launch that starts the very next day.