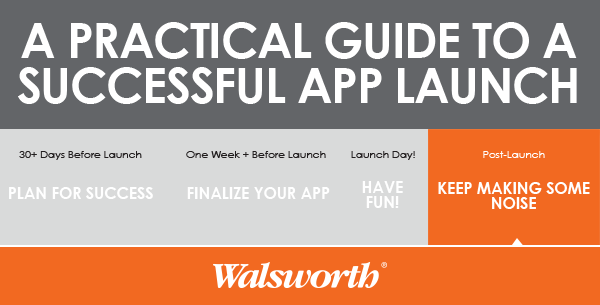 How to Launch a Successful App | Keep Making Some Noise
Once your new app is launched successfully, you still have the perpetual job of keeping downloads and attention going strong. How to keep making some noise is the final topic in our four-part series that outlines Walsworth's exclusive "A Practical Guide to a Successful App Launch: 20 Helpful Tips."
Continuing up the noise helps keep your app in the spotlight instead of relegated to yesterday's news. You need to tell the world your app remains relevant, exciting and a must-have for savvy readers looking for compelling content and delicious deals.
Double Dose of Strategies
Two main strategies give your app an ongoing boost. One is pay-per-click advertising, or PPC. The other is continued promotion and engagement with your website, social media and app download crowd.
PPC ads: Pay-per-click advertising comes in many flavors, with two of the most effective as Google Adwords and Facebook ads. PPC ads drive targeted visitors to your website or app landing page where they can download your app and join its growing crowd of admirers.
Ads are placed on websites, social media sites and search engines, and they come with options that let you:
Determine your targeted audience and most relevant keywords
Pay only if someone clicks on your ad
Control how much spend for a set duration
Create testing variants to pinpoint best-performing ads
Modify ads in real-time
Continued promotion and engagement: Your blog and social media activity should continue to encourage people to check out your new app. Post daily on your social media channels, balancing your posts with valuable info and mention of your app. Blog about your new app's benefits, its reception and what readers love most about it.
Encourage involvement from people who already downloaded your app by sending them a survey and asking for feedback. Use testimonials as blog fodder to prompt even more downloads from new readers and subscribers.
Marketing and promoting your new app is not a sprint. It's a marathon. Your business is continuously attracting new fans, and you want them all to know about your hot new app. Achieve that with a long-term strategy to keep the momentum going and the app downloads coming.