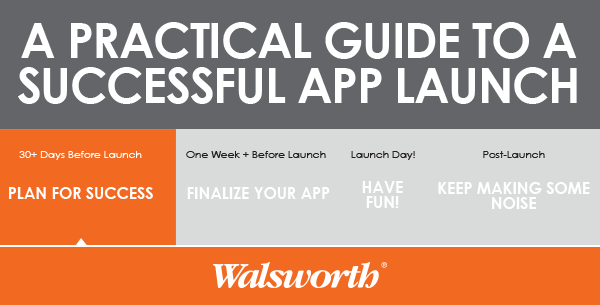 How to Launch a Successful App | Part One – Plan for Success
Successful apps don't happen by accident. Those that nab the hottest attention are carefully planned and strategically launched following a proven formula for success. And you can dive into that formula with Walsworth's exclusive "A Practical Guide to a Successful App Launch: 20 Helpful Tips."
Planning for success is the first topic in our four-part series that outlines how to launch a successful app. But before you even get to the planning stage, you may be wondering why you'd want to create an app for your publication in the first place.
Creating an iPad app or an android app comes with a slew of benefits that include:
Easy, 24/7 access to your publication on numerous devices
Real-time content updates
Increased reader engagement with richer, interactive content
Broadening your audience
Growth in revenue with subscriptions, app ads and in-app sales
Detailed analytics that showcase what's working and what's not.
The chance to have Walsworth act as your app creator, doing all the heavy lifting for you
So How to Begin
Planning for your app should start 30 days or more prior to its actual launch, and your foremost priority is to set goals for your app. Knowing what you want it to achieve allows you to specifically measure results.
Writing up a compelling description comes next, keeping a keen eye on keywords that play a huge role in its discoverability. Review the latest guidelines for App Store Optimization (ASO) and take your time with the write-up. Also allow time for the description's submission and approval process.
Your next mission is to generate as much pre-launch buzz as possible. Offer a free test-drive of content samples with the initial app download. Include plenty of teasers about your upcoming app in your print publication. Find bloggers to review your app and advertisers to jump on board with the lure of in-app links to their products and sites.
Then sit down with your creative team to identify any and all ways you can snag more app attention and make it more compelling and creative. If you're using your print publication as the foundation, go through and pinpoint items that could become interactive, animated and otherwise captivate the reader.