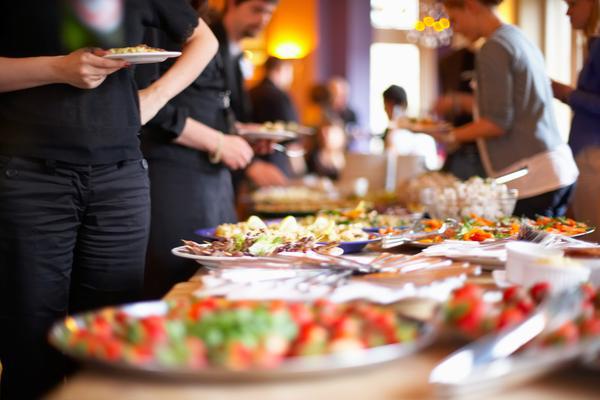 Ten Best Potluck Dishes for Office Parties
'Tis the season when informal office parties abound. It's always nice to have time to relax and spend a few minutes chatting with co-workers about non-business topics, especially if it can be done over a plate of good food. Many organizations ask employees to bring potluck dishes for an informal party before the holiday break, but people don't always know what to bring.
Dishes for the office party should be easy to make ahead of time, easy to transport during your commute and easy to store when you arrive, because there may be a shortage of refrigerator or counter space.
They should also be easy to eat because people may be standing and mingling rather than sitting down to enjoy the food. Here are 10 ideas for holiday party food that meet those requirements and that feel like party food.
Meatballs
Almost everybody loves meatballs. They are easy to make, and if you bring them to work in a crockpot or slow cooker, they will stay fresh and delicious until party time. If you choose meatballs, don't forget plenty of napkins and toothpicks. You might also choose similar slow-cooker dishes such as stews, or side dishes such as homemade baked beans or rice.
Pasta salad
Pasta salad is hearty enough to be a main dish on its own and it makes a great side dish, too. Make the salad attractive to the eye as well as the palate by using multicolored or unusually shaped pasta. Add veggies such as chopped tomatoes, broccoli or pepper for color and crunch and your salad will be as beautiful as the pictures in a lifestyle magazine.
Salsa and chips
What could be easier than opening a jar of salsa and a bag of chips? It's also easy to make homemade salsa if you're feeling adventurous, but either way, people often gather around the salsa bowl, making it a great party food for breaking the ice.
Cookies
Holiday cookies are a tradition in many cultures and families. If you choose to bake or decorate cookies yourself, you'll have stories to tell about the role they play in your family life, but even store-bought cookies are fun and make a delicious dessert.
Salad
With so many parties and so much rich food around the holidays, a fresh, crisp salad makes a welcome addition. Fill your salad with colorful veggies cut into bite-size chunks. It's best not to put the dressing on the salad until just before the party starts to avoid accidents during transport and to keep the salad from wilting.
Cold cuts
A platter of cold cuts is welcome at most parties. Ask at the deli counter how much to buy per person so you get the right size. Deli platters are easy to carry and set up and many delis do a nice job of making the platters look festive.
Cheese and crackers
Cheese and crackers are rich and delicious enough to qualify as party food, and they are easy to carry, store and eat. You can have a few different kinds of cheeses and some gourmet crackers on the platter if you feel like it, but there's nothing wrong with supermarket cheese and everyday crackers either.
Sheet cake
What's an office party without a cake? You can pick one up at a local bakery or supermarket and you have an ideal party dessert.
Lasagna
Warm and cheesy, lasagna is filling and delicious. You can make it yourself or buy it from a deli. You will need to have a place to reheat it if you choose lasagna as your party potluck dish, but that is the only downside to this much-loved main course.
Veggie platter
Finger foods are always a good choice for party food. Couple a variety fresh veggies with an interesting dip to make it party-appropriate. The dieters in the office will thank you for your consideration.
If this list doesn't get you in the holiday party mood, you can flip through some lifestyle publications for more ideas.