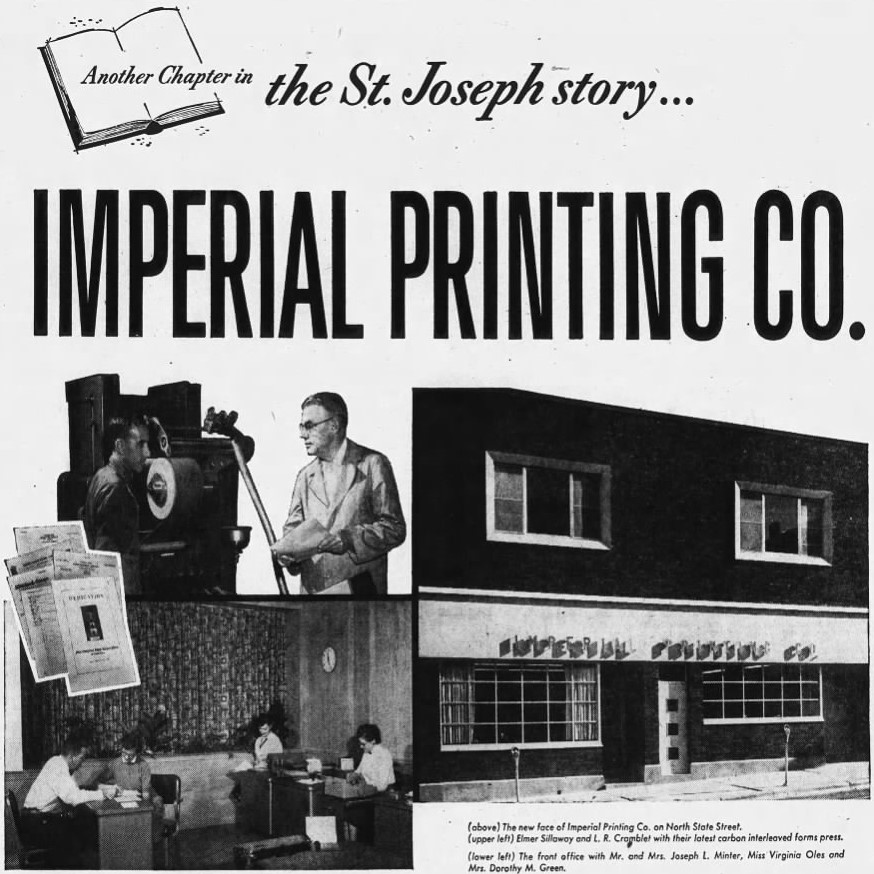 The History of Walsworth's Print Operation in Saint Joseph, Michigan
"'I will endeavor to build a business with quality as a basic principle – quality of printing that bears distinction.'
-Ross G. Smith, founder of Imperial Printing Company, Saint Joseph Daily Press, 1914
Our Walsworth – Saint Joseph facility is the primary print facility for short- to medium-run magazines and journals and is an important part of the entire enterprise to meet our customers' needs for magazines, catalogs and books.
While the company has looked different over the years, the employees and leadership have maintained a steadfast commitment to supporting the Saint Joseph community. Located on the shore of Lake Michigan at the mouth of the Saint Joseph River, the shipping hub of Saint Joseph, Michigan, was incorporated as a city in 1891 as a vital point of travel and commerce. The first printing presses in the area were brought to Saint Joseph a few decades earlier and were used to print the Saint Joseph Herald Press, one of the first newspapers in the city. Imperial Printing Company, later known as IPC Print Services, was acquired by Walsworth in 2010 and became Walsworth – Saint Joseph.
Rapid Growth from the Start 
The original iteration of what is now Walsworth – Saint Joseph dates back to 1914. In that year, Ross G. Smith and his wife, Maude Smith, purchased a small, second-floor office above a shoe store and founded Imperial Printing Company at 212 State Street in Saint Joseph, Michigan.
The Smiths' modest operation experienced rapid growth from the beginning and business continually increased alongside their partnerships with local companies and industrial plants. The limited size of his first shop, coupled with the fact that heavier presses could not be operated on the second floor of the building, made it necessary for them to find larger quarters. They soon moved into a larger building at 109 State Street to accommodate for increasing business.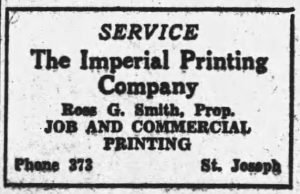 Through the following decades, the Smiths periodically added equipment and Imperial Printing Company grew from a small shop with a few cases of type and a small press to become one of the most respected facilities in southwestern Michigan. When he was able, Ross would purchase second-hand presses from other companies, including purchasing the equipment from the Saint Joseph Herald Press in 1923.
When Imperial Printing Company expanded at its State Street location in 1927, Ross wrote of three primary considerations in printing in his announcement to the Saint Joseph Daily Press.
"They are (1) facilities to do good work; (2) a proper evaluation of promptness; [and] (3) creative foresight… It is the printer's business to know how the story should be told, how it should be illustrated and how that message should be conveyed to the public. Unless the printer is able to present that fact to the buyer, his organization becomes merely a machine without either a progressive or creative instinct." This new addition in the back of the building doubled capacity, allowing space for operation of five presses.
Through their work as owners and operators of Imperial Printing Company, the Smiths prioritized providing personal attention to every job and learning the needs of the customer so customers could buy with confidence. When possible, they accumulated a substantial amount of different stocks of paper in service of customers needing rushed orders.
Passing the Baton 
After 35 years of developing one of the leading businesses of its kind in Michigan, the Smiths retired in 1949 and sold Imperial Printing Company to Chicago businessman L. Riddell Cramblet. As the new president of Imperial Printing Company, Cramblet promised to provide the same quality of work and service to the community without any changes in the name or personnel. Cramblet's experience in the field of graphic arts, large circle of friends and strong desire to be an active participant in Saint Joseph's progress made him a fixture of the community.
After 16 years of stable growth, the printing operation moved from the multi-level building on State Street to a new construction on Colonial Drive. While smaller presses were carried through the streets by forklifts, larger presses were unable to fit through the doors to move to the new location. For this feat, workers used a wrecking ball to break through the wall of the building and extract equipment through the newly made opening. Overall, this move involved 12 machines weighing a total of 250,000 pounds.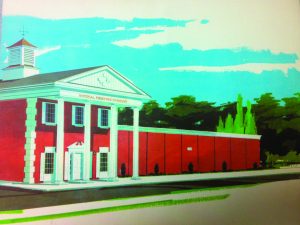 This new location allowed for more efficient production from makeup tables to presses to bindery and loading ramps. The production floor did not have windows but included a climate control system to regulate temperature, humidity and dust levels – a new trend for businesses in 1965. Atmospheric control is essential for four-color printing, and Cramblet's foresight during construction differentiated Imperial Printing Company from competitors as they were able to provide printed products at a consistently higher quality. As a charter member of the Saint Joseph Improvement Association, this $250,000 expansion was Cramblet's largest contribution to the renewal project in downtown Saint Joseph.
The Cramblet Family's Continued Commitment
The Cramblet family's commitment to Saint Joseph continued with Jeanne (Cramblet) Dwan, L. R. Cramblet's daughter. Dwan began her career as a partner at Imperial Printing Company with her father. She worked her way up from secretary to vice president and eventually became the company's president and owner. Dwan's accomplishments went beyond her successes at Imperial Printing Company, as her diligent investment in the Saint Joseph community showed the heart of her actions as a local business owner. She served as a member of the advisory board for Western Michigan University-Michigan State University and was named one of the Women of the Year by Lake Michigan College in 1975 for her outstanding contributions to the business community of Saint Joseph. She was the first woman to be elected to the Board of Twin Cities Area Chamber of Commerce as Vice President for Industrial and Business Resources, and she served as a division chief chairperson on the Blossomland United Way board of directors.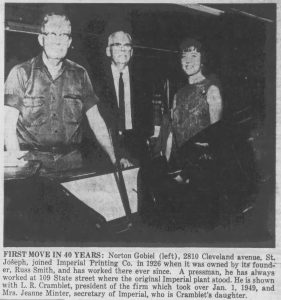 After receiving an honorary degree from Lake Michigan College, she inspired the graduates of the class of 1977 in a commencement speech, advising them to value work as well as pleasure, become involved in political and social activities in the community, and never let their education stop.
"'I challenge you,' Mrs. Dwan said, 'to roll up your sleeves, go to work in an organization or a group whose goal is to change or improve an existing situation. You have no right to sit on the sidelines and Monday morning quarterback. Be involved in your community. Be informed about the course of our great nation.' She closed by saying, 'Don't let your education ever stop! Keep stretching your mind – keep studying… I wish you meaningful personal relationships, I ask you to be involved, and I beg you to keep learning!'"
Exponential Growth Creates New Job Opportunities
After a few more prosperous years, Dwan retired from Imperial Printing Company and the company was purchased by Greg Forbes. As owner and president, Forbes greatly increased the plant's capacity and capabilities. He was also active in the community as a coach in various youth programs and served as a cabinet appointee of the Blossomland United Way in which he directed campaigns conducted among employees of many local businesses.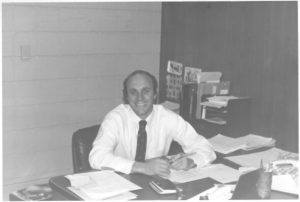 In 1985, Imperial Printing Company significantly expanded its bindery operation. Spearheaded by Forbes, this was an integral development for the company's growth and success. The new plant was located in Lincoln Township on Maiden Lane, and it created over 60 jobs within the first few years. Our Walsworth – Saint Joseph printing and bindery operation remains on Maiden Lane today. Under Forbes' authority, the company grew exponentially. Within a decade, Imperial Printing Company expanded from a $1 million operation with 32 employees to a $50 million operation employing over 500 people.
Diving into New Markets
In response to such rapid success, Forbes looked into new and expanding markets. In addition to books and magazines, Imperial Printing Company began to incorporate a more diverse range of products. The company pursued new opportunities by purchasing a division of Polaroid (Polaroid MDS) in 1991, as well as two California production plants. By this time, half of the company's business involved printing and fulfillment for technological products such as documentation manuals, floppy disks and tape duplication for computer industries.
In 1992, the company was sold to an employee-owned conglomerate named Journal Communications Inc. of Milwaukee. Journal Communications also owned newspapers, television and radio stations among other businesses. Greg Forbes, who remained president of Imperial Printing Company, also joined the board at Journal Communications as an employee-owner. Through this acquisition, Imperial Printing Company became IPC, a subsidiary of Journal Communications. Soon, the addition of a nearby fulfillment plant on Hawthorne Avenue in 1993 helped to create additional value for customers and still functions as the fulfillment center for Walsworth — Saint Joseph today.
The purchase made sense for all involved, and hopes were high for both Journal Communications and IPC. Forbes believed this new partnership would double annual sales over a five-year period, and Journal Communications Vice President Bob Dye expected growth in the niche markets IPC's products served.
Unfortunately, the anticipated additional business did not materialize in the software side of the business. IPC experienced financial setbacks which resulted in layoffs at each IPC location in 1996. Although the layoffs came as a surprise, the company made sure that everyone who left got a minimum of two weeks' severance pay, and they also hired an outplacement firm to help people find new jobs. Doug Hosking, general manager of IPC's western division, became the new president of IPC after Forbes decided to step down.
Focusing in to Stand Out
In the following years, the company changed its name to IPC Print Services and shifted its focus away from technical manuals and software duplication. Going back to their roots, IPC directed the business toward magazines, catalogs, soft-cover books, special-interest magazines and journals.
In 2010, Walsworth acquired IPC Print Services from Journal Communications. Walsworth admired IPC's rich history, mailing and fulfillment capabilities, strong management structure and outstanding customer service. These factors, alongside IPC's reputation for quality and excellence, were evident to Walsworth and played a significant role in the company's acquisition.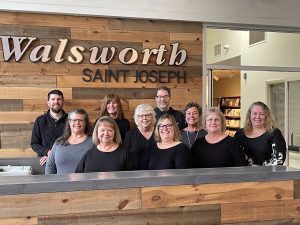 Today, Walsworth continues to invest in the future of the printing, binding and fulfillment operation at Walsworth – Saint Joseph. Following the acquisition, their software was upgraded to a new suite of programming systems called Monarch. This all-in-one platform transformation makes it easier for different departments, as well as other Walsworth plant locations, to work together in a unified structure.
Over the past decade, Walsworth has also invested heavily in the Saint Joseph plant to increase speed and efficiency, improve paper yield and reduce waste, while maintaining Walsworth's high standards for product quality. "For Walsworth, every addition and upgrade shows our commitment to serving our customers and modernizing our plant to deliver the highest quality product," said Phil Archer, General Manager of Walsworth – Saint Joseph.
These improvements include a Heidelberg Press, two automated Sunday2000 Presses, several Saddle Stitchers and an addition of over 20,000 square feet to meet our growing demand for fulfillment and distribution services. A new Perfect Binder coming this year, integrated with state-of-the-art automation, will soon join the bindery as well. Walsworth also continues to invest heavily in all inline and offline mailing capabilities through each equipment upgrade.
"We are truly lucky to have family-focused, community-oriented companies like Walsworth investing in and giving back to our area. Their generous nature is informed by an eighty-plus year perspective that family should always be at the heart of business and is evident in how they care for their employees, treat their customers, and give back to their communities," said the Southwest Michigan Regional Chamber.
As a family-owned printing company, Walsworth values the history of our Saint Joseph printing and fulfillment operation and the depth of community commitment showcased by the Smith, Cramblet and Forbes families.