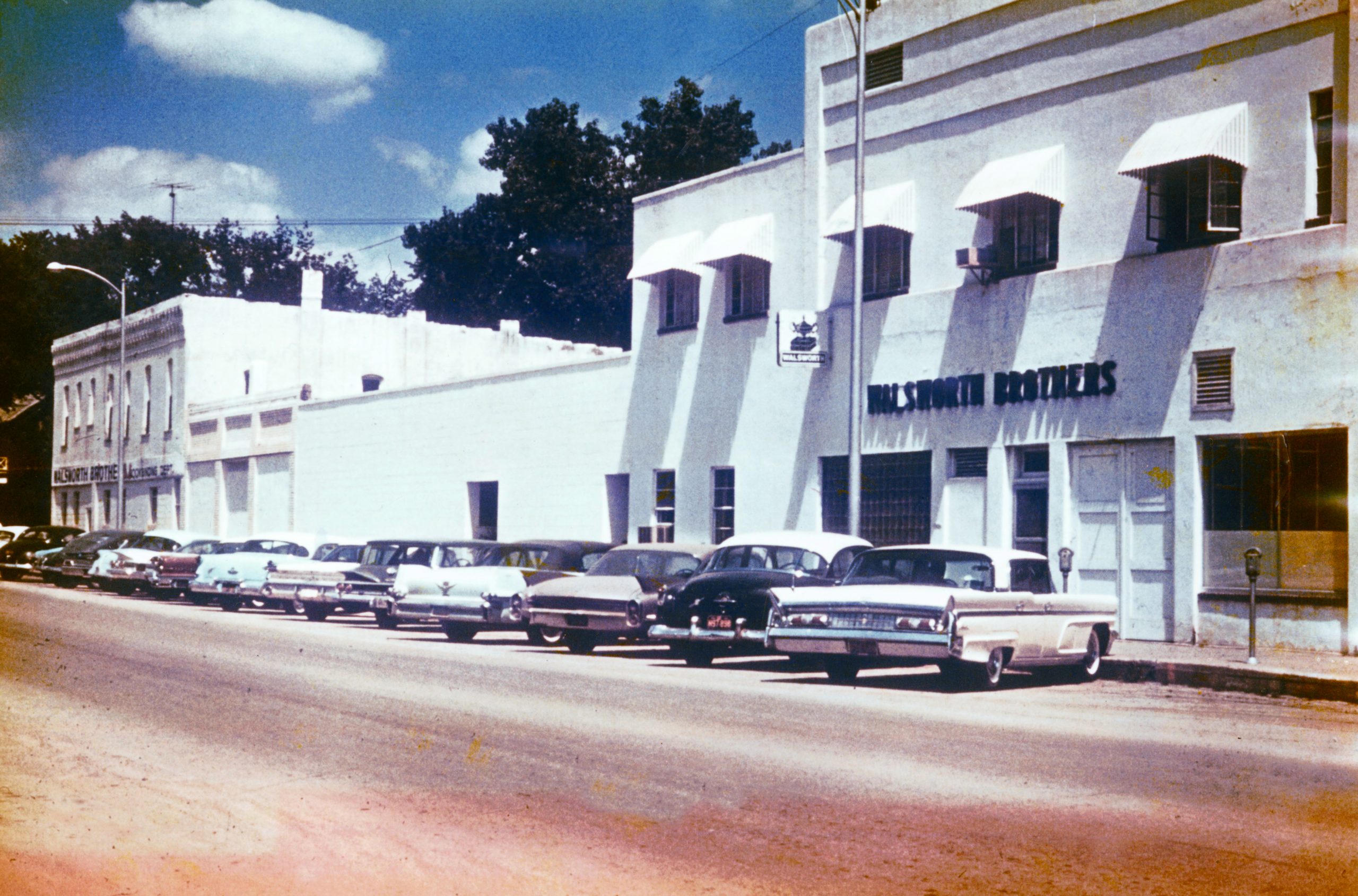 Walsworth: A Story of Vision, Values and Commitment
On January 16 of 1937, Walsworth Brothers Printing Company opened its doors to the town of Marceline, Missouri. As a company, Walsworth would adapt its products and processes, acquire new facilities to account for growth, and survive market crashes and wartimes alike. The origin of Walsworth, however, is a testament to commitment and community. What began as a love story between Don Walsworth and Joy Kendrick became a love story between the couple and their budding community of Marceline.
Hello, Prosperity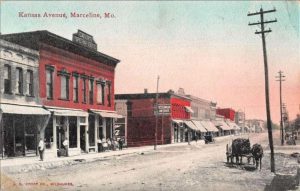 As the Great Depression took hold of small, midwestern communities like Marceline, many down-and-out residents hopped on the Santa Fe railroad line to escape West in hopes of a greener future. With no thought of leaving home, newlyweds Don and Joy Walsworth asked themselves what they could do to enliven their community. Joy worked at the local Cater's Opera House as a dance teacher and choreographer for local plays, and Don was an entrepreneur with a passion to provide the color of hope during a gray time.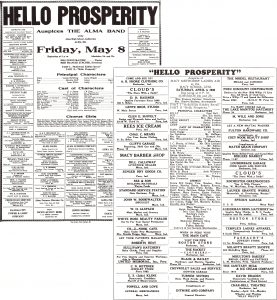 By April of 1932, the Walsworths had created a business opportunity that would benefit local businesses, schools, families and youth at once. Don approached superintendents of local schools and told them he could bring in a play director, sell advertisements and have playbills printed with no upfront cost to the school. The plays selected by Don and Joy, Here to Hollywood and Hello Prosperity, served as sources of optimism and entertainment in stark contrast to the midwestern communities still recovering from the Great Depression. Don was the booking agent, and Joy directed and choreographed the plays. As the business grew and Joy decided to stay home with a young Don O. Walsworth, one of Joy's dance students, Frances Zurcher, became the play directress, and Mildred Pamperl was hired as their first advertising sales representative.
Once a school agreed to put on a play, Frances and Mildred would take a group of students around town to help sell advertisements. As Frances rehearsed the play with the cast, Mildred would organize the copy for the ads and take the material to a local print shop to print the playbills. Since the local printer would often be a newspaper, giving the newspaper owner business assured good press for the play. The night of the play, Don would deduct all expenses from advertisement and ticket sales and split the profits evenly between the school and his team. The plays provided after-school activities for youth, brought families together and brought in money for local schools as well as foot traffic for local businesses.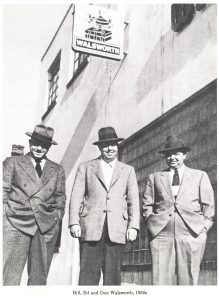 Help Arrives
As the company grew, Don realized it would be more advantageous to print playbills on his own equipment rather than finding a willing printer in each town in which they produced plays. More importantly, Don realized he and Joy would be unable to maintain the growth and expand to more schools and communities without help. In 1936, help arrived in the form of Don's brothers, Ed and Bill Walsworth, excited and ready to promote and grow the Walsworth vision. Although printing playbills outside of newspaper printers would cause them to lose free press for plays, Don knew this was his opportunity to bring business into Marceline.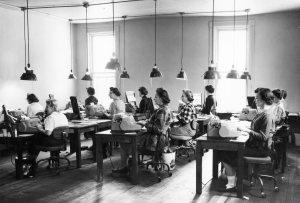 With a borrowed typewriter and a weekly payment on a Gestetner mimeograph machine, Walsworth Brothers Printing Company was born in the beginning of 1937 in Cater's Hall at the corner of Kansas Avenue and West Howell Street. Louise Freeman started her forty-year career as office manager. As more and more plays were booked, the Walsworths purchased more typewriters and Louise hired more staff to type stencils and run the Gestetner to produce playbills. Without ribbons for typewriters, each green stencil had to be typed manually. The metal letters pierced through the stencil, allowing ink to flow through it and print on paper. If a typist made a mistake typing, she had to take a black fixer, paint over the mistake, wait until the fixer dried, and then retype over the error.
The Great Depression began to weaken as America looked forward to the improving economy leading into the 1940s. Don Walsworth's plan to expand the market for then-named Walsworth Brothers Offset Printing Company included a trip to New York City, where the citizens of the world were invited to view "The World of Tomorrow" at the 1939 World's Fair.
Don planned a booking and ad campaign wherein the Walsworth sales team would work their way across the country from Missouri to New York and back. The bookers stayed two or three days ahead of the ad sellers, and the two groups would meet on the weekends to tally sales, relax, and organize for the next week.
The group reached New York City in the fall of 1939 flush with success. Don treated everyone to tickets to the World's Fair for a look at the future. They saw a streamlined pencil sharpener, a General Motors car of the future, Bell Laboratory's keyboard operated speech synthesizer, the original Magna Carta, a television set and an electric calculator. As tourists, the group saw the luxury liner Queen Mary docked in New York Harbor, the Statue of Liberty, and visited Times Square. As they looked up at the lights above Times Square, they saw the announcement that Adolph Hitler's German troops had attacked Poland.
Through the ensuing years during World War II, money and resources were low again. And like Depression times, the Walsworths were able to rely on hard-working people and community pride to sell advertisements and keep the presses running. As men were drafted overseas, including Ed and Bill Walsworth, the company was able to rely on the strong community of women in its workforce who were already skilled on typewriters, presses, and in the sales field.
Printing with Distinction
As the Walsworths saw a need in the community, they adapted to print more than playbills. Early printed works spanned from cookbooks to service records and were usually made at the request of community groups for fundraisers. Walsworth officially shifted its focus solely to yearbook production and printing in 1947, although Walsworth's contracts for the printing of high school yearbooks can be dated as far back as 1938. The company has always had a commitment to quality, which is evident in our long-standing relationships with elementary schools, high schools and colleges.
After the 1956 passing of Don Walsworth, Don O. Walsworth began his career at the company under the guidance of Ed and Bill. He became president of Walsworth eleven years later, carrying forth not just the family name, but also the passion for print and vision for the future held by our founder. When Don O. Walsworth became president of Walsworth in 1967, the company employed 232 people. By 1987, the number surpassed 1,000. In those first twenty years under Don O. Walsworth, annual revenue increased from to $3.1 to $40 million. The continued success of Walsworth is due to the visionary leadership and difficult decisions made by Don O. Walsworth.
The decisions the Walsworths have made impacted more than their company, and they have always kept that in mind. In the stagnant economy of the 1970s, Don O. Walsworth knew what must happen to not only protect the company, but also provide for the hundreds of families he employed. Through the ensuing years, Walsworth's Commercial Division was crafted. This addition diversified the product Walsworth offered so it could weather potential lean years for yearbook sales, and provided opportunities for plant employees to work year-round, which was not possible previously when yearbooks were the company's sole focus. This push against the status quo was integral to Walsworth's success through the following years as many other yearbook companies closed their doors.
Don O. Walsworth's new management style led him to be named 1975 Missouri Small Businessman of the Year. "Through Don Walsworth's leadership, Walsworth Publishing Company has become the world's largest independent yearbook publisher," said Gerald Jepson of the U.S. Small Business Administration District Office in Kansas City, "Of equal importance, however, are the many contributions he and his company have made to the Marceline community."
Under the leadership of Don O. Walsworth, equipment and processes were continually updated to match the latest technology while still providing the highest quality product and service. Don O. Walsworth never saw technological advances as a reason to reduce his workforce. Instead, he has fostered a culture of loyalty to loyal employees. His philosophy through both good times and bad has always been to hire good people and provide them with an environment to let them do their work.
More than Print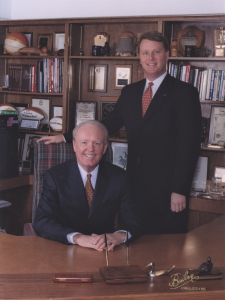 In 2004, Don O. Walsworth's son, Don Walsworth, was promoted from senior vice president to the position of president of Walsworth and became the third-generation president of Walsworth. His leadership exemplifies the values of the company's founders based on the belief that people come first.
"It's the people who are part of Walsworth – employees, customers and suppliers – who make our company truly exceptional," President Don Walsworth said. "It's about more than the printed product for us. My grandfather's vision has woven its way throughout our company, and we all strive to live up to the incredible legacy he created."
Walsworth's continued success and growth is the direct result of the founder's commitment to people and the community. Today, that same commitment is still present as his son, CEO Don O. Walsworth, and grandson, President Don Walsworth, lead the company that their namesake and his brothers built from the ground up.
Through all the growth under the Walsworth family's continuous leadership, the focus has always remained on the people who make the company great. Alongside every financial success, the Walsworths have found more ways to invest further in their community. Don O. Walsworth likes to say, "Our people make the difference." That's why multiple generations of families have worked for Walsworth, and more than 400 current employees have worked for the company for more than 20 years. They see the value Walsworth adds to their communities.
Walsworth presently operates from administrative offices and book printing and binding facilities in Marceline, Missouri; a prepress facility in Brookfield, Missouri; a sales and marketing office in Overland Park, Kansas; and magazine and catalog printing facilities in Saint Joseph, Michigan; Ripon, Wisconsin; and Fulton, Missouri. Additionally, Walsworth owns the Donning Company Publishers, a specialty book publisher.
The focus of Walsworth has always been to uplift people and strengthen communities, and that vision has been personified through a history of strong leaders, steadfast values, and commitment to the communities in which Walsworth operates. Walsworth is still a privately-owned, family-run company with midwestern roots, with a purpose-driven mission to create value for customers, company and communities.
"I'm glad to have been part of the growth that has taken us to where we are, employing more than 1,200 people and working with customers from all over the country," CEO Don O. Walsworth said. "Our ongoing success is because of our people who go above and beyond every day."