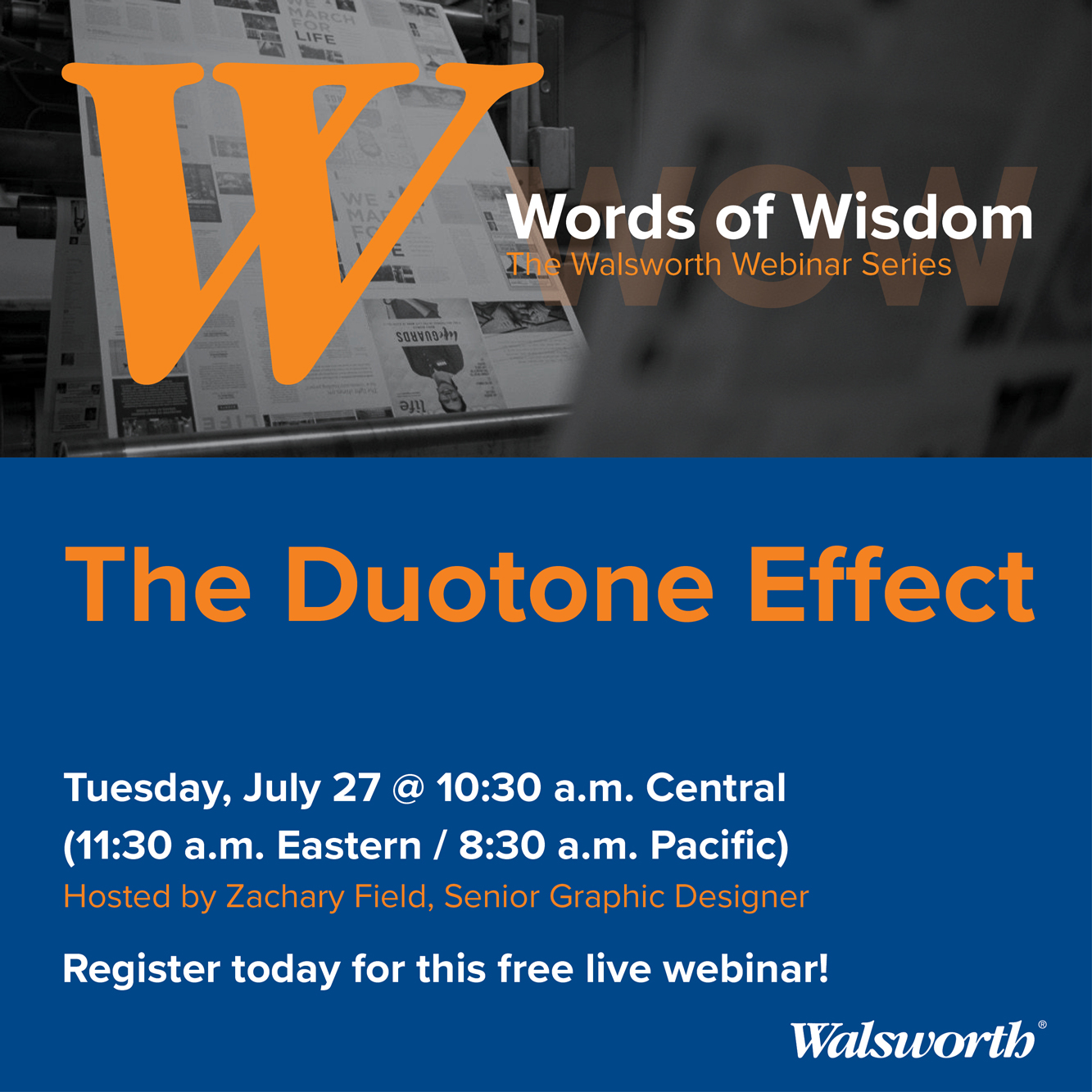 Words of Wisdom Webinar: The Duotone Effect
We know it's hard to keep up with design trends and even more impossible to learn how to replicate all of them.  It is increasingly complex with many trends going in and out of style constantly, and you may feel like it isn't worthwhile to learn each new technique.
However, some design trends perpetually cycle through the mainstream that every designer should have in their arsenal.
Join us for the third edition of our Words of Wisdom Webinar Series: The Duotone Effect. In this session, we will be sharing a design trend called duotone. Below are some of the topics we will be covering, including showing you four different variations of duotone using Photoshop and InDesign and explain why it's one you should know.
What are Duotones?
You may not know the name, but you've definitely seen this design trend everywhere as it has been consistently popular for many years.  A simple definition for Duotone design is recreating an image using just two colors, one for the dark parts of the image and one for the lighter elements. We'll be going over why it's so popular and keeps coming back into style.
Photoshop
For those Photoshop fans out there, we'll be showing two different ways to make a Duotone effect. The first technique will be using the entire photo and applying the duotone. The second will teach you to isolate a figure within an image and then apply the duotone to achieve a flat background.
InDesign
We'll also show you how to make a .tif in photoshop and edit it in two different ways. One will be using a regular grayscale photo, and the other will show you how to create a screen-printing effect that is popular with duotone images. We will then show you how to take both files over to InDesign for the final step of creating the duotone effect.
We'll then be answering any questions you have! We hope you'll join our webinar at 10:30 a.m. Central on July 27 to learn more about duotones and a few different techniques for creating them.