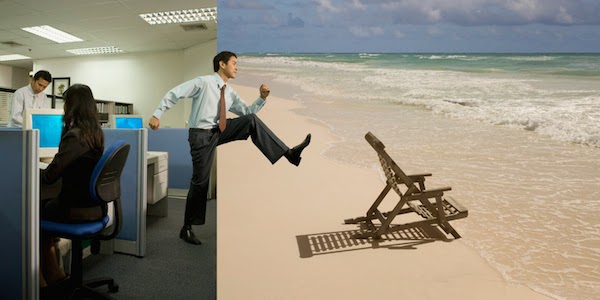 4 Tips to Help Busy Professionals Take Relaxing Vacations
For busy, plugged-in professionals, powering off the smartphone and not checking email for a day can actually be pretty stress-inducing, not to mention shutting the phone down for a weeklong vacation.
Even if you dream of a work-free vacation, being disconnected from the office is easier said than done. Whether it's a demanding project or simply the fear that a major deal will fall through while you're sipping your favorite beverage on the beach, your dream vacation can quickly turn into a stressful nightmare.
Don't let job-related stressors put a damper on your vacation. These tips will help you enjoy your time out of the office.
#1: Pick the right time
While it's not possible to anticipate every last-minute project deadline, most industries have a clear time of year when things are busier and more hectic than other times. For example, if June is always busy due to budget planning for your July fiscal year kick-off, taking two weeks off in June is probably not a great idea.
Additionally, you'll benefit from coordinating your vacation time with your boss. Some bosses prefer their immediate employees to be in the office while they're out, in order to provide seamless client coverage. If so, you'll want to schedule your time off around your boss's schedule as best you can.
#2: Coordinate with your team
Even if it's a down time at work, it's important to leave your team members with a clear understanding of what your clients or other key individuals will need while you're gone. For some people, this means creating short one-pagers summarizing their key clients and concerns. Don't assume that people will simply pick up the pieces while you're gone, however; delegate specific tasks to each member of your team.
#3: Leave organized
There's nothing worse than coming back from a relaxing vacation to find your desk overflowing with papers. Before you leave, take the extra time to file away your papers and clean up your inbox – including your emails. Sorting through paperwork and messages before heading out of the office will give you a clean slate for your return – and make it easier to disconnect while you're on vacation.
#4: Ease back into work
Returning to a full inbox and a full schedule of meetings can quickly zap your hard-earned Zen vacation state. Whenever possible, plan to arrive back from a vacation a day or two before you return to the office. That will give you time to take care of the essentials at home and unwind in your own space before heading back to the office.
You can also take an hour to sort through your emails to highlight the most urgent ones and delete the fluff. Once back in the office, grab coffee or lunch with your colleagues so they can bring you up to speed on the latest events at the office.
Being proactive will go a long way to relieving the tensions that can otherwise make taking vacation stressful.