A Day in the Life of an Association Publications Manager: Meet Tina Angley
The world of associations is vast and varied. It covers everything from groups targeting a small, niche group of hobbyists to organizations that cater to widespread professions. It's a unique space to occupy and everyone does it differently.
Tina Angley is the Manager of Member Publications at the American Society of Safety Engineers.
Walsworth interviewed her as part of our Day in the Life series. We want to shed insight into the day-to-day requirements of successful associations.
When you come into work in the morning, what's the first thing you typically do?
It's funny you ask that. Up until maybe a few years ago, I used to spend my morning checking email. And one day I was speaking to a colleague, and sort of complaining about how I felt like a slave to my email and I needed to work on making my mornings more productive.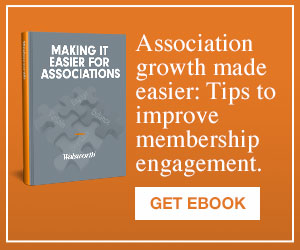 She said she doesn't actually open email until maybe 10 o'clock, after she's taken care of the things that she wanted to accomplish first thing in the morning.
So now what I do is I take a few minutes to set my intention for the day and make a list of all the things I want to accomplish and make progress on for the day. I usually start with yesterday's list – what didn't get finished – and go from there.
When you're making your list for the day, how do you prioritize different tasks? What's your process?
I try to start with small things that I can do quickly, that have the greatest impact either for myself, the people I work with, or the organization as a whole.
Sometimes those little things can make you feel like you're overwhelmed and just have too many things going on. So, if you can bang out a few things that take a little bit of effort but have a bigger impact ̶ and just get them off your list ̶ then you can move on to things that have deadlines, which is usually the next thing I work on.
I'll prioritize things that have the soonest deadlines and work on those first. And then I look for things that can't wait until after that first deadline and try to take care of those or prioritize those during the day somewhere so I can really focus on the things that have an urgent deadline coming up.
And, invariably, you're going to be asked to help out with other things, or new things will get added to your list. Rather than just tack those onto my list, I usually try to ask for a timeline. I want to know when they need it by, to see if it can wait until after my deadline. That helps me prioritize adding new things to my list and helps set expectations for other people, so they know that I won't necessarily be able to work on something right away.
Do you have anything cool that you're working on right now?
I'm working on a couple of things. I can tell you about a special issue that I'm working on developing.
One of the biggest things our organization does is an event we put on every year: our annual safety conference.
I started thinking about ways that we can, as a publication, be part of that event in a meaningful way. Because it's something that takes place in time, whereas a publication is more of a lasting piece.
So I started thinking about putting out a special issue, like a 13th issue.
Being a print publication, it'll probably be kept by people for a while. My thought is to find ways that a publication can be part of the action while the event is taking place. That's where all the magic happens, with our attendees and our members networking. It's sort of like a dedicated time for them, when they are focused on and immersed in an educational experience.
Once they get back to the office, they're busy doing their regular jobs, but when they're at the conference, they're a captive audience in a way. They may be more likely to read what you put in front of them.
So we're trying to come up with a way to do that with the publication and be a part of that event.
That sounds like a great big project. Let's also talk about some of things that you have to do every day – some of the less exciting parts of the job.
There's always proofreading. That is a basic element of my day. Proofreading anything, copy editing. I'll be working on writing news items for the next issue.
I really enjoy copy editing and proofreading because – I've made the analogy that it's like vacuuming. You're cleaning things up as you go and what you leave behind is a beautiful thing, hopefully.
Do you have a busy time of year?
There's always the holidays. Everybody knows the holidays are really busy in publishing, but you know it's coming and you find ways to plan ahead for that. You may keep issues shorter, start earlier, things like that.
For us, the busiest time is probably the months leading up to our conference every year, which is in June. And everyone at the organization is involved in putting that on, so we all have to re-prioritize our regular jobs.
For me and my team, we still have a publication to get done, but we have to finds ways to do that and still contribute to the bigger picture.
That time is really busy, but it can also be really exciting. That's when you're surrounded by people who are at their most creative. Everybody is trying to come up with new and creative ways to do things, or developing new programs to offer our customers to give them the best experience possible.
It could be, one day you're stuffing envelopes and another day maybe you're sitting on a brainstorming team working on a new project. It's all over the place.
When things become less busy, what kinds of projects are you trying to catch up on?
It's kind of tough these days. Being a print journal, we also produce an e-newsletter and a blog and some other digital content. The time between issues, it's not really what it used to be.
But there definitely are projects that need attention between those issues, and some of the longer-term projects tend to get put on the back burner because they don't have an urgent deadline.
Like this 13th issue, that's a ways off. What I'll try to do is break it down into smaller chunks that I can tackle one at a time, or a little bit at a time every month in-between issues. That way I'm making progress and making sure that project is moving along.
How do you think working for an association might be different from other office jobs?
Working at an association, at least in my experience, you have many hats to wear. Usually associations are on a tighter budget or more limited budget with limited resources.
Everyone's expected to find ways to accomplish things with a smaller staff. And that may require you to do more things – I don't want to say less effectively, but maybe you're not as dedicated on one thing.
For example, working on the journal, we have a three-person staff, essentially. We're creating the journal and the other digital publications.
So each of us has to be able to proofread, copy edit, write, design page layouts, do production, and work with advertisers and external providers to be able to produce the journal every month.
We may not be the best writers out there, but we also can do many other things. So I think that might be a little bit different from what it's like in the for-profit realm. While you may not be the best expert at one particular thing, you are pretty good at a whole bunch of things.
And you can actually see the whole process or the whole picture and touch each element of that process, if that makes sense.
Do you have any advice for others working for an association?
The best advice I could give is: Look outside your specific area. When you're trying to work on a big project, solve a problem or develop a new idea, look outside your department or your own area.
Because I think, working where I am, I'm surrounded by people who are serving the same membership as I am. And my colleagues and co-workers probably have another perspective or a more creative way to solve a problem that I never would have thought of.
So find ways to work with your peers to solve problems or approach a project in a different way than you would have been able think of on your own.
In that way, I think, the more perspectives you have working on a project, the more successful that project will turn out for the customer.
If you or someone you know would like to be interviewed for our Day in the Life association series, please contact Sarah Scott at sarah.scott@walsworth.com.