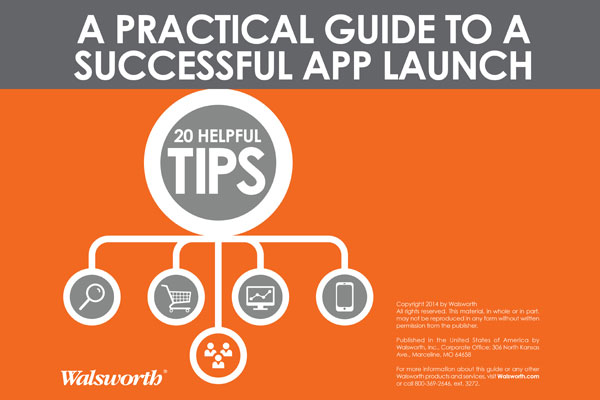 A Practical Guide to a Successful App Launch: Coming Soon!
When it comes to successfully launching an app, you have good news, bad news and great news.
The good news is that apps are a booming business, that took in $25 billion last year alone.
The bad news is that more than 700,000 apps are already kicking around on Google Play and Apple's App Store, serving up swarms of competition.
The great news is you have a way to propel your app to center stage with the Walsworth App Launch Manual.
A Practical Guide to a Successful App Launch: 20 Helpful Tips hits the cyber world on July 8, when it will be readily available for quick and easy download. As an app creator with a strong base of supremely satisfied clients, Walsworth created the manual as a summary of all the effective techniques we've been suggesting and using ourselves.
As the manual's name suggests, you'll be privy to 20 proven strategies designed to gain your app the attention it deserves. The manual is also packed with information on the types of apps on the market, their wide array of specialized features, and an app strategy to help you choose an app that best suits your company and audience.
Another plus is a list of the top reasons you need an app in the first place, which is where even more great news comes in. From everything to connecting with readers to increasing your revenue, a strategic app is at your service.
That is, of course, if your app doesn't end up devoured by the noisy chaos on the thriving app scene. Our 20 valuable tips help ensure it won't, guiding you through the entire app launch process. You enjoy detailed step-by-step directions that kick off 30 days prior to your app hitting the market and continue with ongoing tactics to maintain a strong buzz surrounding your app.
Top Tips for an App that Soars
While we don't want to dive into deep details just yet (that's what our July 8 debut is for), we do want to give you a taste of what to expect. The helpful tips in our Walsworth App Launch Manual will teach you how to:
Set goals and measure success
Create a killer app description
Attract new customers
Pinpoint prime opportunities for generating buzz
Gather supporters and fans
Offer deals, discounts and giveaways to excite the masses
Tweak your website and social media for app promotion
Kick off a paid campaign with as little as $50
Score app reviews
Drive results via various channels
Keep the app buzz alive even after your launch
And more
Whether you already have an app (or two) on the market, are launching your very first app or still in the process of hiring on an app creator, this guide is the tool you want on your side. We take the mystery and chance out of an effective app launch and transform it into a systematic and straightforward process that consistently leads to success. And that's the best news yet.
Mark your calendar for July 8 to download your copy of A Practical Guide to a Successful App Launch: 20 Helpful Tips. See you then!