Behind the Scenes: Employee Spotlight on Drew Elliott
Here at Walsworth, we're fortunate to have many excellent employees. These are the people who make our company run. Some of them interact with our customers every day, but many of them don't. We're grateful to work with dedicated, motivated people and are sharing a little bit about them in our Behind the Scenes series.
Drew Elliott is the Quality Assurance Supervisor at Walsworth's Marceline, Missouri facility. He's been in the position for about two years and plays a key role in the facility's ability to produce materials that meet or exceed customer expectations. He met his now-wife, Commercial Customer Service Representative Cassie Elliott, at Walsworth, and the pair has two children, Braxton and Aspen.
Drew took the time to answer some questions for our Behind the Scenes Employee Spotlight series.
What do you do on a daily basis as Quality Assurance Supervisor?
On a daily basis, we're ensuring quality of product as print projects flow through manufacturing. We're ensuring that projects get through all phases of production without any manufacturing flaws or defects.
As projects flow through the plant, we're also looking for any procedural changes we find necessary to ensure we don't repeat mistakes. And, we also look for ways to increase productivity and maximize efficiencies.
How did you come to be the Quality Assurance Supervisor?
I was hired in 2012 as a management trainee, which is a very successful program here at Walsworth. In the Management Trainee Program, they take you through all manufacturing departments as well as the business departments. Over the 18-month program, you get a good scope of the company and how it works.
Through that program, I developed a full understanding of the company as well as how each department works. In the end, I felt that the Management Trainee Program allowed me to develop a rapport with managers and supervisors across all departments as well as all facilities. It was a very beneficial program they put me through.
I was actually only the second individual to go through it.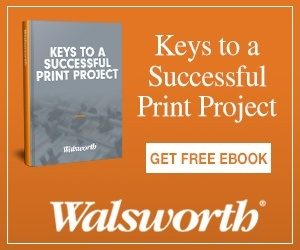 After management training, what happened?
After that, I was placed as the Safety and Security Specialist. I was in the job for two and a half years, dealing with workers' compensation and OSHA compliance. That was a good experience as well because I was working with all different facility locations. It allowed me to view a different side of the company and learn from that.
What is it about what you do that you like and has kept you with Walsworth for six years now?
Being born and raised in Brookfield, I know how important Walsworth is to Brookfield, Marceline and the surrounding communities. It really gives you ambition to help this company succeed.
We have second- and third-generation individuals who work here – very hard-working people. And I want to be a part of the Walsworth family and keep that going.
What I like about my role in quality control is, every day is different. You never know what you're going to walk into. You have to find what went wrong. It's kind of an investigation process that David Sevits, my boss, and I do daily. Whether it's manufacturing issues, procedural issues or personnel issues, we have to find and determine the root cause of any print or binding defect to ensure the issue is addressed and resolved. This helps prevent us from making the same error with future projects.
How did you come to Walsworth?
I graduated from the University of Missouri in 2010 with a Bachelor of Science degree. I was actually going down the sports medicine route. I was an intern athletic trainer for the University of Missouri football team in 2009 and 2010, and then I actually did an internship with the Kansas City Chiefs for a full year after that. I got to meet some of the guys I grew up idolizing and worked with them on a first-name basis.
I wanted to move back home to a small town area and couldn't find anything associated with my degree. Then, I heard about the Walsworth Management Trainee Position, and I applied in 2012. I was fortunate enough to be extended an offer, and gladly accepted the position.
Let's switch gears to family life. Your photo shows an adorable family. Tell me about them.
Thank you. Cassie and I actually met here at Walsworth about four years ago. We have two little ones. Braxton is two-and-a-half. He keeps us on our toes. Aspen was born back in April, so she's almost six months old. Talking about the Walsworth family, that's how Cassie and I met and started our own family! She's a Commercial Customer Service Rep.
What do you like to do in your free time?
I love to golf. That's one of my main hobbies in the summertime.
I'm an avid Chiefs fan, and Mizzou athletics. If it's the weekend and they're playing, that's what I'm doing –watching the Tigers and the Chiefs. While I'm doing that, I really like grilling and smoking food like ribs, chicken and wings.
The family loves spending time at the pool. Braxton loves swimming. And we love spending time as a family.
I hear the Chiefs are pretty good this season.
They are. I'm very excited for this season. They had a tough loss the other night against the Patriots, but I think it's going to be a very good year. It's on my bucket list to see the Chiefs win a Super bowl before I die.
Are you involved in any clubs or organizations?
I'm very active in the Brookfield Country Club. I'm on the Board of Directors and have been for six years. I grew up at the country club, so it's very important to me to keep the club in good financial shape and make decisions to keep improving the golf course and the pool.
I'm also part of the Brookfield Community Chest. I'm a board member. I've been on that board for four years, and we donate money back to the Marceline, Brookfield and surrounding communities for different organizations like the Linn County animal shelter, Boy Scouts, American Legion Baseball, YMCA, 4H, the Linn County food bank, the Health Department and groups like that.
Anything you'd like to add before we wrap up?
Walsworth is such a strong, tight-knit family company. Most of the people who work here and grew up in the surrounding community  know how important it is to keep this company moving in a successful direction. We work hard, and it's a good company to work for. I'm glad to be here.