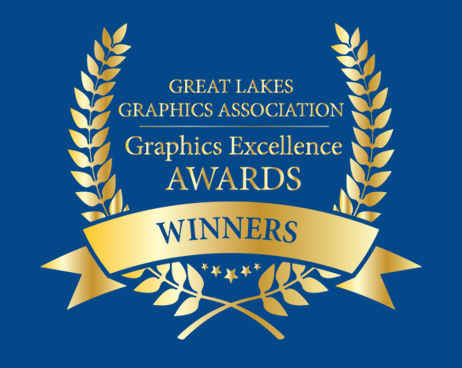 Graphics Excellence Awards
Walsworth had a great showing in the Great Lakes Graphics Association's 2023 Graphics Excellence Awards. The judging was conducted March 7-9 and an awards ceremony was held June 7.
The Rand McNally Classroom Atlas won Best of Category for school textbooks
On working with Rand McNally, sales representative Dean Martin said, "We have a very good partnership, as they are true professionals and have a full understanding of the entire process."
Luxury Portfolio Magazine, Volume 12, Issue 2, won Best of Category for Magazines (cover: sheetfed, interior: web)
"LuxPort (as we call it) has amazing graphics and the files are prepared very well. That helps us do our job by printing a high quality coffee table type magazine. The Linen cover stock is especially nice paired with the very bright Galerie Fine text stock. The images and crossovers are what make this a great magazine," sales representative Stacy Salzman shared. She also praised the organization for their organization and for hitting their deadlines. "Their communication style is relaxed, and they understand when challenges come up. We work very well with them and their team."
High Point Market Preview, Fall 2022, won Best of Division in Service Catalogs (4 or more colors)
Elite Traveler: The Watch Issue, Fall 2022, received an Award of Excellence in Architectural/Art/Travel/Other Magazines
"Elite Traveler is a high-end tabloid format and has many cross-over advertisements. It is Walsworth's high quality standards that make these ads not only pop off of the page, but the crossovers are spot on. The cover's gold foil stamp is also something that catches the eye of the reader," said sales representative Stacy Salzman. "Elite Traveler has a very unique distribution channel, and we are very well versed in gathering the data needed to get these magazines out the door and into the proper hands."
Sophisticated Weddings, Fall/Winter 2022 won an Award of Excellence in Digital Books
Sophisticated Weddings, Spring/Summer 2022, won an Award of Excellence in Fashion/Health/Pop Culture Magazines
Rand McNally's Road Atlas and National Parks Guide 2023 received an Award of Excellence in the Web Press Printing, Uncoated Paper (4 or more colors, heatset or coldset)
The 2023 catalog for Digging Dog Nursery received an Award of Excellence in Product/Service Catalogs (1, 2, or 3 colors)
Blue Ridge Knives' Knife Center 2022-2023 catalog was given an Award of Excellence in Binding
This behemoth of a catalog is 2,256 pages, plus the cover. They have a long relationship with Walsworth and sales rep MaryAnn Magee. Our ability to produce large page counts with PUR Binding, which assures the longevity and integrity of binding, is a draw.
"Blue Ridge Knives knows that I will strive to research the best possible options for them to produce one large volume instead of breaking the catalog into smaller titles," Magee said. "Working with Blue Ridge Knives is what a true partnership is. They are flexible and available when questions or concerns occur. They understand the process of producing a large page count catalog and the details that go into it."
About GLGA
The yearly GLGA competition recognizes companies in the Great Lakes area – Illinois, Indiana and Wisconsin – for "superb craftmanship in the design, creation and production of top-quality printed material they produce for their customers." Entries are judged on the technical expertise and quality of printing first, then on design features and the overall graphic appeal.