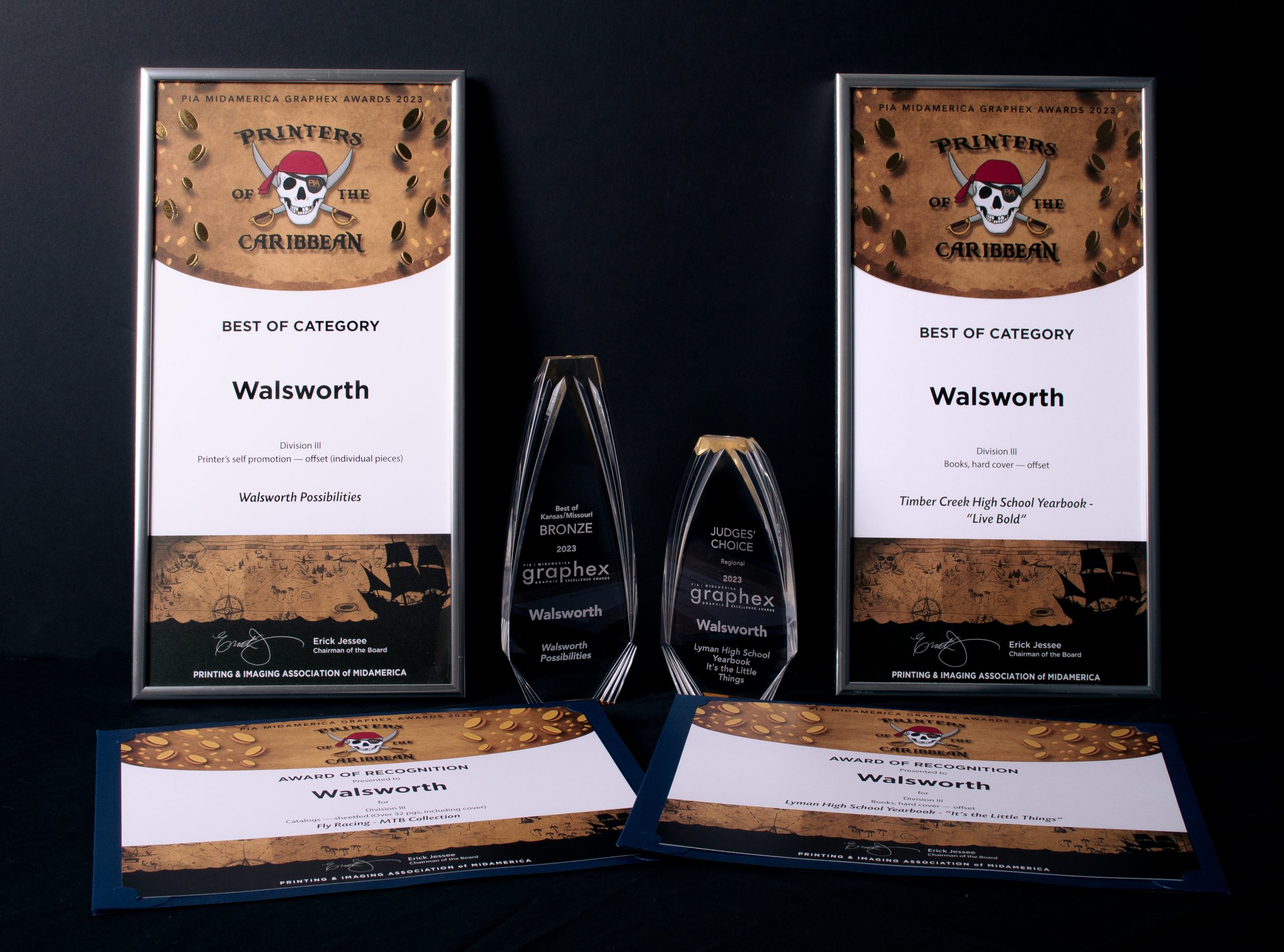 A Printer's Printer: Walsworth Excels at GraphEx Awards
Most people don't think much about the details of a printed piece unless there's something wrong with it. They don't think about a book's binding unless it's falling apart. They don't consciously consider the quality of a printed image unless it's blurry. They don't think about smudged ink in a catalog unless there is a smudge on the page. But printers think about those things. And we celebrate each other when we do a good job.
The PIA MidAmerica GraphEx awards celebrate print. Judges review those little details that often go unnoticed by non-printers. The GraphEx awards celebrate the work that printers do so the end user doesn't have to think about those things.
2023 GraphEx Awards
Two members of the Walsworth Marketing Team – Jenica Hallman, CJE, and Danielle Finch – represented Walsworth at the PIA MidAmerica GraphEx Awards ceremony for Missouri and Kansas on Thursday, Thursday, April 13. They were called to the stage several times to collect awards celebrating the quality of items printed by Walsworth.
Four Walsworth-printed items received recognition.
Walsworth's Possibilities
Best of Category, Division III, Printer's self-promotion – offset (individual pieces)
Best of Kansas/Missouri Bronze
Self-promotion piece with 4-color Smyth-sewn covers, incorporating spot grit UV coating and a Chamois headband, with debossed matte copper, hot foil, and hot foil on spine. Back cover incorporates blind debossing.
Hallman, the managing editor of Possibilities, appreciated the evening of celebration of all things print among like-minded print enthusiasts.
"It's rare to have opportunity to work on a project like Possibilities­ – one specifically created to showcase our printing capabilities and contain so many fun additional upgrades. We could really let our imaginations run wild. We produce this book to recognize the amazing work our yearbook schools create with over 900 examples from nearly 350 schools inside the 352 pages. Receiving our own recognition made me proud to work for a company with such a commitment to excellence and attention to detail," Hallman said.
Timber Creek High School Yearbook, "Live Bold"
Best of Category, Division III, Books, hard cover – offset
4-color Litho cover, Smyth-sewn, 320 pages on 100# Crown Matte
"Timber Creek's yearbook stops you in your tracks as soon as you see it. It's bold, bright, celebratory and fun – a book that every student at that school will be proud to own. It comes with a slip case printed in vivid color that instantly brings the WOW factor, and the gold shimmers from every angle. The yearbook staff already won national recognition for their journalistic excellence. Adviser Kathy Beers, her staff, and Walsworth Yearbooks Sales Representative Jill Chittum, MJE, all deserve credit for dreaming up and bringing this beautiful book to life," Hallman said.
Lyman High School Yearbook, "It's the Little Things"
Judge's Choice, Regional
Award of Recognition, Division III, Books, hard cover – offset
Offset, accordion bound three panel flip book using 160 pt binder's board, divided into two equal sections. Cover is a 4-color lithograph with matte lamination and clear silk screen on the theme copy. Produced on a Heidelberg press and casebound.
"I honestly have never seen a book quite like Lyman High School's yearbook. You almost have to see it to believe it. The accordion binding, three panel flip book means that it has two spines – one on the left side of the book where you would expect and another on the right attached to what you would think is the back cover so you can flip through two separate portions of the book. Adviser Danielle Pomeranz and her 19 staff members masterfully organized the book so both sections make sense, and Walsworth Yearbooks Sales Representative Lauren Wilhelm worked with them to find unconventional solutions to turn this book into reality. It's one of the coolest books I have ever seen, and most importantly, their audience will love the book," Hallman said.
Fly Racing – MTB Collection
Award of Recognition, Division II, Catalogs – sheetfed (Over 32 pages, including cover)
Sheetfed, 4-color, 124 pages, 80# gloss paper, PUR perfect bound, 2 hot foil applications and 1 emboss on cover
"Western Power Sports chose Walsworth for the FLY catalog and similar special catalogs because of our varied cover applications and high quality sheetfed printing on clothing items. WPS wanted our foil stamping and matte film lamination capabilities for their merchandise catalogs," sales rep Steve Berg said. "Walsworth simply excelled at these types of catalogs compared to WPS's other print suppliers."
Categories
The printing industry is comprised of diverse companies and publications, and the GraphEx Award categories and divisions reflect that. The category reflects the product, and the size of the firm determines the division. Division III is for large firms with 101 or more employees.
About GraphEx
The Graphic Excellence Competition has been around since 1989 and was created "to recognize the outstanding abilities of print producers to transform paper and ink into outstanding forms of communication."
Win awards with Walsworth
Our extensive printing capabilities and knowledgeable, friendly employees are the perfect combination that will allow you to create a product that looks amazing. Reach out to us today to talk about how we can meet your needs. We'll pay attention to the little details that make a great printed product so you can appreciate the whole.