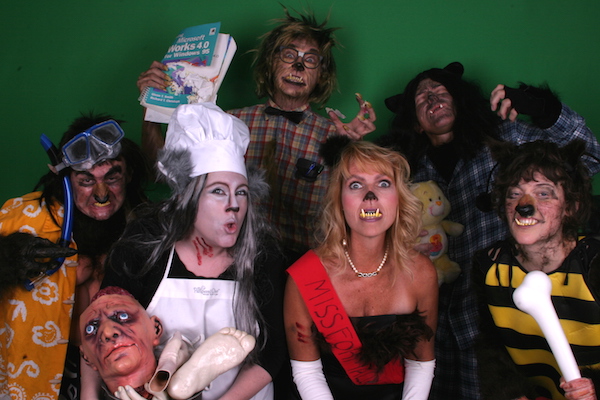 Ideas for a Fun Office Halloween Party
Have you been considering a Halloween party at your office? They can be a blast and can help build employee relationships and enhance company culture. And, Halloween parties offer a wide variety of entertaining activities that may bring out the inner child in even the most serious employee. Give your Halloween office party a boost with a few savvy ideas.
Call for Costumes
Halloween without costumes would be like a birthday without a cake. Encourage employees to wear their costumes for the day at work in honor of the post-work party to come. Add another layer of amusement with a costume parade throughout the building at lunchtime or the afternoon coffee break.
Go all-out by holding a costume contest, establishing multiple categories so folks can vote for multiple winners. Costume categories can include funniest, most original, scariest, most sophisticated, most creative and overall best of the best. Give employees a heads up that awards will be given, and make the awards lucrative. Try gift certificates for one of the town's snazziest restaurants or gift cards for popular shops.
Consider that you may need to establish guidelines to keep the holiday from getting too scary for the office environment to handle. Communicate some parameters to help ensure costumes stick to an office-appropriate theme, aren't overly risqué or prone to offend, and don't contain weapons as props.
[
Photo Caption: Walsworth graphic designers in the Marketing Department (pictured above) play on their werewolf theme with Swim-Were, Cook-Were, Soft-Were, Formal-Were, Sleep-Were and Bee-Were.
]
Do up the Décor
Your costume contest can be complemented by an office décor contest, with each department or shared work area competing for the spookiest, most creative or overall best Halloween decorations. Another idea is to divvy up the doors in your office area, assigning willing teams to do their thing. Give enough advance notice so your office is fully decked out on the day of your party.
Snap a Group Photo (or seven)
Getting employees together to share a laugh or smile can be easier than you think if someone's pointing a camera at them. You're likely to get even more laughs when the photo contains staff gussied up in their costumes for Halloween. Group photos in general are a great way to bring people together, and the photos can serve as amusing mementoes (or visuals for blog posts!) for years to come.
Bring on the Halloween Treats
Encourage employees to bring in their own batch of treats to share throughout the day. Options can range from the standard bags of store-bought candy to homemade seasonal goodies like pumpkin or apple muffins and bread. Spring for the main party meal out of the office budget, going for crowd-pleasers like pizza or sandwich wraps from your favorite local eatery. Don't forget the pumpkin spice coffee and apple cider!
No matter what Halloween ideas you choose, you can bet that employees will enjoy themselves and each other while expressing their creativity. And, it can be a great way to boost office morale.