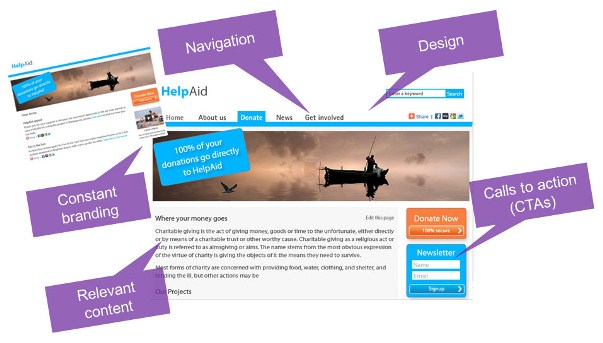 Why Landing Pages Are Critical to Your Success
If you have a website, whether you maintain it yourself or hire someone else to do the work, chances are you've heard of landing pages. But do you really know what they are and how they can help you market your company and its products?
And, does it matter if online search results for your product include a landing page or just your website home page?
It sure does, and if you don't know why landing pages are important to your site, read on.
What is a landing page?
A landing page is any page on your website that's designed to capture your visitors' attention by providing information specific to their needs – usually as the result of a web search or clicking on a web ad or email offer.
Unlike your home page, where the purpose is to inform, the primary goal of a landing page is to convert site visitors into customers. How do landing pages do that? By including an opportunity to buy a product, download an ebook or whitepaper, sign up for email updates, or perform some other transaction that allows you to capture data about your visitors.
Landing pages and your marketing campaign
Landing pages provide optimal places for you to make a sales push. It doesn't have to be a hard push. Ideally, include an opportunity for the visitor to take some action that has a high chance of leading to a sale – for instance, signing up for an email list or downloading an ebook.
These actions can serve as conversion tools and allow you to capture the visitor's information so you can market to them in the future. And, by tracking which visitor actions are most common, you can gather valuable information that can help you improve your marketing message, your brand and even your final product.
Another important reason why landing pages are ideal marketing tools is that visitors who "land" there have usually done so because they've clicked on an ad or searched specifically for your product or solution. This means their buying interest is already high.
They haven't just stumbled on your site by accident. In essence, your job to stir up interest has already been done. Your sales message will have an even greater impact, and the likelihood of a visitor signing up for an offer or even buying a product is much higher.
So why doesn't everyone use landing pages?
Most likely, the answer is that many web designers and business owners don't fully understand the purpose of landing pages or how they can use them as part of a robust marketing campaign. Most web-page designers and copywriters tend to think of pages in terms of SEO, and so keywords and phrases become their primary focus.
The concept of conversion can be lost when there is so much focus on keywords. Although your SEO may improve to draw more visitors, the lack of a landing page may result in fewer sales conversions. But now that you know what a landing page is and how it can help you drive sales, you can start making changes to your own site that can help put you way ahead of your competition.
Stay tuned for our upcoming post where we'll highlight some of the elements that can help make your landing pages as effective as they can be.