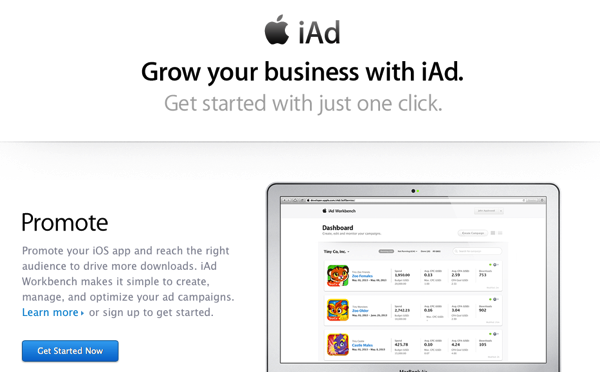 How to Promote Your iOS App
Making the commitment to produce an app for your business is a big decision. You need to determine the frequency of distribution, content and pricing. While Walsworth can help you with these decisions, that's just one part of the equation. The other part is telling the world about your brand new app. This is where Apple can offer some muscle.
Apple promises to help you reach more iOS users with its tool, iAdWorkbench, which was released last in June 2013. For as little as $50, you can begin to advertise your app and participate in iOS ad campaigns, customize who sees your ads, and make banner ads easier.
From the Apple website:
With iAd Workbench you can target who you want, when you want, manually, automatically or both. Assign specific targeting criteria (such as device, gender, age, location and preferences) to your campaign, or have iAd find the right audience for you, using data from the App Store and iAd about your app and apps like it.
iAd Workbench helps you plan and buy media efficiently so that you can focus on what's important: driving downloads of your apps. Set bid prices based on cost-per-click (CPC) and cost-per-acquisition (CPA) goals.
Building a banner for your campaign couldn't be simpler with iAd Workbench. Built-in Apple-designed templates help you create customized banners with the right messaging and most effective calls-to-action. If your ad is running on multiple devices, iAd Workbench automatically produces all the needed versions in required sizes. Banners can be created in seven languages (English, French, German, Italian, Spanish, Japanese and Chinese), depending on where your ad will run.
You can manage all of your campaigns from the Dashboard, which provides a quick summary of your campaign status, including total spend, impressions, taps, average CPC and CPA, tap-through-rate (TTR) and number of downloads.
iAd Workbench gives you the tools and analytics to optimize and refine your campaign plans. From your Dashboard you can tap into the details of your campaigns, review and change individual lines, edit banners, and look at all of your performance data presented as bar charts, line charts or tabular views. Metrics include total impressions, taps, average CPC, TTR, and downloads.
To learn about the benefits of creating an app for your business or organization, please contact us to receive a free consultation.