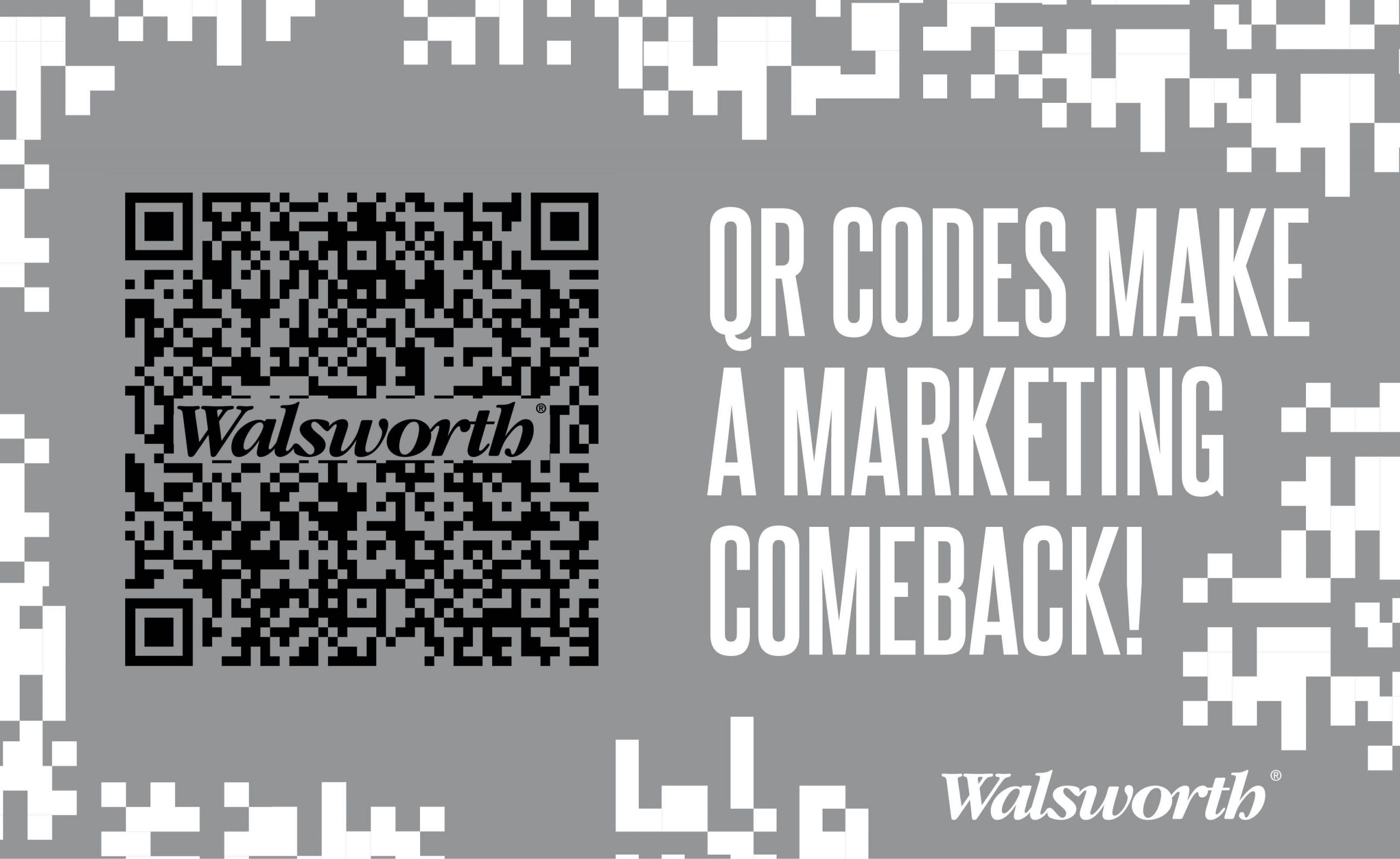 QR Codes Make a Marketing Comeback
About a decade ago, quick response (QR) codes were hailed as a breakthrough for connecting the print and digital worlds. They would enable instant access to a mobile site simply by using a smartphone camera to take a picture of the barcode.
Except they didn't. Or, more accurately, they didn't do it quite that easily.
The problem was that smartphone users still had to download a third-party scanning app, which proved to be more work than many wanted in a world demanding instant gratification. According to a 2011 study by comScore, 14 million mobile users (6.2% of total users) scanned a QR or other barcode on their smartphones that year. And they were scanning them everywhere—at home, at work, at retail stores, grocery stores, restaurants and public transportation. They were particularly popular in the U.S. with men 18-34 having household incomes of $100,000 plus. Sounds great, right?
But then the bottom fell out. With the novelty gone but the extra effort still required to scan a QR code, usage dropped to 9.76 million by 2018. Now, however, a study by QR Tiger ("QR Code Statistics in 2020: Everything You Need to Know")  projects that 11 million U.S. households will scan a QR code in 2020. And, according to the most recent data available, the 24-54 age group has the most interaction with QR codes with the 34-44 bracket representing the most users at 27%. The QR Tiger study further indicates that the most popular reasons consumers scan QR codes are:
Payments triggered from QR codes on printed statements that go directly to secure account-payment pages
Discounts via coupons and print promotions (expected to reach 5.3 billion by 2022)
Product packaging to access more information (83% worldwide growth since 2018 with 8% annual growth in smart packaging going forward)
So, Why the Big Growth Spurt?
There are three main reasons:
Increased access to mobile devices and high-speed internet. These are key drivers in expanding the appeal of QR codes for modern marketers. A study by Juniper Research indicates that 90% of the world's population will have access to high-speed internet in 2020. When paired with greater access to smartphones, the result is increased QR code acceptance.
Built-in barcode scanning on smartphones. The hassles of downloading an app disappeared for iPhone users in 2017 with the release of the iOS 11 update. Android 8 (OREO), 9 (Pie) and 10 followed with built-in scanning.
Impact of COVID-19. As the world retreated to more touch-free, germ-eluding communications, QR codes were a natural. According to an article by Lily Harder ("QR Codes Finally Get the Attention They Deserve") published at the BRAND United website, just 4-5% of all U.S. mail observed during 2018 and 2019 included a QR code. According to Comperemedia, that's changed to more than 7% of all mail pieces captured in its database, which represents a significant 60% increase over the past two years. And increased usage is occurring in far more than direct mail. As one example, Harder points to restaurants using QR codes on table-top signs where diners can access an online menu without having to handle menus. The applications go on and on.
A Promising Future
The stars just keep aligning for wider QR code use among marketers. Harder notes that in May 2020, PayPal announced the launch of a new QR code capability for its mobile app. "This new feature allows merchants and business owners the ability to generate, print or display a unique QR code as a means of accepting payment for a purchase at the store or any in-person transaction," she says. "Not only will this provide customers with another touch-free option to pay for purchases, but small business owners who were previously handling cash transactions can pivot to more contactless options."
If you're a designer, you can create crisp, clear QR codes right within Adobe® InDesign®. Because InDesign creates vector codes, you can resize them without compromising quality and then copy them into applications like Illustrator®. At any point, you can edit the QR code directly within InDesign.
Tips for Creating Successful QR Code Campaigns
So, you've done your due diligence and you're ready to take the plunge into QR codes. But it's not as simple as generating a code and slapping it on communication materials. Here are some tips that will help you increase your campaign's success with QR codes:
Learn the nuances of codes. These are not your father's QR codes. You aren't restricted to black and white. QR codes can be customized with logos, colors and different shapes to attract your audience. There's also no need to swap out QR codes to present different offers. Unlike static QR codes, dynamic versions provide a platform that enables marketers to create QR codes that are flexible and editable.
Know the age and gender sweet spots. All age demographic groups, including those 55+, are increasingly using QR codes. But the prime categories trend younger with 34- to 44-year-olds leading the pack at 27%, followed closely by those 44-54 at 21% and 24-34 at 20%. Consumers below age 24 make up 14% of users and "others" comprise 18%. Looking at gender, early studies showed men with a higher propensity to use QR codes. But later studies and observations indicated that as QR codes become more accepted for shopping and as a method for obtaining coupons, discounts and deals, their use was growing among women. So, while there is no current information available, it's reasonable to think that the trend continues to make gender usage more even.
Keep the "data density" low. A QR code with a high data density is going to have more rows and columns of dots in it. That means each dot will be smaller relative to the size of the QR code itself. If the dots are too small (0.4mm or greater is recommended), then the QR code will be difficult to scan because the data dots are below the resolution limit of the scanning device. This raises the risk of incorrect scanning or processing.
Print conditions matter. Generally, QR codes should be at least one-inch square in size, assuming the matrix is reasonably small, and the user is holding the printed piece. For large printed pieces like posters, make the barcode or tag large enough for easy scanning and keep sufficient margins around the image to enable proper capturing and processing.
Make the landing page mobile-friendly. Directing mobile users to an ordinary web page is the kiss of death. Make sure you optimize your landing page for mobile use.
Offer the user something of value. You're asking users to do something special with their phones, so make sure the effort results in something worthwhile. Some ideas include providing product details, a coupon or special offer, a YouTube video link, a social media page, event details and white papers.
Give the user something meaningful to do. To generate interest and encourage further action, the mobile landing page must include some meaningful, desirable action the user can take that makes sense from a mobile phone. These might include store directions via Google Mobile Maps, coupons, tickets and reservations, streaming video or audio, immediate call back requests and anything else a smartphone can accomplish.
Analytics are a must. There are many free online code generators. Don't settle for one that doesn't provide the analytics you need. At the same time, you want to choose a provider with proven, enterprise-level security. The more secure your QR codes are for scanning, the better protection you'll provide to your customers and your brand. Be sure to check terms and conditions to fully understand how your data will be handled from a security standpoint.
Test and test again. You can easily annoy customers and prospects with a QR code that doesn't work well. Test on multiple mobile phones, especially the most popular QR code scanning devices. You should also test the code in its intended final setting to ensure that it works at that size.
Trust Walsworth With Your QR Code Campaigns
We have more than a decade of experience successfully applying QR codes to direct mail, catalogs, books, publications and many other materials. You can rely on our customer service and premedia professionals to advise you on the best approach for your project and to oversee the project from start to finish. Contact your representative or send an email request to printsales@walsworth.com to learn how we can get your next campaign clicking.