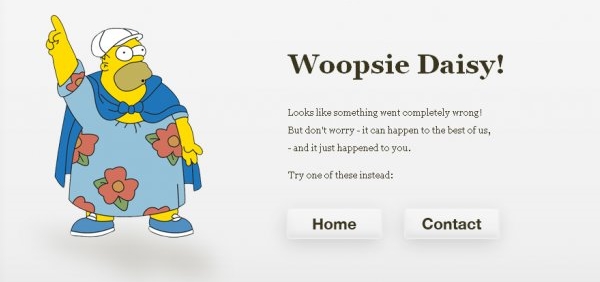 Simple Website Errors You Can Avoid
Got a website? Great! So when's the last time you really looked at it – we mean really looked at it – with a super-critical eye?
You should be doing that on a regular basis. Why? Because even tiny errors – ones that are easy to overlook, especially if you're really familiar with your site – can have a major impact on your company's online reputation (and a major impact on sales).
Next time you have a spare hour, take this list and review your site to make sure you're not making these critical but all-too-common website errors:
Leaving home.
When it's time to update or revamp your website, most of the hype and excitement surrounds the home page and maybe a few landing pages, and ancillary pages like your About Us, FAQ or Contact Us pages get left behind.
The result: Outdated and often incorrect information that makes your site (and your company) look dated and poorly maintained. When you redo your website, be sure to take a careful look at all your pages to ensure consistency and accuracy.
Channel your high school English teacher.
Be vigilant when it comes to checking for errors in grammar, punctuation, spelling and capitalization. Any type of sloppiness – even odd style shifts between pages – reflects on your company's image, so review your content for errors and correct them.
Some of the most common errors made on websites involve capitalization. You may think you offer the Best pizza Sandwiches in Town, but the grammar gods sure wouldn't be ordering takeout anytime soon. Not sure if your capitalization skills are up to par? You can review them (and many other grammar rules) at Purdue University's handy site.
A picture says a thousand words – sometimes not so nice ones.
So you want to add a little graphic interest to your page? Why not add a nice, copyright-free image from a stock photo site? There's nothing wrong with that idea – just be sure the photographs you choose relate to your copy in an obvious way, and for goodness sake, avoid "cutesy" or just downright odd photos.
The possible exception here is on your blog, where content is a little more forgiving and casual. A better option might be to forget about photos completely and hire a freelance graphic designer to develop custom graphics.
Color your world.
While we're talking about graphic design, take some time to think about your site's colors. This is another area where hiring a pro can really pay off. Ideally, spend some time working with a graphic designer to find pleasing combinations that suit your brand and style.
Generally speaking, although it may seem like it would have impact, avoid white text on black backgrounds – or just about any really stark contrast between text and background colors. Why? Studies have shown that many people find them difficult to read and navigate.
Keep in touch – easily.
Make sure your contact information is easy to find. Keep your phone number or email address and Contact Us button near the upper portion of the page so visitors don't have to scroll to find them. If you haven't already, incorporate two or three social icons for your Facebook, Twitter or Goggle+ pages.
Get feedback.
Finally, ask a friend who's not familiar with your site to make like a customer and have a look around. You may be surprised at what they turn up. Have them jump from one page to another using your site's built-in navigation to make sure they reach the pages they're supposed to reach and to check for pesky 404 errors ("page not found"). Few things make a small business website look older and more neglected than a "page not found" message.
Sounds like work? Well it is. But it's work that's vital to your online presence. Your site is a direct reflection of your business and the products or services you're offering. Take some time to show it some love and you won't be disappointed.