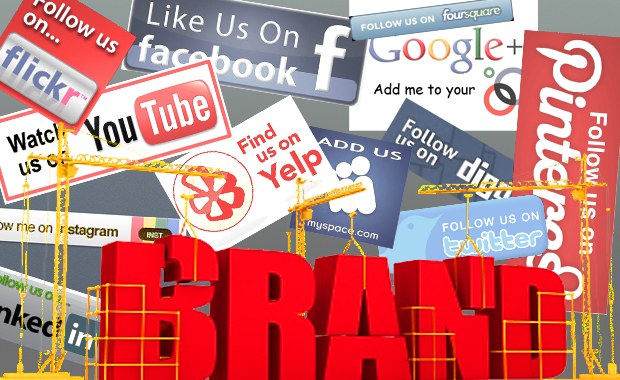 How to Use Social Media to Build Your Brand
Is your business using social media for brand building and customer engagement, or does the fear of a tweet scandal – like US Airways recent NSFW post – keep your company from engaging on social media?
With social media usage now ubiquitous inside and outside of companies, avoiding social media is no longer an option. Businesses need a robust strategy to dynamically engage with customers via social media and build their brand.
Let's consider MasterCard, a 48-year-old financial services corporation that, up until a few years ago, did not exactly have a reputation for being cutting-edge.
In 2009 when MasterCard's CEO challenged the company to transform from a B2B financial services company to a consumer-focused payments technology company, social media proved key for accomplishing this branding transition. To integrate social media usage throughout the company, MasterCard launched a "Conversation Suite."
Conversation Suite is more than just a social media monitoring program – it's a dynamic, global insights and engagement engine that helps to move MasterCard away from just monitoring social media to using social media data for meaningful engagement that not only informs business decisions, but truly builds MasterCard's brand.
Whether your business is just starting to use social media for brand building ¬– or your previous social media engagement efforts have fallen short – there's a lot to learn from MasterCard's innovative approach to brand engagement.
Here are the top brand-building social media "best practices" for your business:
Own the real estate.
From Twitter to Instagram, be proactive about claiming social media profile names for your business. Think of your social media names as virtual storefronts for your business; in order to further your brand, you need to have the right name.
Profile names should be as close to your business's name as possible to prevent any confusion. Once you've locked down the real estate, be sure you are active on the right platforms.
There's no point in pumping out a steady stream of artfully Instagrammed photos if your entire B2B audience is active on LinkedIn. Know the rules for each platform and focus your efforts on the top two or three that are most relevant for your customer base.
Be relevant and engaging.
Tweeting a steady stream of sales offers is the equivalent of Twitter spam and hurt, rather than help, your business's social media brand. Instead, focus on curating engaging and relevant content that adds value to your followers' day.
For example, don't just tweet a post about a new product launch. Instead, tweet a short how-to video that shows the different ways your new product adds value to a customer's life. And don't forget the little things: if you Tweet a company photo, be sure that it is watermarked with your company logo for increased brand recognition.
Define clear metrics from the beginning.
Social media engagement metrics are notoriously difficult to assign meaning; after all, an increase in Twitter followers does not necessarily translate into increased sales or even better brand recognition.
When it comes to selecting metrics, think beyond the basics. For MasterCard, which was just launching a company-wide social media engagement effort, success meant quantifying the number of employees who attended social media training sessions and became social media ambassadors.
What metrics are most important for quantifying success for your company's social media outreach efforts? Defining these metrics from the beginning is essential.
Start a reverse mentorship program.
Does your business's leadership fail to see the value in social media? A reverse mentorship program can help change their opinion.
Every organization has early social media adopters – these are the same folks who are actively creating and curating content in their personal lives, whether that's on Twitter, Instagram or Pinterest. Find employees who are already social media advocates and pair these individuals with older employees in a reverse mentorship program. Buy-in is essential from employees at all levels.