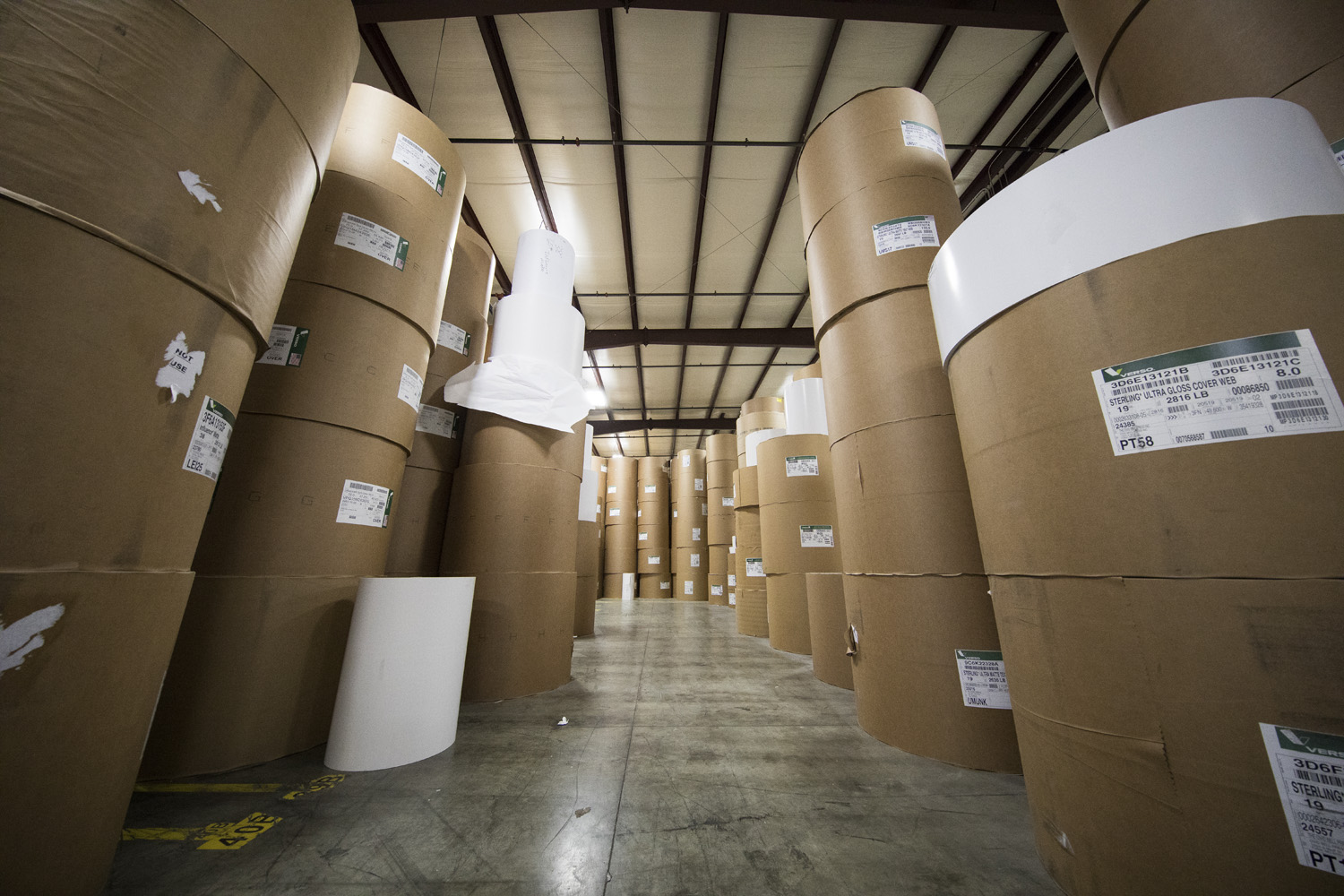 What Do Publishers Need to Know About Paper Basis Weights?
Print is experiential. Print is an intimate, personal way for brands to engage audiences.
Fundamental to the experience are the specifics of the paper, its physical characteristics. While colors are crucial in their own way, the look and feel of the paper can tell your audience a lot about your brand before they read a single word.
The paper stock you choose can positively impact your audience's perception of your brand. At the same time, it can also do the opposite. The experience of paper is influenced by its basis weight, or basis, among many other factors. As such, it's important for publishers to understand paper basis.
Paper basis weight is expressed in the U.S. in pounds. Basis weight is what the paper would weigh in a full uncut ream in an accepted standard size (basis size) for a given use. For example, if you purchase 60 lb. text stock for your magazine, that means 500 sheets of the text in the standard size of 25" by 38" will weigh 60 lbs. or 60#. The caveat: each type of paper has its own standard size, so 60# text weight isn't the same as 60# cover weight. The standard size of cover stock is 20" by 26", while bond stock is 17" by 22".
Adding to the confusion, foreign paper designations use the metric system, which sets its basis weights based upon the weight of one square meter, expressed in grams (GSM). Check out the basis weight chart below to see a rough conversion between metric and American basis weights.
To fully understand paper weight, it's important to be aware of paper thickness as well. Paper thickness, or caliper, is impacted by many factors, including finish and basis. Simply put, paper without a finish for a given basis weight will have a higher caliper or thickness, than those with a finish.  So, a 60# uncoated offset will typically be thicker or feel more substantial than a 60# gloss coated sheet.  In addition, with the standard unit measure (remember that 500 sheet ream measuring 25" x 38" up above?), if both were stacked next to each other, the offset sheet stack would appear taller, but weigh the same – sixty pounds.
Paper thickness is commonly stated in terms of PPI, or Pages Per Inch. Thickness may also be expressed in "point" or "pt." Not to be confused with font size, one point equates to 1/1000th of an inch. For example, a 7- or 8-point stock will measure .07 and .08 inches thick.  Typically, thickness or a point measure is most relevant when talking about mail. Postcards, for example, require a minimum point measure to be accepted by the US Postal Service.
Types of paper
Since a paper's basis weight is based on its type, it's important to know the main types of paper:
Text (or book): A general name for various types of paper, uncoated or coated. It is designed for books, magazines, catalogs and workbooks, among many other uses. Text stock can be anywhere from 20# to  100# or greater in some instances.
Cover: A heavier basis weight paper, cover stock is used in a variety of applications, such as book covers and business cards. It is typically thicker than text stock and comes in numerous finishes. Common cover basis weights are 65#, 80# and 100#.
Bond: Less common in the print world, this stock is uncoated. It's often used for stationery, forms and other specialized uses including writing.  It is the common basis weight measure for office, copier and home use reams.  Sometimes the stock incorporates cotton. Bond stock is commonly in the 20# to 32# range.
Index: Similar to Bond, Index is a cardstock that is uncoated. It's stiff and used in applications such as tags where stronger, more rugged paper is required. Index stock is often between 110# and 140#.
Paper Basis Weight: Three Keys to Consider
Ultimately, basis weight isn't the primary determinant for your paper stock. But paper basis weight can and should influence your choice. Keep these three tips in mind when considering your paper stock selection.
Heavier stocks aren't always better. Heavier stocks can make your print product appear authoritative and prestigious. Thicker paper is more rugged and can handle more wear and tear than thinner paper, which is why many projects add a cover to their mailed piece. Heavier stocks can also better stand up to complex finishing like embossing, debossing, die cutting or foil stamping. Higher basis weight paper isn't always better: they can impact your production options resulting in higher costs than lower basis alternatives and have other possible limiting impacts as well.
Lighter stocks can be more cost effective. Paper is sold based on weight and lower basis weight stocks are usually less expensive than the same sheet in a higher basis weight. Lighter sheets generally require less material for a higher yield of pages printed. It's important to consider the message you are trying to convey and the goals you are trying to achieve with your paper. What impression does the finish, the opacity, the caliper, the weight and the shade collectively make on the end-user?
Balance is the ultimate goal. Unless your project has unusual features, chances are you won't be on the extreme ends when it comes to paper basis weight. It's important to balance other factors in choosing your paper needs such as cost, binding, finish, end use and production options.
Paper basis weight should be considered alongside a number of other factors. It can also be influenced by the unique printing process of your printer: higher basis weights cannot be run on web presses, and some lower basis weight sheets cannot be run on sheetfed equipment. Bottom line: it's important to work with a printer who can share the pros and cons of selecting certain stocks as they relate to their specific equipment.
For a deeper dive on paper, check out our white papers on  uncoated and coated paper stocks.