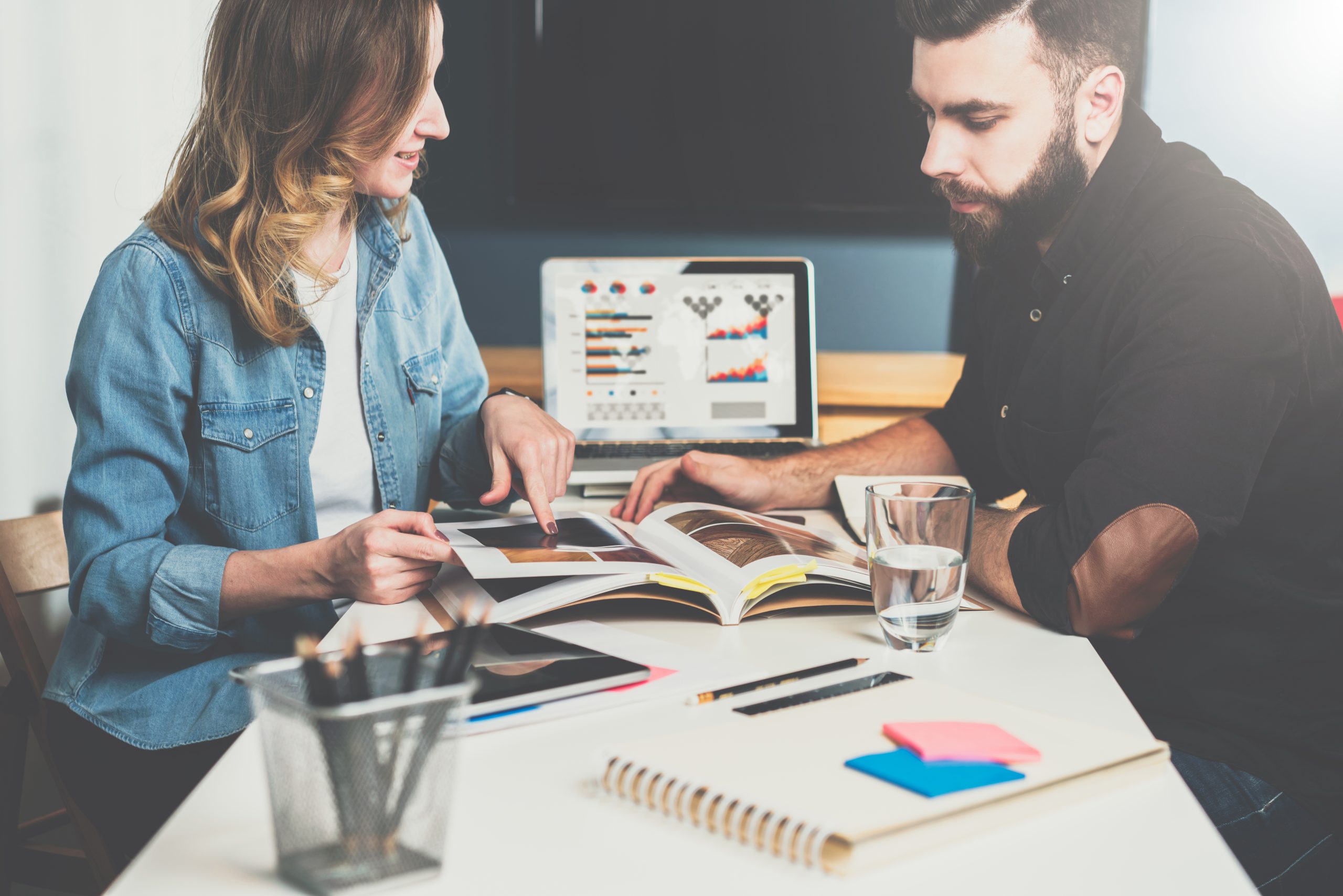 How to Connect with B2B Catalog Buyers
To form a personal connection, your customers expect more than a warm welcome. They want to be understood. And you can express that through relevant products and offers that meet their specific profiles. This is true whether your customers are consumers or other businesses. The common denominator is that you're dealing with humans who respond to a personal touch.  
Luckily, the combination of data and print technology advancements enable catalog buyers to shop where everyone knows their name – and then some. Consider these key findings  reported in a McKinsey & Company article, "The value of getting personalization right—or wrong—is multiplying," by Nidhi Arora, Daniel Ensslen, Lars Fiedler, Wei Wei Liu, Kelsey Robinson, Eli Stein and Gustavo Schüler:
75% of consumers switched to a new store, product or buying method during the pandemic.

71% of consumers expect companies to deliver personalized interactions. And 75% get concerned when this doesn't occur.

Personalization drives higher performance and better customer outcomes. Faster-growing companies drive 40% more revenue from personalization than their slower-growing competitors. 

Personalization is particularly good at driving repeat engagement and loyalty over time. 

Personalization typically produces a 10-15% revenue lift, depending upon the sector and the company's ability to execute a program. 
As the authors note, "Personalization is not only a crucial capability, it's one that punches above its weight, no matter whether the company is a digital native, a brick-and-mortar player or a behind-the-scenes producer or supplier." 
Simply put, personalization is now the default standard for customer engagement. Buyers expect a relationship, not simply a transaction. Ignore their wishes at your own peril. Customers have alternatives, and they don't hesitate to make changes. 
Need We Say More about the Value of Personalization? 
The truth is we could—and easily. There is a growing body of research that supports the value of personalization and customization. B2B catalog marketing is no exception. So, let's assume you're a believer. We'll move on to the nitty gritty of how to raise your print personalization level and better connect with your B2B catalog buyers. 
Personalization among B2B marketers looks different from that in the consumer sector. According to a recent MarTech article, "What is personalized marketing and how is it used today?" by Corey Patterson, they face different issues. Chief among those can be outdated, siloed or low-quality data that prevents B2B marketers from getting actionable business information. Which leads us to our next topic. 
Building an Actionable Data Warehouse
Any discussion of elevating your personalization capabilities begins and ends with data. You either have it or you don't. Most have it (somewhere), but the data must be accessible and in an actionable form. 
As Patterson points out, one of the outcomes of poor data management can be alienating buyers with slapdash communications. An example? Conflicting or duplicate messages that tend to turn off buyers. Often the culprit is data siloing between sales and marketing. 
A good customer data platform (CDP) can do wonders to solve this and other data silo issues. A CDP is a  software assortment that creates a continual, unified customer database that is accessible to other systems. The platform pulls data from numerous sources. It then cleans and combines the data to build a single customer profile. Finally, the structured data are made available to other marketing systems. 
What if Your Data Mining Tools Are Lacking?
If you still lack confidence in your data, consider enhancing it through a data aggregator. These service providers collect and compile data from individual sites to sell to marketers. These providers can profile the demographics of your current customer list (gender, location, average age, etc.) and allow you to create more targeted prospecting campaigns. 
Understanding the Levels of Personalization Technology 
Many B2B catalog marketers never get started (or advance) because they think personalization is too complicated and expensive. Neither is accurate. The idea is to get started and then keep raising the level of sophistication. 
Here are some personalization methods to explore:
Inkjet imaging

. Most B2B catalog marketers already use inkjet imaging for addressing and required postal coding information. But inkjet imaging sophistication has risen far above its low-resolution beginnings. Now you can image variable data images and messages in a variety of fonts, colors and locations—all in higher resolution imaging. 
Use your customer data to create exclusive offers, highlight a product of interest or image a map that helps a customer locate the nearest physical store. And don't forget source codes, which can raise catalog order tracking to 95%. According to catalog marketing consultant Stephen Lett in "Source Codes Are Key to Tracking Your Results," they are the lifeblood of any catalog business—consumer or B2B. Source codes help marketers know which:
House file segments to mail

Prospect lists to use or eliminate
Promotional offers to make

Demographic/Selective binding

. This process enables you to insert different signatures into a catalog—based on buyer data—in a single bindery run. A code in the address file determines which signatures a recipient receives. The address file also induces the addressing information for the catalog. A simple example would be a maintenance products cataloger excluding (or replacing) a signature on snow removal products during the winter season for buyers in warm weather states.  
In addition to signatures, you can also selectively apply covers and other types of inserts. 
Digital printing

. Today's digital presses offer the maximum in print personalization. You can create a catalog where each word and image are unique. And digital printing systems can reproduce clear, sharp images with accurate skin tones, smooth gradients and color accuracy. They are ideal for micro niche-targeting strategies aimed at small groups or even individuals. It's the polar opposite of "spray-and-pray" approaches and can pay big dividends in reducing total costs. 
Variable data digital printing systems can also help support a branded digital storefront. These storefronts provide anytime, anywhere web sales and services. Authorized users (sales reps and channel partners) can access an online catalog 24/7, view documents and then order either inventoried materials or create personalized documents on-demand. The systems can accept payment and transmit an order to an in-house fulfillment center. Digital storefronts provide another personalized element to B2B organizations that also utilize a sales force, distributors, agents and other channel partners. 
Specialty bindery applications

. There are a number of other items–dot whacks (machine-affixed labels), tip-ons, cover wraps or bands and order forms—that can add involvement and personalization. Discuss with your printer the options for incorporating inkjet imaging and selective insertion with these specialty items. 
Getting Personal at Walsworth
We have a wide range of solutions to help you personalize and customize your B2B catalogs. Most importantly, we have the expertise to help analyze your program and create a customized plan forward. From data services to offset and digital printing platforms, to inkjet imaging and a variety of bindery options, we deliver the benefits of catalog personalization.
We invite you to learn more about Walsworth. Perhaps consider us for your next personalization challenge. We're confident you'll like our responsiveness, creativity, competitiveness and helpful attitude. You can get all the details about Walsworth at our website. Or you can submit your information, and a friendly Walsworth associate will be in touch within 24 hours.