Behind the Scenes: Employee Spotlight on Phil Archer
Here at Walsworth, we're lucky to have many excellent employees. These are the people who make our company run. Some of them interact with our customers every day, but many of them don't. We're lucky to have these people, and are sharing a little bit about them in our Behind the Scenes series.
Phil Archer came to Walsworth in May of 2017. Although he's new to Walsworth, he brought a wealth of experience in the printing industry. Archer has been in the print industry for 35 years, after starting as floor help, sweeping the floors in the press room. Now, Archer is the General Manager at the Saint Joseph, Michigan, facility. When he's not at Walsworth, he enjoys spending time outdoors with his wife, Christy.
How do you like working for Walsworth?
Phil Archer: It's been great. Working for Walsworth has been fantastic. I love the people. I love the company. The customers are great. Saint Joseph is a great community. I'm glad I made the move, both to this company and to this area.
Your title is plant manager. Tell us about what that entails?
PA: I'm responsible for the safety of our employees, the quality of the product, the productivity of the equipment and the training of the people who run the equipment. If we do these things right, it means our customers are satisfied with our products. I'm also responsible for the financial stability of the plant.
What do you do on a day-to-day basis?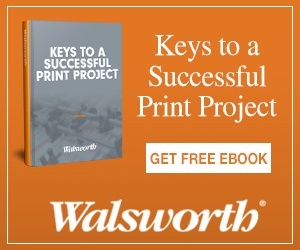 PA: I start every morning with a production meeting. All the department managers are there, including customer service and, sometimes, the sales people.
The team discusses the business basics, as I call them. We start out with safety, find out how we did and if there were any incidents in the last 24 hours. Every meeting we have in the plant starts with safety. It's the most important function of what we do. We want everybody to return home safely to their families each night.
After safety, we go into quality. We discuss any issues we may have. We talk about how we're resolving any issues we've had recently, if there are any.
Then, we move onto productivity to see if there's anything we need to change or adjust.
We then look at our schedule to verify that all our manufacturing stages are slotted and sequenced properly for on-time product delivery.
That's how we start out every day, with a production meeting.
After that, I like to hit the floor and talk to employees. I try to do this twice a day, once in the morning and again in the afternoon. I walk around to check in and say hi.
From there, it's basically going through emails, answering questions and going through plans to make our plant the most efficient it can be.
I also watch over our fulfillment area. It's in another building, and I try to visit once a week.
Aside from all this, I have an open-door policy. I have my door open and encourage people to come in so I can help resolve any issues they may have.
What is it about the printing industry that you enjoy?
PA: Printing gets into your blood. You either love it or you don't like it.
I like the excitement. Every day is different, every customer is different. Every day, when you come in, it's a new set of parameters and there's always a new set of challenges.
I love being a troubleshooter. I love helping people figure out problems or resolving them. And I like the interaction with employees at all levels from management to our production floor. Each level is unique, and I just love that interaction.
I also enjoy the networking. I've been doing this so long, I know a lot of people in the print industry. I'll talk to old friends, and we'll share ideas. It's a big industry in a small world. You have a lot of friends when you've been in it as long as I have.
On a personal note, how's your family?
PA: I left my adult children in Virginia. My wife and I miss being near them. They're doing fine, and we're doing fine, but we do miss them. It's been tough. They're coming to visit us this summer.
My daughter, Molly, is 24, and my son, Wyatt, is 21. My wife, Christy, and I have been married for 28 years.
How does Christy like Michigan?
PA: She loves Michigan. She's started fishing. It's a hobby we share now. She loves the culture and the scenery here. We both love the lake. It's a great place to live.
Saint Joseph is right on Lake Michigan, plus there are several inland lakes. There's a beach. It's like living in Florida, but without the sharks and salt water.
What do you like to do in your free time?
PA: I like to golf, but don't do it very often. I like fishing, and have fun now that Christy does it too. She almost always catches a bigger fish than me. I like being out on the water, the relaxing and peaceful nature of it. It's a way to relax and wind down.
I enjoy kayaking and canoeing. I love being outdoors, and this area has a lot of that.
I'm a churchgoing guy, so I do a lot of church activities. We found a church as soon as we got here. It's been a great place.
I also like doing projects around the house, like with HGTV. My wife is an interior designer. She comes up with these projects, and I help carry them out.
Moving into a new house must have meant plenty of projects?
PA: Oh, yes. For the last year or so, we've been working around the house to put our own touch on it. It feels like home now.
Christy wants to do a nautical theme in the house. She found portholes, and I turned them into a coffee table and two end tables.
She also found a ship's wheel, and we made a breakfast table out of it. She comes up with the ideas, and I put them together for her.