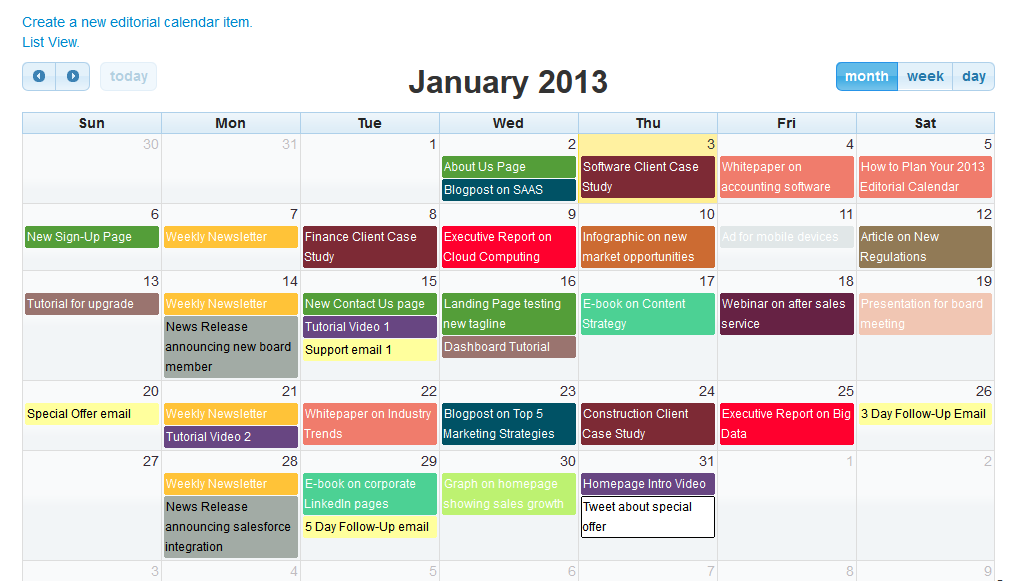 How to Create an Editorial Calendar
Content marketing is a must to compete in today's online arena, but it can lose all effectiveness unless you have an organized system that lets you plan out and keep track of your efforts. A well-kept editorial calendar provides the system you need to consistently draw in the audience you want. Here are five useful tips to help you get started.
1. Set up the foundation
The foundation of your editorial calendar should contain a listing of any important dates around which you can revolve specific content. Depending on what's important to your company and your target audience, the listing can include holidays, product launches, and any events planned by your company or industry, such as those held by society or trade organizations.
Noting key dates can help generate new content ideas while keeping track of when that content should be published for the biggest impact.
2. List your planned content
While you may have automatically listed any planned content surrounding key dates, there's still a lot of space left to fill. You next step is to produce an ongoing schedule of posts and when you plan to post them. Make sure to include enough specific information for each entry so anyone glancing at the calendar knows what to expect.
The type of content, whether it's a blog post, social media content or other materials, include:
Due date
Publishing date
Author
Topic
Details on the content
Keywords that must be included
Calls-to-action to be used
Status, such as waiting for content, waiting for posting or published
To keep things streamlined, you can create separate tabs for each type of content. Your master calendar should still provide a general overview, but tabs can open for more details on each type of content. One tab can feature your blog posts while others open for details on social media content, newsletters, and e-books.
3. Track your progress
Keeping track of topics covered is easy from your master calendar, and you can also use tracking programs to keep an eye on your content's performance. Knowing which blog posts were hot or which social media posts generated a massive response can help shape your content going forward.
You can also repurpose blog popular content, tweaking the content and re-launching it at a later date from a slightly different angle.
4. Review, revise and add new entries
Reviewing and revising your calendar should be an ongoing process. You can revise based on your blog or social media posts' past performance, and you can also rearrange entries as needed to best suit any changes in events, happenings or product launches.
5. Keep an area for new ideas
Sometimes just glancing at your editorial calendar can stir up new ideas for future blog posts or social media content. Using a separate area or tab on your main calendar to keep track of these ideas is an excellent way to have a steady fodder of future content. Review ideas regularly and add them to your lineup as needed, rearranging other content along the way if necessary.
Editorial calendars are neither static nor written in stone. They should instead be a living entity that easily adapts to any changes in plans or scheduling while neatly keeping track of it all.