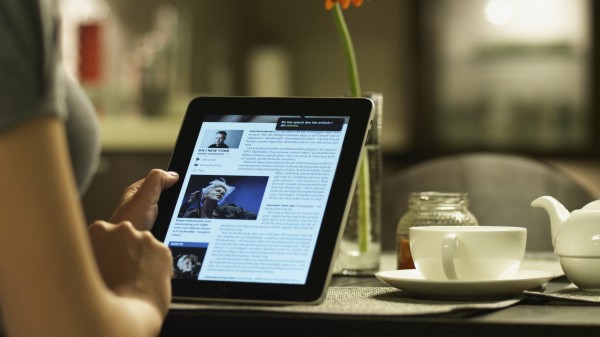 Five Steps to Creating Great Interactive Content
As covered in our two previous blog posts, Your Opportunity with Walsworth Apps and How Apps Can Help You Reach More Readers, your app can offer value above and beyond your print publication. Much of that value is realized through a rich, interactive reading experience – touching, swiping, zooming, animation, video, etc.
The possibilities are vast, and for those transitioning from print design to the world of interactive media, it can be hard to know where to begin! Here are five simple steps to transform your print publication into an interactive powerhouse:
Step One: Review Your Print Edition
In most cases, your first app will be based on a print edition. The simplest way to get a jump on your content is to build on what you already have. Gather your editorial team and walk through your publication, keeping the following in mind:
Can you make your cover interactive? Focusing effort here can make a great first impression.
Illustrations can become animations.
One photo can be transformed into a gallery of multiple images, or a video.
Did you have to make editorial cuts that you didn't like? Content that couldn't fit can now be included. There are no page count limits in an app.
Content that is text heavy can be slimmed by making it audience-specific. For example, by using a simple selection widget, an article in a medical publication can be presented two ways: one for nurses, one for doctors.
Step Two: Identify Assets
Now that you have re-familiarized yourself with your print publication, it's time to find all the supplemental content at your fingertips. Did you recently shoot a video for training purposes or a blog post? What about extra photographs that couldn't fit in the print article? All of these items can be used in your app. What's more, by reviewing what you're already producing, you'll have a better handle on which multimedia skills you have in-house versus what you'll need to supplement with help from Walsworth.
Step Three: Look at What Everyone Else Is Doing
Your publication doesn't exist in a vacuum. Use the hundreds of apps available for inspiration. The Apple and Android app stores are full of magazines and digital books, as well as apps that wouldn't be considered "publications." Don't limit yourself by looking only at your competitors. If you are a B2B publication, check out what publishers are doing in the B2C space. Organizations like National Geographic are leading the charge with stunning, interactive designs. While you may not be able to match their level of sophistication, you can still use some of their best tricks. Good designers steal, and great designers appropriate!
Step Four: Make a Simple Storyboard
The best way to explore interaction is through a simple storyboard. If you have an idea for an interactive element, draw how it will appear when the page first shows. Now draw what it will look like after the reader taps or swipes the animation. Is there a second level of interactivity? Draw the next swipe or tap. Congratulations, you're an animator! But don't worry. You don't need to go to art school. Stick figures and rough lines are fine. We'll work with whatever you've got, and we'll make your app gorgeous.
Step Five: Engage the Professionals
Now that you've got a basic storyboard for each of your best interactive ideas, it's time to talk to Walsworth, your digital publishing partner. We'll share our industry-leading experience to spot opportunities to take your concepts to the next level, and we'll prevent any technical problems. Your animations and interactions will work flawlessly on all of the devices you choose to support. We'll also help you build your interactivity as efficiently as possible to make the most of your app budget.
So what are you waiting for? Jump back to step one and get started!