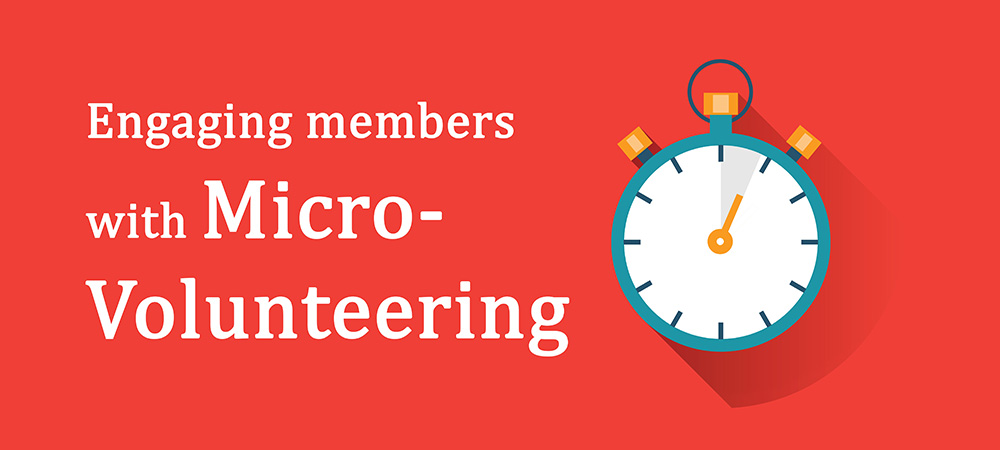 How Micro-Volunteering Opportunities Can Engage Your Membership
Micro-volunteering. It's a new term for me, but the concept makes complete sense.
The term refers to volunteer opportunities to complete small tasks necessary for the success of a larger project. The opportunities typically take only minutes or an hour to complete and don't require a long-term commitment.
Your association staff is busy. Your members are busy. No one has the bandwidth to take on new projects, even when they may be impactful.
It's the familiar struggle to balance "need to do" efforts that sustain an organization with "want to do" efforts that help organizations grow, evolve and improve.
That's where micro-volunteer opportunities can be an effective solution.
A recent Associations Now article shares the story of an association chapter that is using content micro-volunteering opportunities to contribute to the chapter's newsletter, blog and social media in bite-size ways. These contributions not only help free up staff for other projects, but they freshen content ideas and they increase member engagement.
In that article, Michelle Chavez, Communications Chair for the Austin chapter of National Association for Catering and Events (NACE), explains, "Micro-volunteering opportunities are something new that we are trying out this year. We hope this will inspire members to get more involved over time, with the eventual goal that they might enjoy it so much they want to be on the board."
As Chavez also mentions in the article, members are eager to get involved in small but meaningful ways.
That sounds great, right? But, sticking with the theme of micro and bite-size, how can your association get started without "biting off more than it can chew?"
In our article about creating content and increasing engagement with member storytelling, we mention that your organization's events are a great place to get started. At one of your member conferences, experiment by setting up an area for capturing stories on camera where you can control elements that impact video quality, like equipment, lighting and background noise.
Since members will already be on site, their travel and lodging is already covered, reducing the cost of such efforts. And, since attending members are away from their normal duties, they are much more likely to volunteer a few minutes to contribute to your content gathering effort.
Another idea is to weave micro-volunteering opportunities into the charitable activities your association is already using to support your organization's mission. Consider how you can engage members who don't have enough time to attend this year's charitable events, but who can contribute by sharing personal stories about their rewarding experience from previous events.
Take note, however. As MissionBox shares in 5 Things That Drive Your Nonprofit Volunteers Away, members will lose interest in volunteering opportunities if they're not well organized or if communication is poor.
Start small and experiment. As Katie Domanowski, Director of Communications for The American Academy of Dermatology, said in this article about developing new content efforts, "Sometimes you just need to try things to see what works."