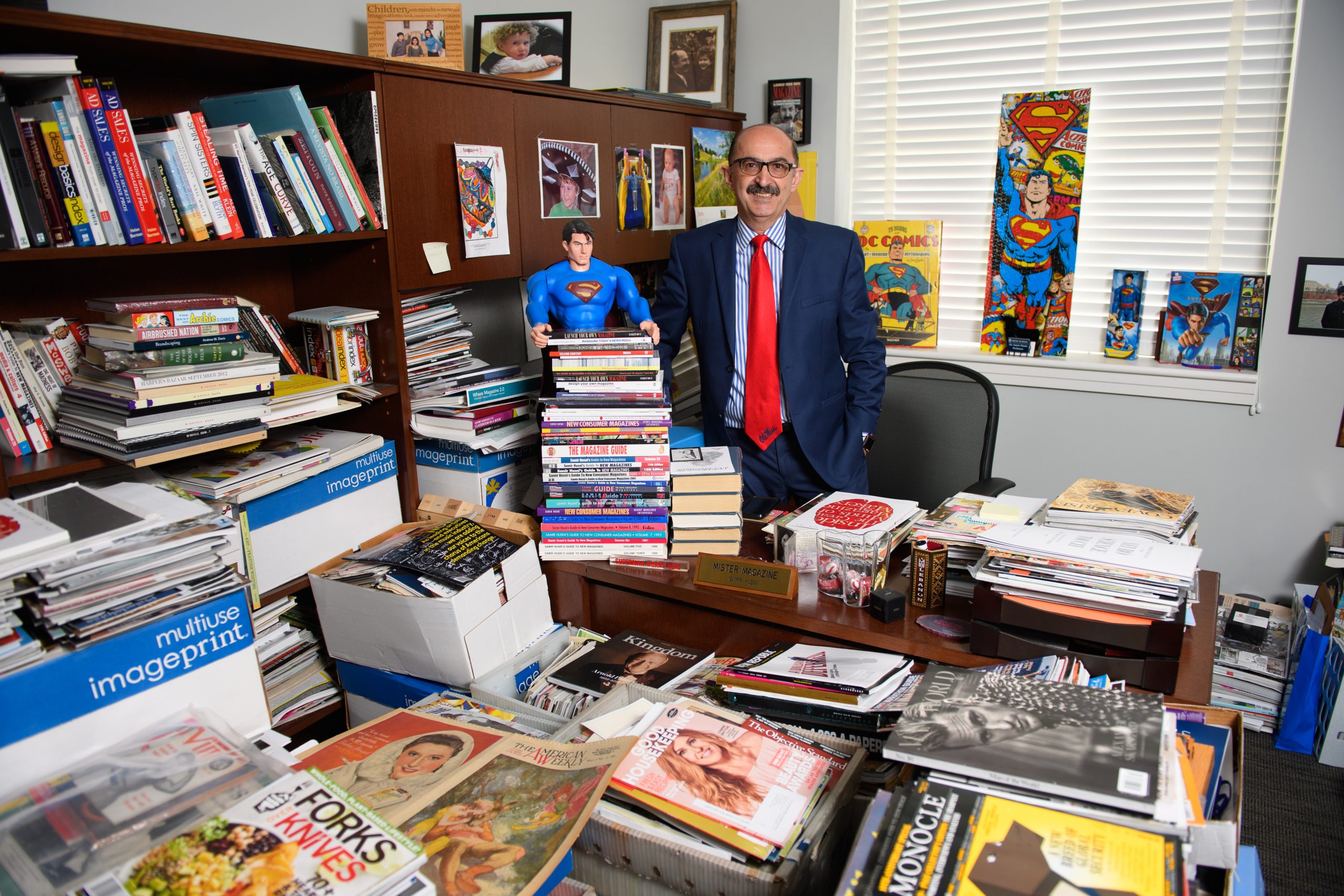 Magazine Trends in 2021 and Beyond: A Conversation with Mr. Magazine
The impact of the pandemic and shifts in consumer behavior are transforming the magazine industry. To better understand how these trends will shape the future of magazines, we reached out to industry expert Samir "Mr. Magazine" Husni, Ph.D. Husni is the founder and director of the Magazine Innovation Center at the University of Mississippi's Meek School of Journalism. He engages in media consulting and research for the magazine media and publishing industry. Above all, he's a passionate and lifelong magazine reader.
Our conversation with Mr. Magazine ranged from how publishers can build better business models to account for declining ad revenue, to the booming trend of bookazines, in-depth special edition magazines on a single topic, and beyond. The following conversation has been edited for content and clarity.
The historical moment we're currently living in is changing the world around us. What will the magazine industry look like in the next five to ten years?
There are only two people who can tell you the future: God and a fool. I don't pretend to be God, and I hope I'm not a fool. Who knows what the future will be? Throughout recent history, we have seen a lot of events that have impacted the magazine industry, but nothing like the COVID-19 pandemic. Stores shut down, bookstores and newsstands disappeared — all the vehicles that magazines depend on to reach their audience disappeared with the exception of the post office. That's one reason why subscriptions have seen a hike of anywhere from 15% to 30%. It's also because these days people are bombarded by information but have less understanding, so they want somebody to explain, to curate, to vet, to provide a trustworthy conversation with them.
Advertisers also vanished. It was a double whammy. That's why we've seen a shift in terms of the business model. A magazine that has been published for 20 years like O, The Oprah Magazine, changed its circulation to quarterly with a cover price of $15.99. This is more than what you paid to get 12 issues when it was a monthly magazine. Magazines are going to focus much more on their audience and get away from the business of selling the audience to the advertiser. And instead, they will get back to selling content to the audience. But if magazines are only in the content-providing business, we're dead, because there's so much content out there. To survive, it must be an experience-making business that feels like an exchange between trusted friends.
Do you think the shift towards relying more on consumer revenue than advertising revenue is the new reality for magazines, or is advertising just facing short-term, pandemic-related challenges?
I wish I could say it's something that sticks. We're seeing it implemented more than ever before. But I recall back during the 2008 recession, magazine executives were saying we have to change the business model and be in the business of circulation and depending more on the consumer. Then the minute the economy started picking up, they went back to their old ways. But this time because of the magnitude of the impact I think it will be different, and because there are so many other outlets for advertisers like emails and text messaging. Advertisers know how to reach their customers; they don't need a third party to sell their stuff.
There's a major change taking place, and whether it shifts to bookazines or quarterly magazines, there is less dependence on advertisers and more dependence on people reaching into their pockets and spending up to $15 for a magazine. So, the content of the magazine better be experience-making content that is timely yet timeless — it's not going to make a difference whether I read the magazine today, tomorrow or next month. That's where we're going to be seeing the big change; magazines are going to be the only non-disposable media platform.
Are bookazines the future of magazines, or just a trend?
From a content point of view maybe, but there is still a need for that continuous relationship with the audience. Magazines are love affairs and long-lasting relationships; people want that trusted friend more. Magazines are the original influencers. People used to say, "I saw this in Life Magazine," or "I read this in Better Homes and Gardens." It was the brand that carried that influence, and we need that. While bookazines are flooding the market, what's helping us is that we're learning that people are willing to pay for good content that they are interested in. So, there's nothing wrong with me launching a quarterly mountain bike magazine like Beta, for example, which just came out with a cover price of $8. Niche publications like these are numerous, but they have the same goal in mind: I'm providing you with curated, vetted and trusted content, but you have to pay for it.
What would you tell a publisher considering a magazine launch in 2021?
When you look at history, some of the best magazines in this country launched during bad times and became popular after them. Whether it's Entertainment Weekly or Reader's Digest, they came following something major that happened. It will take you at least one to two years to establish the magazine, and it's much better to do it when times are not good, because when the times change and become better, then your magazine is already established. That's why we're seeing so many new titles these days, including over 30 so far this year.
Is there anything you wish magazine publishers would do differently?
They have to accept the fact that print is here to stay, but also that print is changing; you can't do the same magazine you did 10 years ago. There's no problem with print because study after study shows us that people comprehend more, engage more and remember more with a printed product than digital. We don't have a print problem; we have a business problem.
Some magazine media outlets are launching new ways to generate revenue, such as doing all kinds of membership deals that go beyond just getting a subscription to a magazine. The smart publishers are finding new ways to create revenue, but they are still using print as the base. Look at Us Weekly, they have a television program, podcasts and bookazines. But no matter what, the printed weekly edition is going to be with us so long as there is Us. I've never given up on print; I've given up on the traditional business model.
What role should print companies play in supporting magazine customers?
Education is very important.  If magazines see that print is the only non-disposal media we have now, they will realize that you can't print it on tissue paper. You have to be very creative with the printing, and in terms of ensuring that when you get that magazine you're paying $15 for, it better feel worth that amount of money. There are so many different ways we can print today, especially now with digital printing. I'm getting some magazines they print only 500 of, but they are collectable or collectibles. Some even have hardcovers. Printers should think out of the box, and they should think they are creating a luxury item. There is no such thing as a disposable item because the price is over $10. It's not about cutting costs when it comes to printing, and that's where the education has to play a role. You are in the business of creating a collectible item.