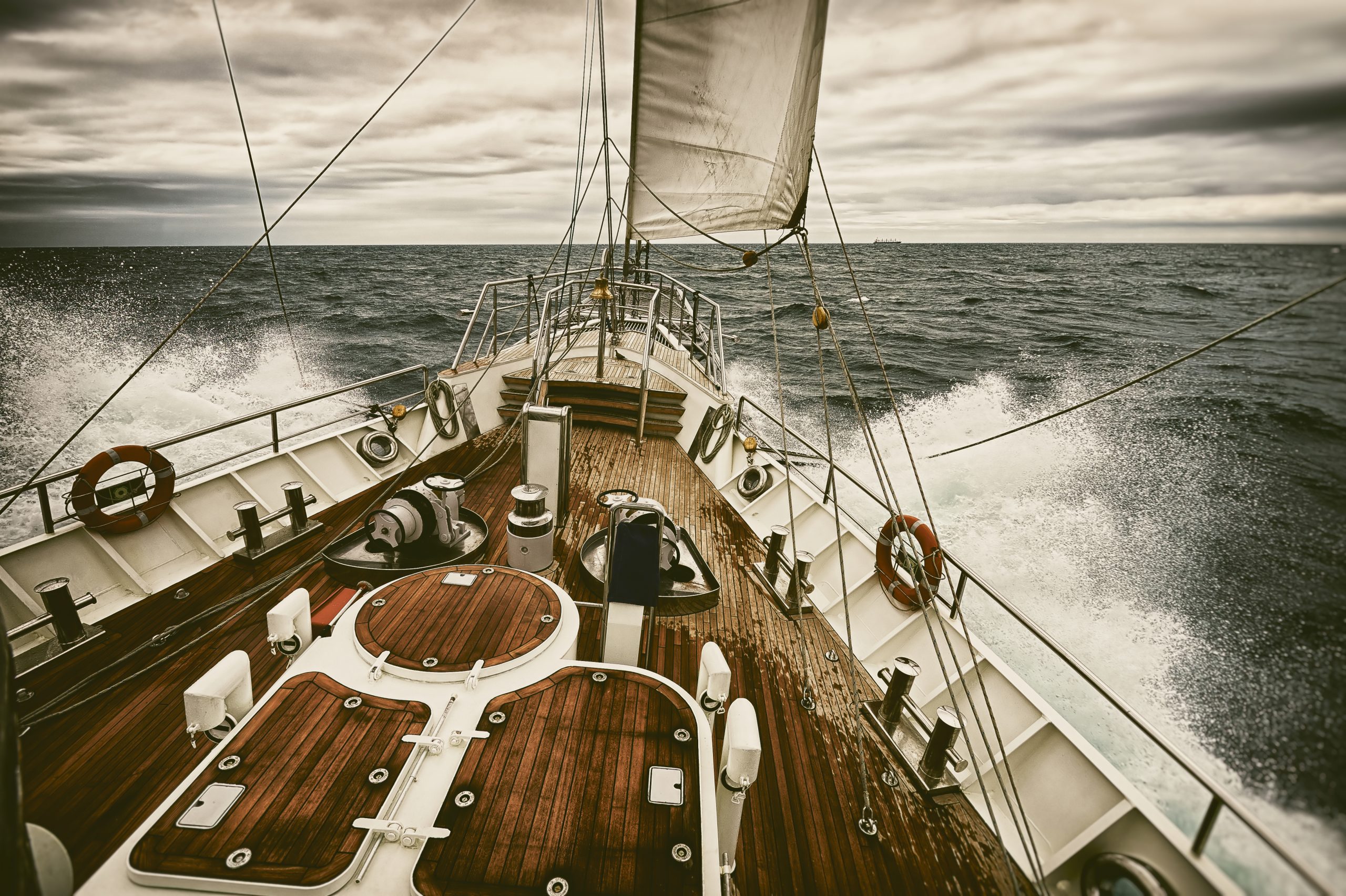 Sailing Through Rough Seas
Sailors anticipate rough weather from time-to-time. Squalls can arise out of nowhere, and some larger storms are too big to outrun.
When a storm is on the horizon, sailors prepare with a comprehensive checklist. Each crewmember has their own predetermined responsibilities to prepare the ship for any potential problems. These lists include the expected, such as covering openings above deck (in some instances literally battening down the hatches) and securing loose items below. There are also the less obvious elements of testing bilge pumps, checking engines, and charging or replacing the batteries of various equipment.
While we don't have to worry about hurricanes or heavy seas breaching our Midwestern facilities, there are numerous contingencies we must be prepared for as a printing company. Our preparations are as diligent and in-depth as that which happens on a ship ahead of inclement weather.
Walsworth is no stranger to rough seas. Don Walsworth started the company in 1937 in Marceline, Missouri, in the depths of The Great Depression. Now run by the second and third generations of the Walsworth family, we've navigated storms big and small through comprehensive planning and staying anchored to our commitments. No matter the severity of the storm, our diverse product portfolio of books, magazines, catalogs and school yearbooks ensures our strong financial position.
Whether you're printing a monthly magazine, a timely political book or anything you've spent time and money on, any delay can be costly. We understand how critical timing is. That's why we're committed to doing everything we can to provide quality products and services on time.
As we've learned over the years, disruptions happen. We're even living through one right now with COVID-19. While we can't predict future disruptions, we can prepare for them. That's why we create Business Continuity Plans to address disruptions of all magnitudes.
A plan for every problem
While we have two dozen designated teams ready to mobilize and launch emergency action or disaster recovery plans for disruptions of any magnitude, many of the disruptions we plan for are much smaller in scope. Whether it's a network or power outage or an unforeseen emergency at one of our facilities, we have plans in place to minimize and mitigate any disruption.
One of our core commitments is to put people first, so the initial step in each plan is to make sure our employees are safe. Our equipment platforms and other essential equipment are also very important. If one facility is shut down for whatever reason, we have plans in place to shift printing operations and continue serving our customers.
Our infrastructure is integral to our operation. Given this, we place a strong emphasis on protecting it from not only physical threats, but also cyber threats. We maintain segmented networks to limit risk and maximize security. Furthermore, our storage with critical data is backed up each night. To ensure minimal chance for any disruption, we utilize battery backups and near-line generators.
Since 2008, we've acquired three additional manufacturing operations in Saint Joseph, Michigan, Fulton, Missouri, and Ripon, Wisconsin. These acquisitions have expanded our capacities, capabilities and have helped us better serve our customers. Additional facilities give us more flexibility. They also bring more responsibility to the employees and the communities in which they operate. As such, it's never been more important to have Business Continuity Plans large and small to support all of our manufacturing operations and those who depend on them. Sometimes, redundancy is a good thing.
We also have plans for problems that occur away from our facilities. In the rare event that a product is lost or damaged in transit, a specific plan is implemented to resolve the issue. At the end of the day, part of how we create value for our customers is by planning and preparing for any possible disruption, unlikely as they may be.
Anchored to our commitments
While each one is unique in its specifics, our plans all have one common goal: they outline how we can remain committed to our values in the face of unforeseen circumstances.
Unfortunately, we had to implement one of those plans last year because of the COVID-19 pandemic. After ensuring the safety of our employees and communities, we implemented strict protocols to keep our equipment operating and our employees safe at work. We restricted visitors and employee travel between facilities. In addition, we implemented new rigorous cleaning and sanitizing practices, as well as new processes to keep people safe and socially distant in their workspaces, as well as before and after their work shifts. This plan will remain in place as long as the pandemic poses a threat to our employees, customers and communities.
This won't be the last disruption we face. But like previous challenges, we will overcome with substantial planning and by staying committed to our values.
No matter the conditions, we're committed to consistency on every level at Walsworth. We can't predict what the future will hold, but with a multitude of Business Continuity Plans, we know we'll be part of it.