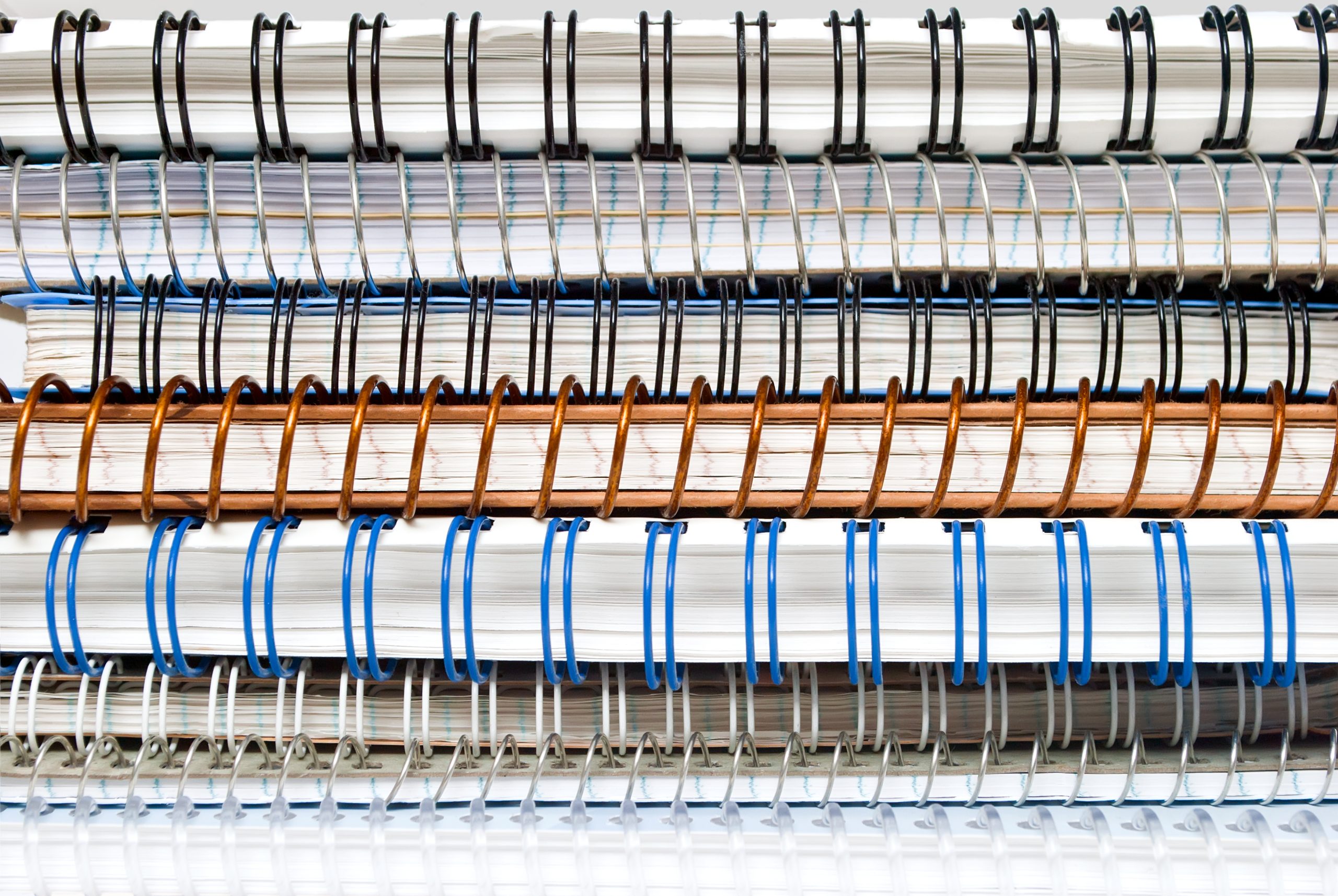 Binding Basics – Spiral, Wire-O and Comb Binding
There's so much more to binding than just paperback or hardcover. From the look to the weight to the longevity of the finished publication, it's important to know how each binding technique can suit the unique needs of your publication and differentiate you from the competition. 
In this series, we explore how different binding processes are performed in a commercial setting and how they affect the final product. 
What

are spiral, Wire-O and

comb

binding?

 
Spiral, Wire-O and comb binding are all methods of mechanical binding. Mechanical binding refers to binding processes involving the insertion of metal or plastic filaments through holes in the binding edge of paper sheets in order to secure pages together. Spiral, Wire-O and comb binding are popular, affordable methods for publications that need to lay flat and undergo frequent use without damaging the binding. These durable binding methods are most often used for printed items such as reference materials, guidebooks, notebooks and journals. 
Process
The printing and trimming processes are similar for spiral, Wire-O and comb binding. The sheets are printed, collated and aligned, and the inner pages and covers are then cut to the finished size of the publication. After holes are punched or drilled through the binding edge of the sheets, the processes begin to vary for spiral, Wire-O and comb binding. 
Spiral binding
Spiral binding, also referred to as wire or coil binding, is one of the most common binding methods due to its durability and versatility. In a spiral-bound publication, a long series of small holes is either punched or drilled through the binding edge of the paper sheets. Then, a continuous plastic, metal or plastic-coated metal coil is threaded through the holes. A coil-crimping tool bends and trims the ends of the coil to secure the binding. 
Wire-O binding
In Wire-O binding, rectangular holes are punched through the binding edge of the paper sheets. This binding is also called twin-loop binding, as a sturdy double wire is used to bind publications. All the inside pages and covers are placed on an open, "C"-shaped double wire, which is then pinched closed through the holes in the binding edge.  
When the publication is placed onto the wire, the back cover is placed above the front cover on top of the inner pages. This way, when the wire is pinched together, the portion where the wire meets sits between the last inner page and the back cover of the publication. 
Concealed Wire-O binding 
As the name implies, concealed Wire-O binding is a form of Wire-O binding with a hard or soft cover that continues around the binding to conceals the wire. This is most often accomplished by gluing the front and back covers to the first and last inner pages with extra space left for the wire binding to create a round or square-backed, concealed Wire-O publication. 
Comb binding
Also called GBC, Cerlox or Surelox binding, comb binding uses a solid, cylindrical strip of curved plastic with a line of curved tines to hold pages together. Each flexible tine along the comb is preformed into a ring shape with a small amount of tension, so the tines can retain their shape after being manipulated. Rectangular slots are punched through the covers and pages of the publication, and the curved tines are spread open to close down through the slots in the binding edge. Some combs are designed to be openable after the publication is first bound to add or remove pages, and some combs are designed with locking mechanisms to keep pages in place after binding. 
Use cases for spiral, Wire-O and comb binding
With these binding methods, one of the largest benefits is the ability to lay completely flat. For instructional guidebooks or reference materials, this makes it easy to flip through pages quickly and stay in place so they can be referenced without the reader needing to hold pages open. 
While comb-bound products can be opened fully flat, spiral and Wire-O-bound products have the added flexibility to double over on themselves. These 360 degrees of mobility provide full visibility of content and hands-free reading without causing any damage to the binding. It also makes it easier for publications to fit onto smaller work areas and provides a better writing surface for notebooks or workbooks.  
The wires, coils and combs used for binding come in various diameters to accommodate for a wide range of page counts. Wire-O binding has a recommended maximum of 200 pages, but spiral binding is a great option for larger page counts, as the coils usually range from about 0.25 to two inches in diameter and can be up to 24 inches long. Comb binding can contain a higher page count than spiral and Wire-O binding, as the diameter of combs can be as large as three inches. 
Because each page is separate on the coil, wire or comb spine, single pages need to be submitted instead of spreads. Unlike saddle stitching or perfect binding, crossover images are not possible for these binding types, and there also needs to be at least a 0.125" bleed on all four sides of each document page. An inside page margin of 0.5" should also be taken into account in order to avoid any content getting obscured by the slots or filaments in the binding edge. 
Since each page in a spiral, Wire-O or comb-bound publication is separate, there are abundant possibilities for paper types, finishes, foldouts and inserts. With these options, a cookbook could be laminated to be spill resistant or a student workbook could have foldouts for large diagrams. With these binding methods, printed works can also have indexing tabs for referencing and customizability.  
Weighing the options
Spiral, Wire-O and comb binding methods are popular, reasonably affordable ways to create durable and versatile publications. Although these binding methods are not typical for standard distribution and retail channels, they are ideal for publications requiring frequent use or referencing, such as manuals, cookbooks, directories, calendars and planners.  
If you are considering spiral, Wire-O or comb binding for your next print project with Walsworth or you would like to speak with someone to discuss what would work best for your publication, our knowledgeable staff can help find the best option for you!