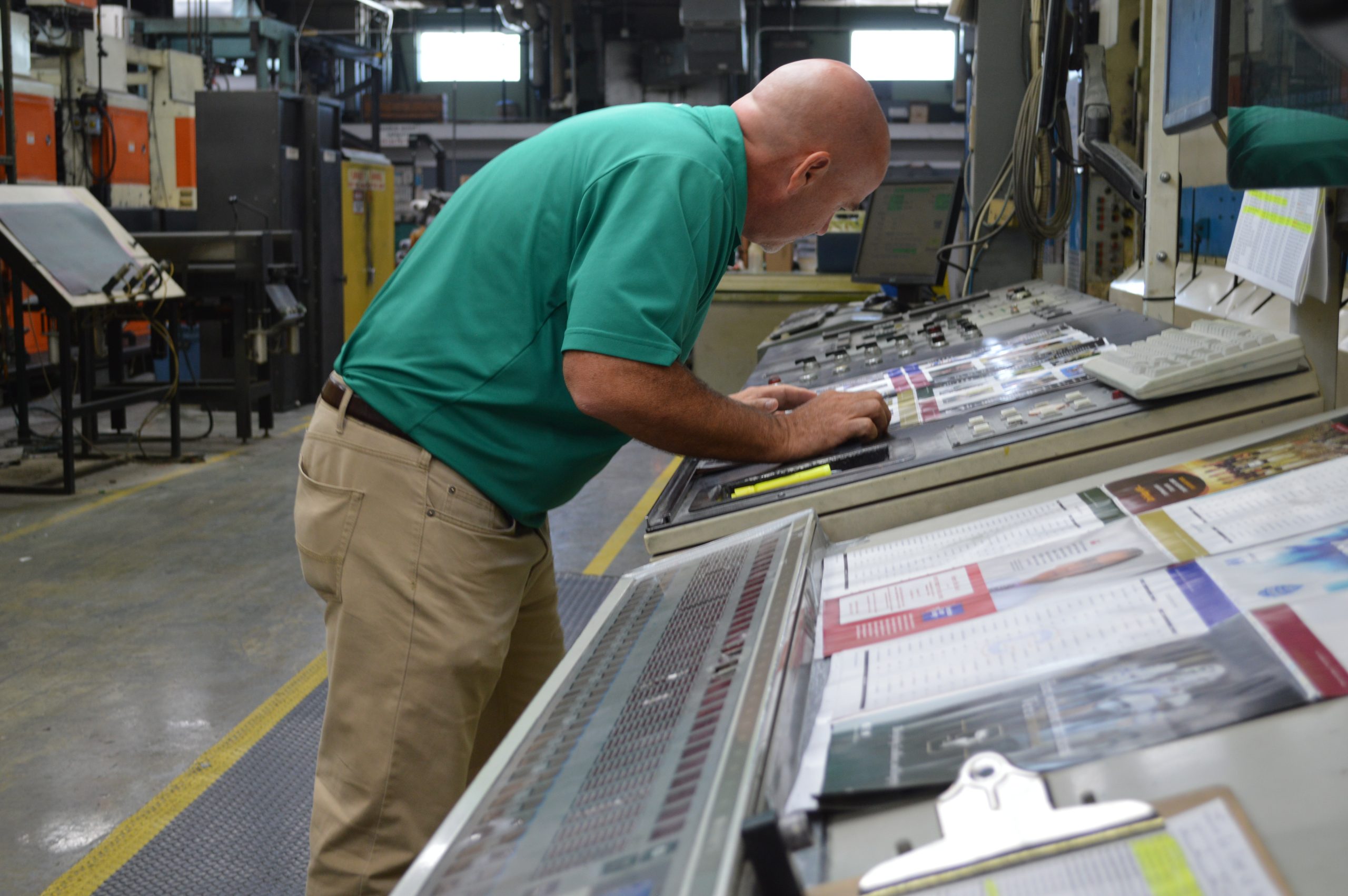 The Printing Process: Offset Printing
What happens when you submit your files to print? Have you ever wondered how the printing process works? If your project is using offset printing, here's a step-by-step breakdown of what happens at the plant. 
Prepress
In offset printing, the colors are added to the paper in layers: cyan, magenta, yellow and black. This is referred to as CMYK. Those four letters each represent a color. The K represents black, but actually stands for the word key, key color or key plate. It's an old-school printing term that refers to the plate with the most detail and could be used to outline an image as a guide, or key. These key plates were usually black, and tradition stuck. 
During prepress, we take your design and separate it out into those four colors, creating an engraved metal plate for each. Each layer of ink is added separately when it prints. Those four colors can combine to create a wide range of colors. When you hear someone use the words "four-color printing," this is what they're referring to.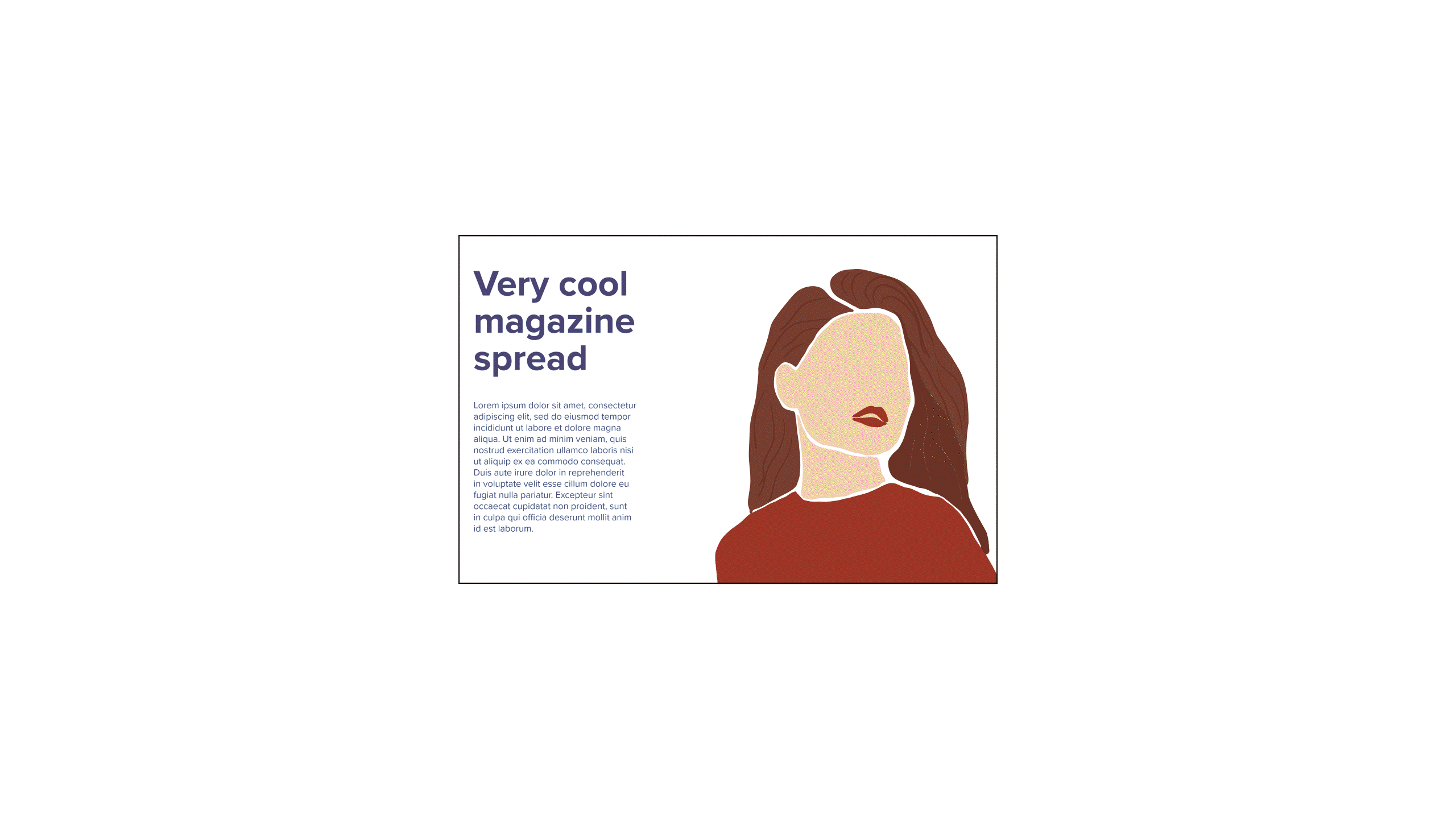 Questions about how to prepare your files for prepress? We've shared FAQs and common mistakes we see.
Let's Get Rolling
The interior of the printing press contains a series of rollers. 
Once the plates are made, we send them over to the printing press and attach them to the plate cylinder. The water cylinders apply water to the plate, which keeps the areas not using that color free of ink. Another set of rollers applies ink to the printing areas of the plate. Ink then transfers from the plate cylinder to the rubber on the blanket on the offset cylinder. This is repeated for each CMYK color. This printing technique is called 'offset' because it does not transfer ink directly onto paper like other printing methods do. Instead of going from plate to paper in two steps, ink is transferred first to a rubber cylinder and then printed on paper. The three-step offset method reduces wear and tear on the lithographic printing plate, thus prolonging its lifespan.
The press lays down ink for each color as a series of dots. This process is called halftoning. If each ink covered the entire surface of the paper, it wouldn't be possible to get a wide variety of color. In fact, we'd be limited to only seven colors! Cyan, magenta, yellow and black would be possible, plus green, blue and red. Even though halftoning leaves white space between the ink dots, this is so small that it's almost unnoticeable. If you ever visit a printing plant and see someone peering at pages through a loupe (which is an eyepiece that magnifies), this is what they're seeing. 
What They're Looking For
Proper inking

Quality folds

Registration

Printing defects that may be machine or substrate related 

Pagination

Square fold

Print color accurate to proofs

Crossover to other signatures produced

Registration of units to each other

Side guides and cutoff are on

Print is clean (no scum or slurring)

Correct paper type

Correct fold type (saddle stitch, perfect bind, tabloid, double parallel)
The ink is laid down in a specific order, from lightest to darkest. So the paper goes through the rollers with yellow ink first, then magenta, then cyan and black is last. With each set of rollers it goes through, the image gains more detail. 
After printing is complete, the paper is passed through a drying process to remove any excess moisture and set the ink. After that, it typically goes to the bindery. For more on the ways printed items can be bound, check out Binding Basics. 
What it Takes
Running an offset press is a skilled endeavor. Tim Kamphuis, Web Press Supervisor at Walsworth – Ripon, explained that it requires leadership skills, attention to detail, problem solving and mechanical skills. 
"Leadership skills are to lead and direct the crew to produce a quality product, as goes with attention to detail.  Great mechanical and problem-solving skills go hand-in-hand with being able to correct problems quickly to reduce the amount of waste and downtime," he explained. "To run a press, it takes a skilled craftsman years of training and experience to become proficient."
Chris Veverka, the Press Supervisor at Walsworth – Saint Joseph, shared more about the skills involved in offset printing. 
"You must have an eye for color. Communication skills are essential for working with customers during press checks. Mechanical aptitude is needed for troubleshooting unit and folder issues. You must be a quick decision maker. Sometimes quick decisions are needed for when to save and what is good during the print run. And good computer skills are needed for using the programs that now help with color and register."
Veverka added that operating a press is a physically and mentally demanding job. 
"You have to think quickly because time costs impressions, running at 40,000+/- per hour. Any lag results in paper waste. The press is over 137 feet long and you have to be able to travel the length of the press quickly at times and lift heavy rollers with help. You are in charge of a machine that turns 4,000 lb. rolls of paper into color-accurate folded signatures at high rates of speed."
After printing is complete, the paper is passed through a drying process to remove any excess moisture and set the ink. After that, it typically goes to the bindery. For more on the ways printed items can be bound, check out Binding Basics. 
The History of Offset Printing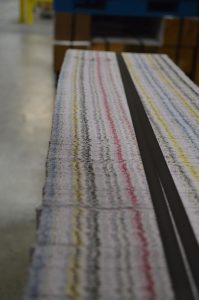 Offset printing is fairly modern, as far as the history of printing goes. The process for offset printing on paper was accidently discovered in 1903 by Ira W. Rubel. He was the owner of a lithography shop in Nutley, New Jersey. 
Rubel had been using the classic lithography method, which transferred ink directly from a metal or stone plate to the paper. When he forgot to load a sheet and the ink transferred to the rubber offset cylinder instead, Rubel noticed that the resulting images were sharper and clearer. 
An early model of Rubel's offset printing press is on display at the Smithsonian National Museum of American History.
Use Case
The high print quality that offset printing can produce makes it a good option for many publications. If sharp images are needed, offset printing can deliver. 
Offset printing is best for large runs. This is because the initial setup cost can be high – running the machines, preparing the plates – but the more you're printing, the lower the cost per unit becomes. Once the plates are created and the press is running, you can quickly get large print runs in the hundreds of thousands. However, offset printing is expensive for small runs due to the setup cost. If a smaller number of items is needed, digital printing might be the better option. 
Let's Talk
Want to know more about how offset printing might work for you? Let's talk! Or we can discuss how other methods, like digital printing, might be a better fit.