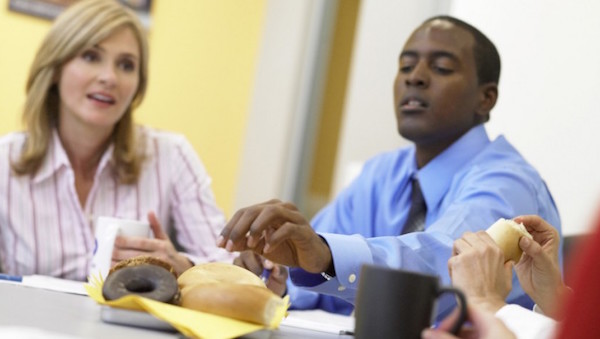 Tips for Healthier Workplace Snacks
You probably already know that snacks in the workplace don't need to be confined to high-calorie, high-carbohydrate treats like candy, chips and donuts. But did you know that healthier snacks in the office may actually boost employee morale and performance by promoting consumption of healthy snacks? This will benefit your company as well as your staff.
Shared Snacks
It's common for managers or employees to occasionally bring in donuts, cookies or candy to share, but these sweet treats can contribute to weight gain and poor dental health. These and other high-carb foods also increase the risk of Type 2 diabetes and heart disease. Some better-for-you alternatives would be a veggie tray with hummus, fresh fruit, cheese with grapes or assorted berries, and pita chips or crackers with hummus or peanut butter.
Potluck Salad Bar
Many offices have potlucks, but how many have a potluck salad bar? Show how great a salad can be by hosting this event, managed by a staff member who coordinates who brings what and facilitates setup. Suggestions: Two or three varieties of lettuce, a few salad dressings, sliced green peppers, grape tomatoes, sliced hard-cooked eggs, shredded cheese, red onion, shelled sunflower seeds, croutons, broccoli, grated carrots, halved grapes, bacon bits, or whatever your employees like in their salads. This could be a hearty mid-afternoon snack or even lunch. Other potluck ideas can be found in our Ten Best Potluck Dishes for Office Parties article.
Be a Guide to Healthy Snacking
As an employer, you have the opportunity to give your staff guidance on healthy snacks. Adopting healthy habits benefits employee health, which is good for both employees and the company. Try offering one of the ideas below for snacks to keep at work, and take a peek at what 42 Health Experts Say About Their Top Healthy Office Snacks:
Nuts contain protein, which can keep your energy level up and are easy to stash in a desk drawer or set out to share. Almonds are a popular nutritious nut; other possibilities include cashews, mixed nuts, shelled sunflower seeds and honey-roasted peanuts. It's best to portion out an appropriate amount to avoid mindless munching.
Whole-wheat crackers, pita crackers or pita chips can be a good snack, but they also can be over-consumed and should be portioned out ahead of time.
A bag of dried fruit provides a quick, sweet and nutritious snack that can be stored for a long time.
High-quality trail mix is nutritious and stashable, providing nuts, fruits and healthy fats. Most have at least a small amount of candy in the mix, but avoid those that look more like bags of candy with some nuts and fruits added. Also watch the serving size.
People say they love fresh fruit, but how many of us get as much as we should? Apples, oranges and bananas can easily be kept in a desk drawer for a quick answer when hunger strikes; more perishable fruits such as grapes, watermelon and sliced pineapple can be placed in marked containers in the office fridge.
Eating enough vegetables seems to be more of a chore than getting enough fruit, so get a boost by eating them on their own at work. For a quick snack, a week's worth of sliced and fresh vegetables can be portioned out into five plastic baggies and stored in the refrigerator in a larger zippered plastic bag. It would make a great mid-afternoon snack. Some easy-to-pack vegetables for snacking on at work include carrots, celery, green peppers, cucumbers, cauliflower and broccoli. Dips such as ranch, spinach, artichoke, dill or avocado may accompany the veggies.
A light side salad can both quell your appetite and provide essential nutrients. A large tossed salad with leaf lettuce and sliced cucumbers and bell peppers can be stored in the fridge for a week as long as salad dressing is added to after individual servings are portioned out.
Low-calorie sweet quick fixes can ward off a trip to the vending machine for a candy bar. Keep some hard candies in a desk drawer. Or, keep some freezer pops, which have only about 25 calories, in the freezer.
Healthy Initiatives
Healthier workplace snacks are just one way to promote wellness within your company. Check with your insurance company for wellness initiatives or educational materials, do some research on your own for printed materials you can provide in newsletters or company emails, or point your staffers toward helpful websites such as SparkPeople; Harvard Health Publications; and Well, a New York Times health blog by Tara Parker-Pope, just a few of many excellent resources. Providing health and wellness information is one way of letting your staff know that you care about their well-being.