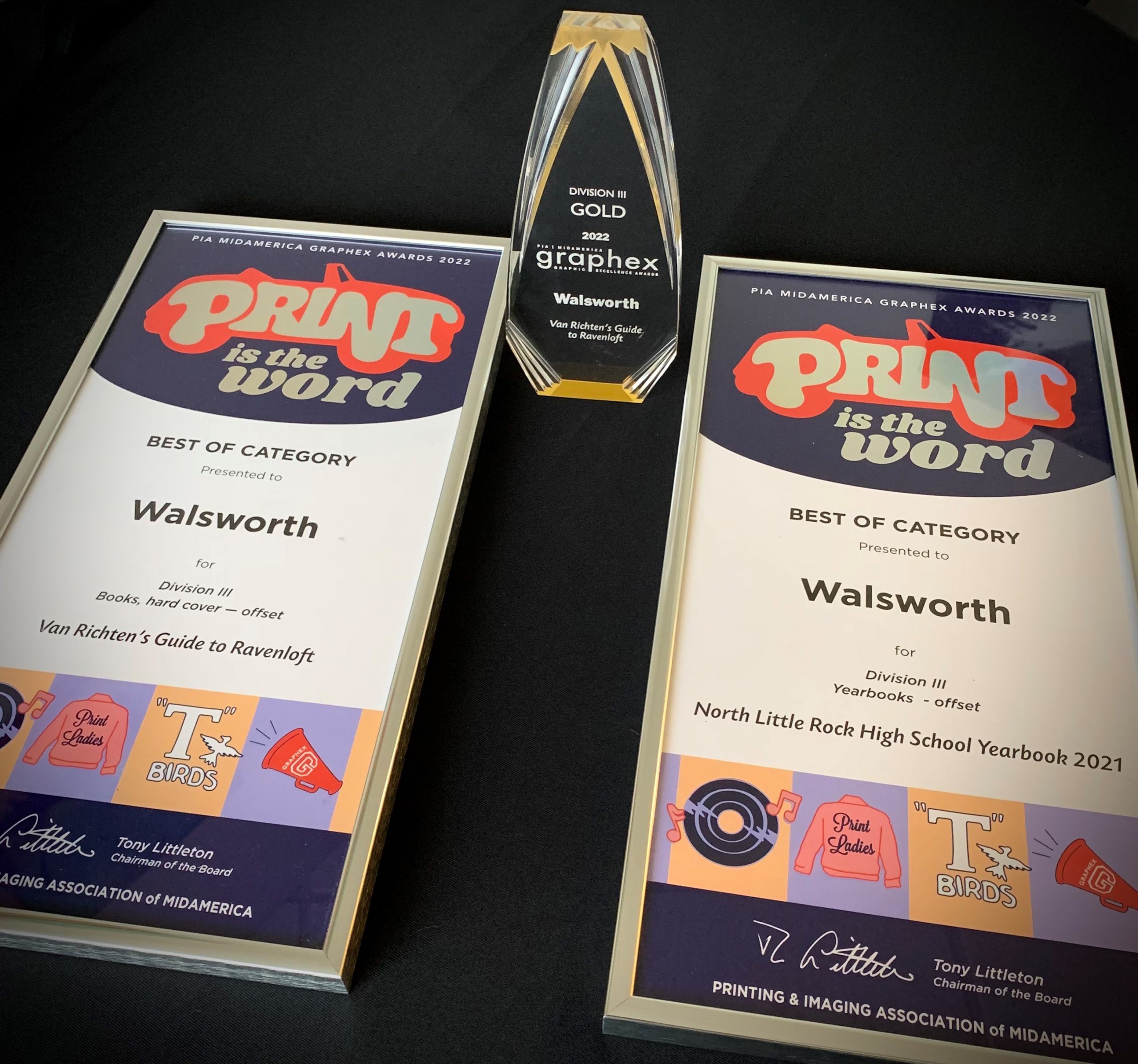 Walsworth Print Jobs Win Gold, Two Best of Category Awards at GraphEx Awards
Walsworth was proud to accept two Best of Category prizes, as well as a Gold, last Thursday evening at the PIA MidAmerica GraphEx – Graphics Excellence Awards ceremony, held at the College Basketball Experience in downtown Kansas City, Missouri. The annual event by PIA MidAmerica celebrates and recognizes quality print from Missouri, Kansas, Oklahoma and Texas.
Best of Category
Two of the three pieces Walsworth submitted received a Best of Category recognition.
The alt-cover version of Van Richten's Guide to Ravenloft, a Dungeons and Dragons book, won Best of Category for Division III Books, hard cover – offset. The 256-page book has a cover with a soft-touch finish.
The 2021 Legacy yearbook from North Little Rock High School won Best of Category for Division III Yearbooks – offset.
Division III
Van Richten's Guide to Ravenloft also won Division III Gold. Division III entries are printed by a company that has 101 or more employees.
We are honored to work with these award-winning publications, who choose to print projects that allow Walsworth to show off our printing capabilities.
About GraphEx
The Graphic Excellence Competition has been around since 1989 and was created "to recognize the outstanding abilities of print producers to transform paper and ink into outstanding forms of communication."
Categories
The printing industry is comprised of diverse companies and publications, and the GraphEx Award categories and divisions reflect that. The category reflects the product, and the division is determined by the size of the firm. Division III is for large firms with 101 or more employees.
Win awards with Walsworth
Our extensive printing capabilities and knowledgeable, friendly employees are the perfect combination that will allow you to create a product that looks amazing. Reach out to us today to talk about how we can meet your needs.