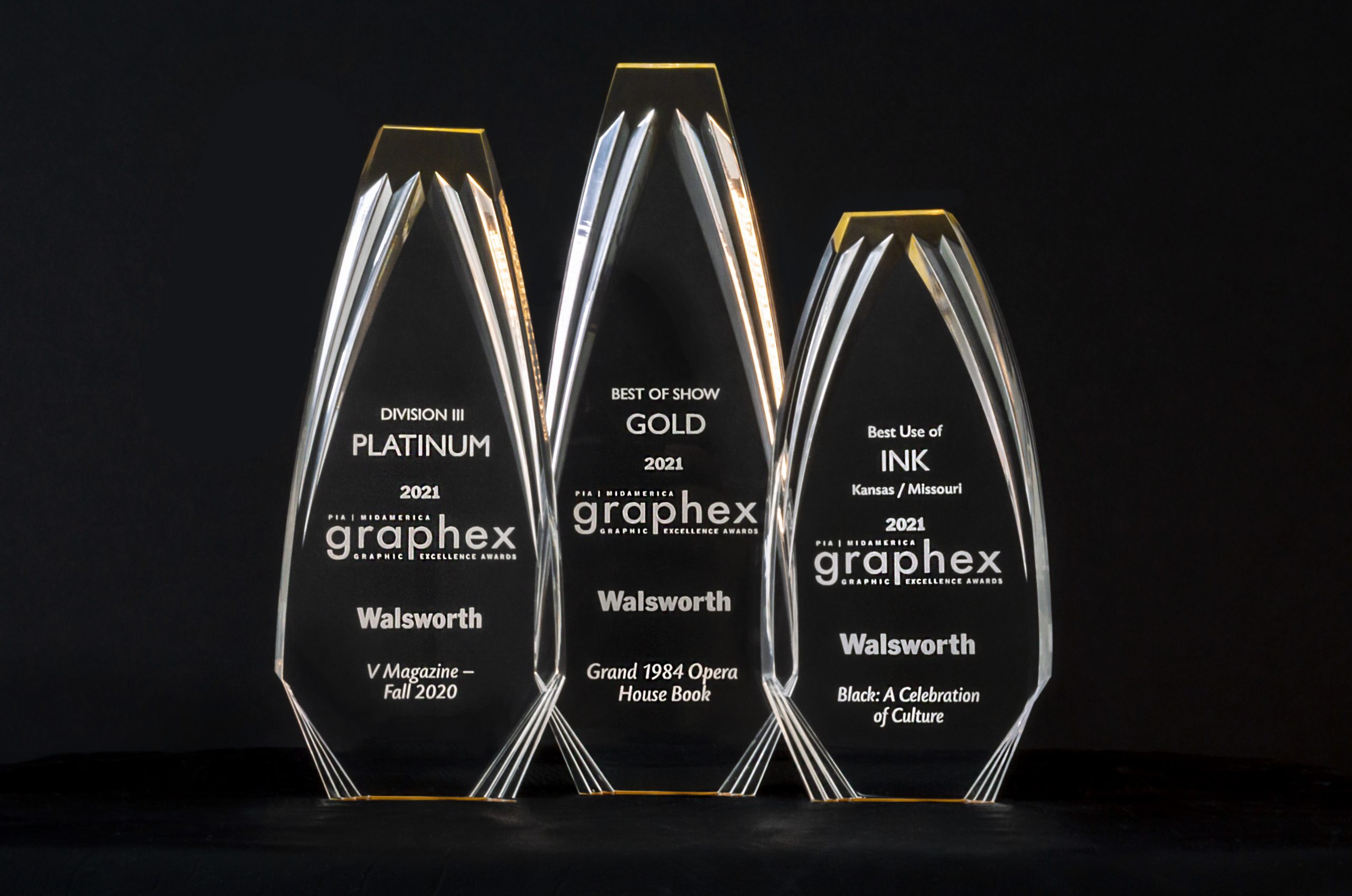 Walsworth Wins Best of Show – Gold at GraphEx Awards
As a company, we are honored to be the printer for so many extraordinary partners. Our people take pride in the projects we're entrusted with, and quality is always our goal. We're happiest when our customers are satisfied with our work. But we don't mind earning  external validation on occasion in the form of printing awards.
As such, the evening of Thursday, June 10, 2021, was an exhilarating evening for us. We attended the PIA MidAmerica Graphic Excellence Awards held in Riverside, Missouri. Going in, we had many pieces that already received recognition. We didn't know that three Walsworth-printed pieces would be named to the GraphEx Awards Circle of Excellence.
Best of Show
The highest award bestowed at the Kansas/Missouri PIA MidAmerica awards ceremony was the "Best of Show" Gold Category winner. The Grand 1984 Opera House book was the winner. It is a Smyth-sewn hardcover book with hot foil embossed detail. It was produced on a full-cover Heidelberg offset press using Kolbus Casing-In.
Specialty Award
Black: A Celebration of Culture won the "Best Use of Ink" specialty award. This perfect-bound book with hot foil and matte lamination was produced on a Heidelberg and bound with a Bolero binder.
Division Award
The Fall 2020 issue of V Magazine received the Division III Platinum award. This perfect-bound magazine with gloss lamination and spot UV matte lamination also has a hand-inserted tip-in reply card. It was produced on a Heidelberg sheetfed press and Bolero binder, using a Kallima C1S Coated cover, 100# Anthem Plus Gloss cover and 80# Sterling Ultra Gloss text.
About these Awards
The annual competition, hosted by PIA MidAmerica, recognizes outstanding examples of technical achievements in innovation and print production. Independent judges select from hundreds of entries across numerous categories to give out awards for Best of Show, Best of Division, Specialty, Best of Category awards and Awards of Recognition.
Due to the COVID-19 Pandemic, the 2020 GraphEx Awards ceremony could not be held in person, so 2020 award winners were also recognized at the 2021 ceremony.
Thank You
Thank you to everyone who has trusted Walsworth with their printing project. Special thanks to PIA MidAmerica for championing the print industry and hosting the GraphEx Awards. It is an honor to be among the outstanding achievements that were recognized.