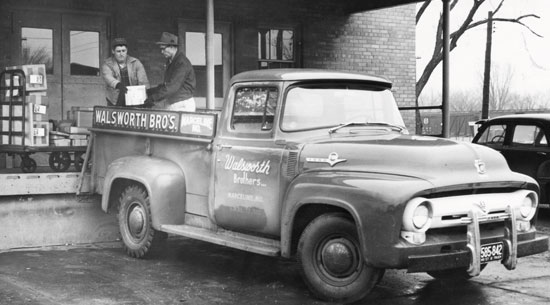 What Our Acquisition of Ripon Printers Means for You
This new decade is off to a great start for Walsworth. On Dec. 31, 2019, we purchased Ripon Printers in Ripon, Wisconsin. We made the announcement in mid-December and have been working hard since then to ensure a smooth transition.
Why Ripon?
This is not the first time we've made a significant purchase like this. In 2010, Walsworth acquired IPC in St. Joseph, Michigan. In 2012, we purchased The Ovid Bell Press in Fulton, Missouri. Both of these facilities expanded our capabilities and remain key operations for the company.
Don Walsworth, president, explained Walsworth's goal in making changes like this.
"Walsworth is a growth-minded company, but we don't proceed lightly with acquisitions like this. Ripon fit in many ways – from a similar history and culture to capabilities that will enhance customer experience," he said.
Similar Histories
Walsworth's history began in 1937, with Don Walsworth printing playbills in Marceline, Missouri. The company is still in the Walsworth family, currently under the leadership of CEO Don O. Walsworth and President Don Walsworth – his son and grandson. The company has never been bought or sold.
The history of Ripon Printers dates back to the Civil War, when it began printing the newspaper now known as the Ripon Commonwealth Press. The company's modern history began in 1962 when the Lyke family purchased the newspaper. The addition of a web press created commercial printing opportunities for the company, and they operated for decades with the mission of "delivering customer delight."
Andy Lyke explained their decision to take the next step.
"We decided to sell Ripon Printers as it became clear that there wasn't another generation in our family to take over the business, and we wanted to continue our operations going forward. Joining the Walsworth team allowed us to become part of a bigger family-owned company that knows how to delight customers," he shared. "I'm proud of the business our employees have created over the years. Being part of Walsworth allows us to continue providing quality services to our current and future customers going forward.  Walsworth has the equipment and other resources that add extra value to our customers."
Lyke remains with the company as the Finance Manager for Walsworth's Wisconsin facility.
What This Means for Customers
This acquisition means improved options for both Walsworth and Ripon customers. The biggest change for Ripon customers is the name change – the Ripon facility is being rebranded as Walsworth. Contacts remain the same for Ripon customers, and as the organizations are integrated, they will see additional capabilities offered. Ripon Printers is now part of a family-owned printing company with strong roots in our industry along with a track record of smart investments in technology and equipment to improve the overall customer experience.
"The team in Ripon is thrilled to be a part of the Walsworth family. In fact, one employee said it seems too good to be true! There are exciting changes coming as we integrate people, processes and capabilities, all of which will provide additional value to our customers," said Ripon General Manager Julie Newhouse.
Integration teams are in place to ensure a good experience for customers and employees. The goal is to have all major integration activities complete by the end of March.
Current Walsworth customers will continue to receive outstanding service and the highest quality product available. This acquisition opens the door for enhanced capabilities, like expanded catalog manufacturing operations, direct mail and fulfillment services.
Our Longevity
The acquisition is a testament to Walsworth's continued strength as a company.
"We are excited to welcome the Ripon family into the Walsworth family. We are looking forward to working with them to assure our customers and employees all benefit from this acquisition," said Don O. Walsworth.