Darryl Niemeier
Cover Department – Marceline, Missouri
At Walsworth, I am currently an Embosser Operator within the Cover-Finishing department. I operate up-front machines which hot-foil, emboss and deboss book covers. I also run the Brausse machines to hot-foil, emboss, deboss, die cut, perforate and score covers.
I began my career at Walsworth doing Metro Mail where I put label addresses on mailing pieces, stuffed mail bags and hand-loaded semi-trucks for shipping across the US. From there, I became the Metro Mail Mechanic fixing machinery and equipment within the department.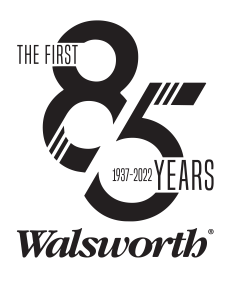 When Metro Mailing went away, I transferred to Cover Department as a Material Handler, moving covers around the department staging machines for work in progress. Here I started learning to operate emboss and graining machines when the workload called for it.
Eventually, I worked my way to being a Letterpress Operator. I ran a handset type letterpress, which uses molten lead to type individual letters. Those machines are since long gone, and I was the last person at Walsworth to hold the Letterpress Operator title.
I have run various other machines within the department over time and have been an "I've been everywhere man" type of guy throughout my career.
Before I worked at Walsworth, I made an attempt at farming and was broke at the time when my dad said it was time for me to get a real job. My dad worked at Walsworth as a Bindery Supervisor and convinced me to come work here as well.
In November of 2022, I will have worked for Walsworth for 43 years.
I am married to my beautiful wife of 41 years, we have four kids who are all married, and six grandkids and hopefully more! We also have one dog.
At Walsworth, I have made a good living and been able to provide for and raise a family. Every year, I am able to spend time with my family and do things such as trips and vacations with them during the summer.
A fun fact about me is I am a storyteller.
I enjoy camping and taking grandkids hunting and fishing.
In my community, I am a firm believer in keeping business local. I always shop local and do business locally.
Day to day, I work with the upfront embossing machines, Brausse machines, silk screens and train others in the department on a daily basis. It is a position where I learn something new every day as we figure out how to best suit a job's cover through the decorating process to put new designs on paper so-to-speak, that will meet our customers' expectations.
In my position, the thing I love the most is teaching new operators how to set a machine up properly and how we can all collaborate to learn from each other. I also enjoy working with the Cover Department robot.
If I had a personalized coffee mug at work, it would say "We're Burnin' Daylight!"
I come to work because of the people I work with.