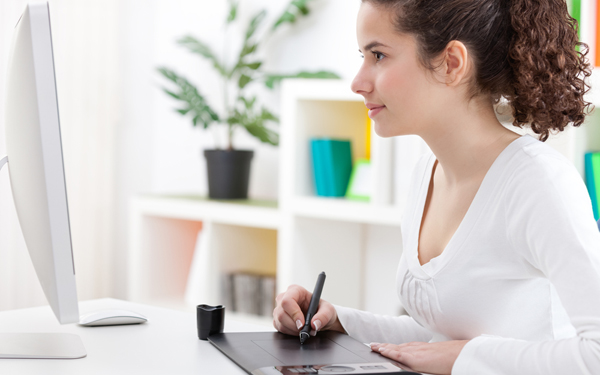 10 Adobe® InDesign® Features to Help Designers
If you are a professional page-layout designer, or have professional designers on your staff, you're probably interested in knowing if new software versions will have a real impact on efficiency.
The latest version of Adobe® InDesign® is 9.1, which is known commercially as Adobe InDesign CC. This version includes the following 10 features that can help professional page designers be more efficient and successful. 
Improved performance 
The overall performance of InDesign

has been significantly improved with version 9.1. This version provides native support for 64-bit processors, which improves the speed and stability of InDesign. These improvements are most obvious when exporting and printing files in INX and PDF format.

Modern UI design 


InDesign's user interface has been upgraded to make it consistent with those of other Adobe products such as Illustrator® and Photoshop®. These improvements include the ability to control the UI's brightness, allowing users to work with multiple Adobe applications more easily.

Support for Retina


InDesign CC now supports Retina, which is the brand of liquid crystal displays from Apple®. Retina is available on new Apple products such as the MacBook Pro® notebook. This feature allows InDesign users to view text and graphics with greater clarity.

Font searching


The ability to find a particular font is faster in InDesign CC. A user can enter part of the font family name and view only those fonts that match those criteria. For example, entering "bold" will only display bold fonts.

Instant font preview


Instant font preview allows users to quickly compare the appearance of different fonts within a layout. Users can browse through fonts with the arrow keys, instantly view a font and select the desired font with a mouse click or the Enter key.

QR code generator


Users are able to create and edit high-quality Quick Response codes within InDesign. You can resize the QR codes without sacrificing quality since InDesign creates vector curves. This feature also allows you to quickly copy QR codes into other Adobe applications such as Illustrator.

Sharing


File sharing is also easier with InDesign CC. Users can now save files to the cloud, allowing designers to share their layouts with clients and team members. Designers can also access previous versions of their layouts since the file-sharing feature tracks changes.

Synchronization settings 


The ability to save workspace settings to the cloud lets designers use their preferred settings from any computer. This feature allows designers greater mobility since they don't have to configure settings for each new computer. InDesign settings include preset functions, keyboard shortcuts and workspaces.

EPUB enhancements 


EPUB files are easier to design in InDesign with features such as simpler editing for style sheets and the table of contents. The ability to map object styles to tags also provides greater control over CSS exports.

Adobe Exchange panel


The Adobe Exchange panel allows the designer to easily obtain additional components for InDesign in the form of plug-ins, extensions and templates. Some of these resources require a fee to download, while others are free.
Don't forget that Walsworth provides design services and offers technical support for page-layout software. Since we want you to be successful, please contact us if you need assistance.
Adobe, InDesign, Illustrator and Photoshop are trademarks of Adobe Systems Incorporated in the United States and/or other countries. MacBook Pro is a trademark of Apple, Inc., registered in the U.S. and other countries.