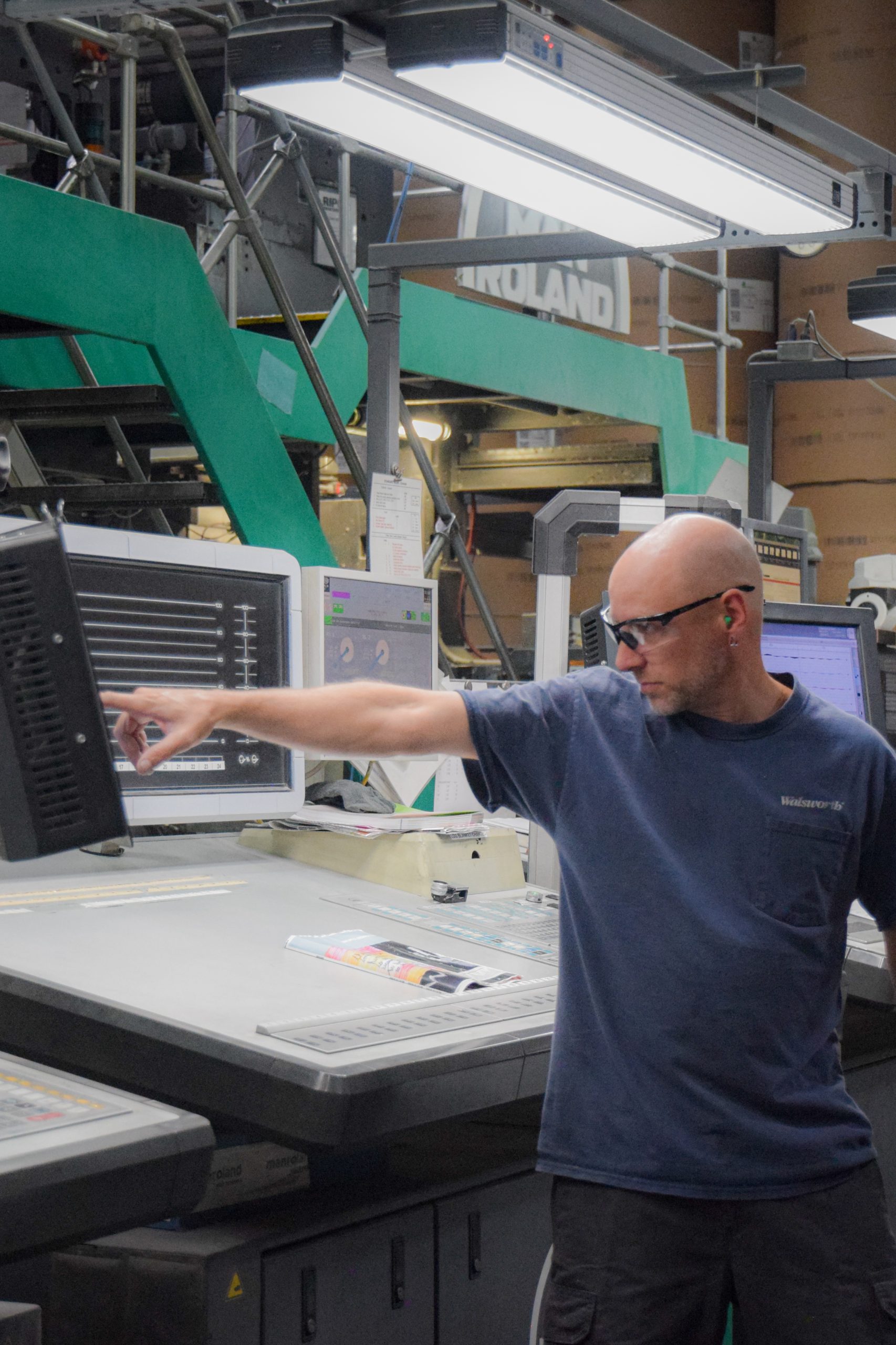 10 Qualities of Amazing Catalog Printers
Selecting the right printer is one of the most important decisions a B2B catalog marketer makes. So much is at stake, from costs and timing to your peace of mind. You want to get it right. No. You must get it right. To help, here's some practical advice in the form of 10 qualities of amazing catalog printers:
1. Seasoned Sales Professionals
Your customer experience begins with the sales rep, and the more experienced and knowledgeable the better. You need a problem solver, not an order taker. You also need a high level of trust in that person.
While technical knowledge is essential, it goes beyond that. The best sales professionals take a holistic approach to your marketing objectives. They suggest solutions that will improve response rates, provide cost-efficiencies and speed your catalogs to market. The best-of-class sales reps are collaborative and work as a valuable extension of your staff. In short, amazing catalog printers employ sales professionals who see the big picture while keeping in mind your unique business requirements.
2. Client Focused Customer Service Structure
Some printers are set up for ease-of-doing business and some aren't. All successful business relationships start with great customer service. Look for a layered team structure that provides leadership and plenty of bench strength. Multiple people should be familiar with your project and its production status. When your key contact is away, others should seamlessly pick up the reins.
However, customer service is also not an island. Serving you best requires a joint effort of sales, customer service, manufacturing, fulfillment and distribution staff. If you sense they don't talk to one another or have independent agendas, look for a different provider. Top B2B catalog printers have a customer service structure that focuses on your success. Team members have the commitment, knowledge, energy and empowerment to act in your best interests.
3. Equipment Diversity
The more you can produce, mail, distribute and fulfill from one facility, the more speed you'll add to your supply chain. And you'll likely save money as well. Diversity also expands your options. For example, it can provide more format choices or more ways to achieve personalization. It doesn't mean an amazing catalog printer has to own one of everything. But you don't want them so one-note that you miss catalog marketing opportunities either. The best have breadth and depth, especially in areas that impact your profitability, like print platforms and personalization/customization capabilities.
4. Technology Level
Up-to-date technology accelerates production, maximizes quality,  improves accuracy and even contributes to sustainability. Beyond hardware, top B2B catalog printers also strive for seamless digital workflows. These high-tech workflows should link all aspects of print production as well as your systems with their own. The more complex your needs, the more important technology becomes. Processes such as content management, collaborative prepress workflows, personalization/customization and digitally enabled distribution and fulfillment rely on high technology.
But amazing catalog printers also have clear expertise in how to apply high technology. For example, a provider may have great digital prepress technology, but the best will also have G7 Certification. This means you'll get the same predictable color output every time, whether your job is running on a digital press or an offset press—regardless of the substrate.
5. Subject Matter Experts, Education & Training
The combination of stretched personnel, lower training budgets and ever-evolving technology can create the perfect storm for disaster. Amazing catalog printers invest in the education and training of their own staffs and yours. And with increasingly collaborative workflows, it's essential to find a printing partner that invests in knowledge sharing. Education and training can take many forms—blogs, newsletters, webinars, technical sheets and both small group and one-on-one training opportunities. The availability of certified subject matter experts (think Adobe Certified Instructor or USPS Regulations Expert) are a big bonus.
6. Economies of Scale
The challenge (especially for mid-market catalogers) is finding an amazing printer whose size seems just right. Bigger isn't always better, but there are aspects of the business where sufficient size provides an advantage.
Larger, more credit-worthy catalog printers have more buying power. That transfers into better pricing for equipment and supplies, including essential materials like paper. And higher production volumes can mean better mail co-processing potential and lower freight rates.
Size also plays into equipment diversity and redundancy, as well as the likelihood of more uniform high technology. Do a hard assessment of your needs and seek a print source that feels just right.
7. Mailing, Distribution and Fulfillment Systems and Expertise
With so much resting on this phase, you must have complete faith in your plan as well as the systems and people executing it. Best-in-class providers will be front loaded with systems for data management and mail list processing. They'll have a laser focus on minimizing postage costs and meeting critical arrival dates. You can't settle for second-rate solutions in this make-or-break area. And downstream, top providers should offer advanced mail co-processing and pool shipping options.
Efficient fulfillment systems should also be digitally driven and demand based. For instance, custom branded digital storefronts can provide web-based sales and fulfillment services anytime, anywhere to you and your authorized users—agents, distributors and other channel partners. Amazing catalog printers will have fulfillment systems and tools to eliminate waste and inventory expense.
8. Location
Unless you have a very local or limited regional business, central is usually better. Central locations near major mail centers and transportation hubs generally provide cost and time advantages for national or multiregional distribution. Likewise, central locations often have logistical advantages for dealing with vendors and suppliers.
Location is a major reason why the Midwest remains a national and global printing hub. In fact, its advantages helped propel the catalog industry's development. Horace Greeley's advice, "Go West, young man," may have had wisdom. But when it comes to printing, many amazing catalog printers found Midwest was better.
9. Sustainable Practices
Literally, the heat is on for companies to show sound environmental practices throughout their supply chains. Gone are the days when marketers could slap an environmental logo on their catalogs and call it a day. Consumer demands are more sophisticated today. They recognize that a print eco-footprint begins with content creation and continues through distribution.
So, you want to look at a catalog printer's environmental policy, which should be readily available. Do they measure, manage, report and continually improve their environmental impact? And do they have the expertise to guide you through better environmental choices from start to finish?
10. Equipment and Plant Redundancy
Things happen. Equipment breaks down. Natural disasters occur. You need a backup plan. And amazing printers have one (or more).  Here's what to look for:
Equipment redundancy within your primary production facility. If a press or piece of bindery equipment goes down, what's the alternative equipment compatibility and capacity to produce your catalog there.
Equipment redundancy within sister facilities. This can come into play for a variety of reasons (catalog season, schedule changes, etc.) but is critical during a disaster. A catalog printer will get priority within its own network of facilities.
Agreements with other catalog printers. Some companies have mutual agreements to help one another out of jams. This can be a reasonable fallback position in the absence (or failure) of the first two options. Look for formal agreements or at least a successful history of outsourcing.
Our Catalog Customers Call Walsworth Amazing
Sometimes it's nice to hear what customers say about a company they rely on. Neil Cooperstein with Paragraphics wanted folks to know "Walsworth gives me a comfort factor, that I know everyone at Walsworth gives you 100% attention to quality and detail. If there is one thing anyone that knows about me and my company, it's that I take pride in the work I do for my customers. I do not trust my work to just anyone. Any catalog work I do belongs in only one place:  Walsworth."
That's high praise, indeed. But people truly appreciate our flexible scheduling, equipment diversity, integrated solutions, educational opportunities and many other qualities. Most of all, they love that we're easy to do business with and put their interests first.
We invite you to learn more about Walsworth. Perhaps consider us for a project or a challenge. We're confident you'll like our responsiveness, creativity, competitiveness and helpful attitude. You can get all the details about Walsworth at our website. Or you can submit your information, and a friendly Walsworth associate will be in touch within 24 hours.