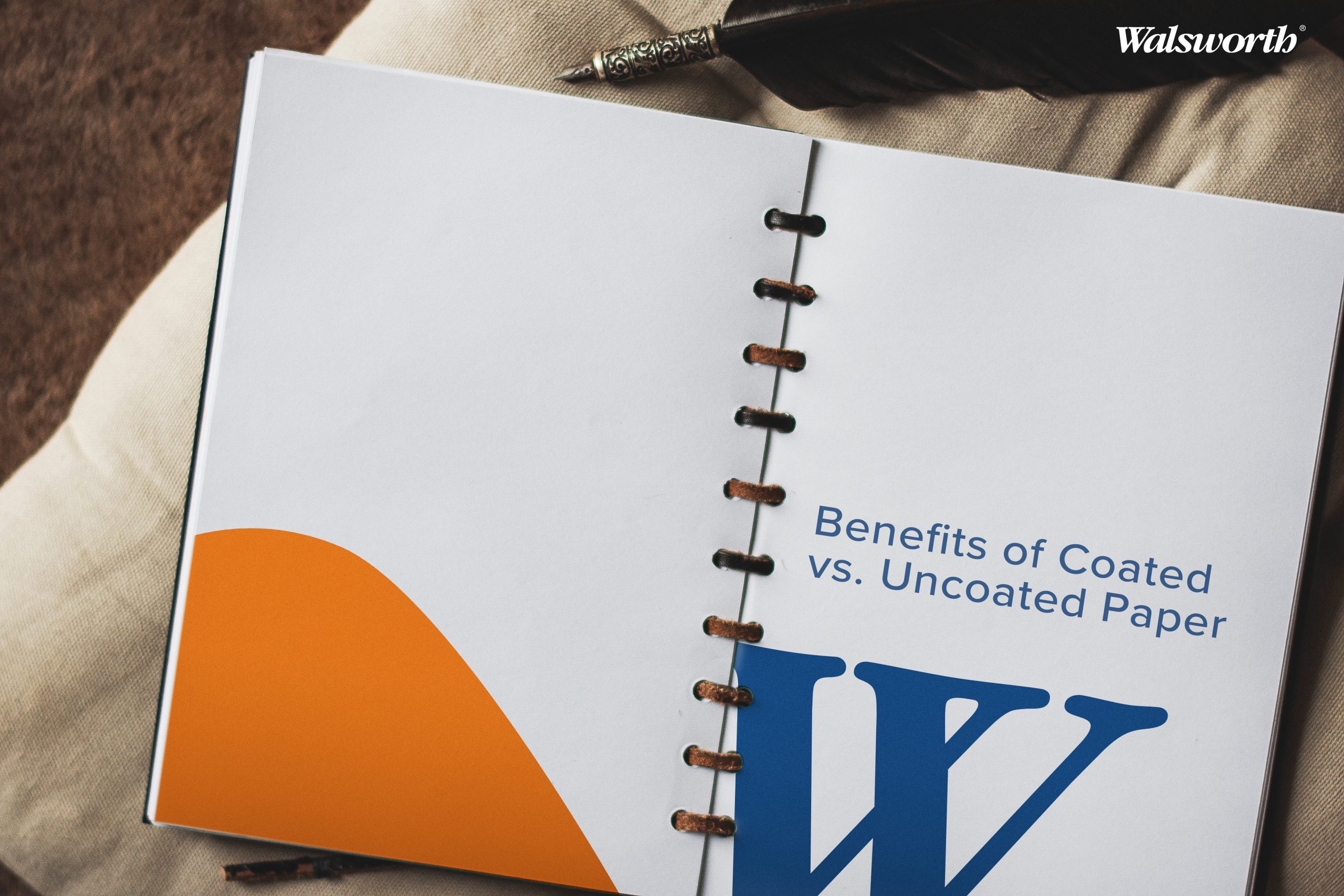 The Benefits of Coated Vs. Uncoated Paper
Different commercial printing projects call for different kinds of paper. There are many variables, including the choice of coated paper versus uncoated paper.
Coated paper has a surface coating applied to it, made from minerals and chemicals, which gives it a specific "feel", can impact the shade of the paper and impacts brightness, or the amount of ambient light reflected back from the surface. Think of it a little like varnish on wood or primer on a wall you're about to paint. Uncoated paper does not have a surface coating, which gives it a natural and textured feel, but even uncoated papers can have different surface textures, depending on how much burnishing was done in the creation process.
Here are some pros for both options when it comes to the choice of coated paper versus uncoated paper.
Uncoated: Easy to Read
Uncoated paper is generally easier to read. The lack of coating means no reflective surface, glare or sheen. This makes for enhanced readability, especially in bright lighting conditions, and correspondingly, less eye strain.
Coated: High-Quality Finish
One significant benefit of using coated paper is its high-quality finish. The surface coating provides a smooth and glossy finish that gives printed materials a professional and polished look. This finish can help to enhance the colors and details of printed materials, making them more visually appealing and attractive to readers.
Uncoated: Interactive
If you're creating a coloring book or educational workbook, uncoated paper is the way to go. The lack of coating makes it ideal for writing on with a pencil, pen, marker or crayon. Trying to use coated paper for something that will be written in would only lead to frustration for the end user, smearing of ink, and a generally poor result for the intended purpose.
Coated: Sharper Images
Because of the mineral and chemical coating, coated paper keeps ink on the surface of the paper rather than absorbing it into the fibers. Think of when you've accidentally left an uncapped marker on a napkin: the ink bleeds across the napkin. This is what happens with uncoated paper and printing ink. The intended image can get blurry and expanded around the edges. Coated paper, however, results in sharper and more detailed images, with less bleeding and feathering of ink. This means sharper images and more detail than you can typically get with uncoated paper. Printers call this spreading effect Dot Gain.
Uncoated: Cost
Uncoated paper is typically, but not always, the less expensive option. However, if budget is a concern, choosing uncoated paper over coated paper isn't the only way to reduce costs. Paper weight, finishes and more can play a role. Talk to your sales rep to find what's right for you.
Coated: Lower Bulk
When the paper is made, coated sheets usually go through additional steps which result in a thinner sheet than the same basis weight for an uncoated sheet. The additional treatment tends to pack the fibers more tightly together, resulting in a final product which will often be more compact, especially at the binding edge, compared to an identical project on an uncoated sheet.
Uncoated: Compatible with Pressure-based Applications
Want to put an emboss, deboss, letterpress or foil stamp on your pages? Uncoated is great for these applications, since the fibers haven't already been compressed. Use of pressure-based applications makes uncoated paper even more "touchable."
Coated: Improved Durability
Surface coating on coated paper can make it more resistant to dirt and moisture than uncoated paper, but this depends on the "finish" of the coated paper. For example, gloss finish paper is more resistant to marking than matte or silk finishes.
Both: Tactile Feel
It is well-documented the feel of something communicates a message of its own. Uncoated paper has a "natural" feel that can convey warmth. This is especially great when you want to convey a rustic or "unpolished" look and feel. Coated paper can project a feeling of professionalism, luxury or sleekness. Both options are great, depending on the message you want to convey.
Both: Recyclability
Both coated and uncoated paper are recyclable! The only kind of coated paper that isn't recyclable is paper coated in plastic. However, most coated paper used in commercial printing uses minerals. Plastic-coated paper is typically used for food, like disposable coffee cups. The same rules apply to composting. Uncoated paper is safe to compost, and coated papers made with organic materials like clay are also safe to compost. As a bonus, Walsworth uses vegetable-based inks, which are also completely safe for compost piles.
Both: Options!
The choice of coated paper versus uncoated paper doesn't end the decision-making process. Both options have plenty of finishes to choose from. Coated paper finishes include matte, silk and gloss. Uncoated finishes include laid, woven, parchment and felt. These can be combined with other options and applications to create a wide range of results.
Use Cases
Coated
Auto parts catalog
It's likely a seller of automotive parts will need crisp, detailed photos of what they're selling. Auto parts catalogs are also more likely to be in less-than-spotless environments, like garages, so the extra bit of stain resistance is especially useful.
Quilting magazine
Quilting magazine is another example of a publication whose readers will appreciate crisp, sharp, detailed images.
Uncoated
Holiday toy catalog
One of the best parts of looking through toy catalogs as a kid is circling what you want! You can make that easier on them by using uncoated paper. But if you prefer to use coated paper, you can take a page from Amazon and include a sheet of stickers with your catalog.
Educational workbook
Again, the ability to mark on the pages is key, which means uncoated paper is the way to go. And because these workbooks are typically meant to be used one time, durability isn't a concern.
Why Not Both?
If your publication could benefit from a combination of coated and uncoated paper, that's an option, too! Walsworth printed the 2023 Farmers' Almanac, which used both. Seventy-two pages were printed on coated stock and 112 pages on uncoated stock. The coated pages were used for content like their detailed weather maps. The uncoated pages were for the almanac's text-heavy content. The vibrant images on coated paper are attractive to modern audiences, but the single-color ink on uncoated paper hearkens back to the long history of the Farmers' Almanac, which was founded in 1818.
There's More!
Want to know more about your choice of coated paper versus uncoated paper? We've got more content! Check out our blog post on paper stock and our whitepapers on coated paper and uncoated paper. Once you're read up on paper, you can read up on Binding Basics.
Stay tuned for our next installments in the Printing Basics blog series to learn more valuable insights about the world of paper in commercial printing.