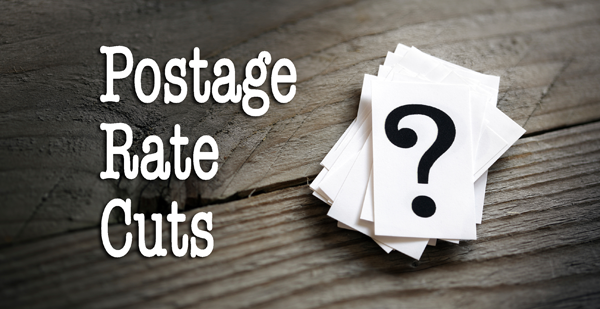 Postage Rate Update: Cuts Set For April 10
What's Happening?
During the past few weeks, much has been written about postage rates decreasing on April 10, 2016.
You may recall that the last postage rate increase in January 2014 was actually comprised of two separate components:
The familiar Consumer Price Index (CPI) increase.
An "exigent" rate increase. Think of this as a "difficult times" increase.
The purpose of the exigent increase was to restore USPS budget from losses during the 2008-2013 economic recession and reduction of mail volume. This increase was designed with a limited lifespan, and is scheduled to end on April 10, 2016.
Scenarios
While the end of the exigent increase will mean rate decreases averaging 3% to 4%, there are a few scenarios that could play out:
The exigent increase could expire as scheduled on April 10, 2016. This is the most likely outcome, and Walsworth is prepared for a seamless transition with customers.
A court case to extend the life of the exigent increase could delay the April 10 expiration for an undetermined amount of time. We believe this is unlikely, but it is a possibility.
Congress could pass a law making the exigent increase permanent. This scenario also seems unlikely as congress appears uninterested in pursuing the matter.
The USPS could announce another CPI-based increase. This also seems unlikely as the Consumer Price Index is currently very low and probably won't justify a CPI increase.
Bottom Line?
Mailers should begin considering the impact of a 3% to 4% postage rate decrease on April 10th.
For mail that is not especially time-sensitive, planning to mail after April 10 could result in significant savings.
All mailers should plan on how to apply upcoming savings to the next USPS postage rate increase.
Finally, as the USPS considers its plans in the face of overall losses of postage revenue, remember that any new postage rate change must be announced at least 90 days in advance, helping ensure that any future postage rate increases won't sneak up on anyone.