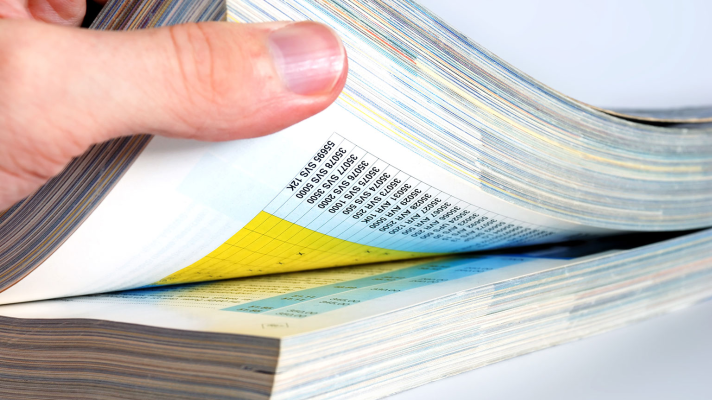 Concept to Catalog: Get Printed!
So you're thinking about creating a printed catalog… what do you do? We'll walk you through the process! 
Starting Out
However you do your initial research – seeking recommendations from friends, a Google search, or picking up the phone – your initial contact with your printer will most likely be a sales representative. Sales representatives are typically knowledgeable about the print industry. At Walsworth, our commercial sales reps have been working in print for decades. With both substantial experience and professional and academic training, their insights can make the difference between smooth sailing and rough seas on your printing journey.
Sales rep Terri Bornick has worked in print for almost 30 years. Her background is in customer service, web printing and sheetfed printing. 
"Our training program was very thorough. I spent days or weeks in all the departments working side by side with someone there. Obviously, a lot has changed in 30 years, but I'm always learning."
Bornick works primarily with catalog customers, although she branches out into magazines and books. In the early stages, she'll try to find out about the customer's challenges, objectives and timeline for the project. "I like to let them talk and I just listen and make notes for follow up conversations," Bornick said. 
If she's working with a new customer, Bornick says this is the time to discuss file prep. She may also get some test pages to be reviewed before the project is a live job with Walsworth. "Existing customers already know what we can do and are usually very happy with us," she said. 
Although many experts are involved in the process, including estimating and scheduling, your sales rep and your Customer Service Representative will be your contacts throughout the process. 
Estimating
"When estimating a project, the more detail shared from the outset is critical in developing an accurate price," according to Estimating Manager Larry Boettcher. 
We know price is an important part of producing your catalog. Here are a few variables that can affect the project cost. 
Trim size.

This is industry speak for the final size of the printed catalog (or book or magazine or whatever you're printing). It's the final size after the pages have been trimmed. A slight adjustment to the overall size of the catalog may allow for the project to be run more efficiently. 

Paper.

Factors like basis weight and whether it's coated or uncoated affect pricing. Adjusting the basis of the stock used in the catalog can save money on the printing, binding, shipping and mailing costs. 

Page count.

The most cost-effective projects are typically in even 16-page increments, but we can run in 8-page increments. Those requiring an odd 4-page increment can cost more. Running 16-page increments may require a workaround, like adding blanks pages to the back of the catalog or printing them with lines for notes.
Scheduling
Scheduling is planned around the same time estimating is done. Several factors can affect scheduling. Walsworth – Ripon Scheduling Supervisor Lisa Pauli shared some common things taken into consideration.
Page counts

Quantities

Proof method

Stock availability

Amount of time needed on the press

Amount of time needed in the bindery

Walsworth's forecasted workload
Pauli said customers can ensure their printed catalog project stays on schedule by meeting all the agreed-upon production dates. These include when the print files are due, proof approvals and turning in mail files. 
Mailing
If you are a new customer who will be mailing your printed catalog, you'll have an onboarding call with Corporate Services Mailing Specialist Vicky Dansereau. She will work to ensure everything possible is being done to hit your time and cost goals. She'll help ensure you have the proper USPS permit and discuss which class of mail best suits your needs. You may be interested in drop shipping, co-mail or other cost-saving measures. Dansereau will walk you through the mailing options best for your printed catalog. 
Stay tuned for an upcoming blog post delving into more details about mailing your printed catalog. 
Meeting Your CSR
Once pricing, schedule and credit are approved, it's time to move forward! Your CSR will be your mail point of contact as your printed catalog moves through the plant. 
One of the first steps your CSR will take is to set up an introductory call with you to discuss important items about your printed catalog project. 
What's your communication preference – phone or email? 

Which proofing options do you prefer, digital (also called soft proofs) or hard copies? 

Confirm you have all the necessary submission guidelines

Would you like a session with our Customer Education Specialist? 

Will you want a digital edition?

Whose mailing permit will you use? 

Any concerns or expectations we may not know about? 
After your working session with your CSR, they'll set up the job in our production system and send you a secure link to InSite, the program Walsworth uses for customers to submit print files, review proofs, and make corrections to or approve proofs. 
Submitting Your Files
Once your team and your graphic designers are happy with the catalog layout, you'll submit your print files. If you have any questions or are looking to make the process easier, we offer support documents in the Client Tools section of our website. We also recommend watching a Walsworth Words of Wisdom webinar, like "The Power of InDesign Plugins," for tips to improve the design process. 
Your CSR reviews your files and confirms the file specs match what was agreed upon with your sales rep. They'll enter the final details for printing and binding your catalog into the work order. This includes pagination, which is the layout of a print piece and how it will look when it's printed and folded on actual paper. The files then move to the job planner, who also reviews the files. If the job planner finds any issues, they'll reach out through your CSR to resolve them. 
Proofs
With the job planner's approval, your files now move on to the prepress department. Prepress – as the name suggests – prepares your print files to go to press. Prepress creates proofs and sends them to the Quality Control department. Quality Control will review your files to ensure everything looks good. Your CSR then sends you those proofs, along with any comments from Quality Control. Depending on your preference, you'll receive a digital proof via InSite or physical copies – what we call "hard proofs" – will be shipped to you. Digital proofs are convenient and fast, but some people prefer hard proofs. Even though there's a cost associated with creating and sending hard proofs, they remove many discrepancies that may arise such as, colors appearing differently on different screens. Images on non-calibrated screens should never drive your color decisions.
After you review your proofs, you'll be asked to request changes in writing, make changes or confirm areas of concern. If you have any changes, your CSR will review the alterations and send you a new proof. Once your proofs are approved, the job is moved back to prepress, and the scheduling department is notified the printed catalog is ready to move forward in the process. 
Prepress and Plating
If your printed catalog will be done on an offset press, the prepress department separates your files into CMYK colors. Each color (CMYK stands for Cyan, Magenta, Yellow and Black or "Key") will get its own plate, which will transfer the corresponding color of ink to the paper in layers. Check out our blog on the offset printing process for more on how it works! 
The job is plated – meaning the metal plates used to transfer each CMYK color to paper are created – and printed on the specified paper, then folded into signatures. (Fun fact: many of our printed catalog jobs are printed on two separate presses. A web press is used for the inside pages and a sheetfed press is often used to print the cover.) Samples from each component of your printed catalog are shared with the CSR, who creates a bindery dummy. The dummy is created by putting the signatures together in pagination order and adding the cover. This creates a "dummy" book. The CSR will use the dummy to update final shipping and mailing information. 
The job is sent to the bindery, where signatures will be bound together. The bindery shares three samples with the CSR, which will be saved to use as a sample for production the next time a project comes through. 
Sending Your Catalog
It's time to get your catalog to its final destination. The plant will mail and/or ship the job, according to what was agreed upon. Once the CSR receives a postal report and bill of lading, they'll send it to you. The billing department will send an invoice. Since postage is a big part of your project cost, and is tendered to the post office when the job is ready to mail, this is an upfront cost. Printers require the postage in advance if using their mailing permit, so make certain to plan accordingly.
What to Consider for Your Printed Catalog
Customer Care Manager Gail Novitske shared advice for people going through the process to create a printed catalog for the first time. 
"Setting up print files correctly is very important, getting it right from the start can save time, money and a lot of headaches," she said. But the most important step in the process? "Placing your project with Walsworth!"
Ready to print your next catalog? Let's talk!