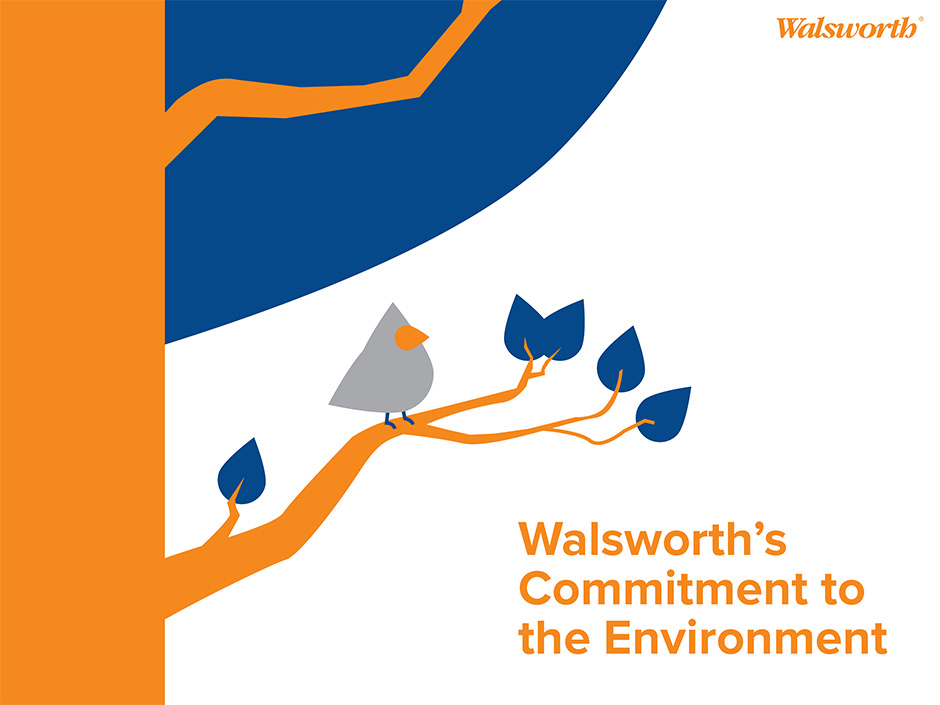 Walsworth's Commitment to the Environment
Walsworth's fundamental aim is to create value for customers, employees and communities. What supports all three is our commitment to the environment.
We're continually finding ways to reduce our carbon footprint and build a more environmentally friendly operation.
Why is that so important to us?
Like many manufacturing processes, printing has historically incorporated and emitted environmental pollutants. Some emissions are unavoidable. But we believe that it's important to do all we can to minimize our impact on the environment.
Creating more sustainable and renewable practices isn't just important to our values. It's also required by large corporations for which we're a national supplier.
A greener mindset doesn't have to come at the cost of creating value for customers. We believe that printing can be done in a way that both is profitable and has a minimized impact on our environment.
Recycling
Recycling is the foundation for reducing our environmental impact. It plays an important role in both the inputs and outputs of our printing process.
We incorporate recycled material into our printing process whenever possible. For example, all the boards used to make hardcover book covers are made with recycled materials. In addition, much of our packaging is made with recycled fiber which incorporates at least 35% post-consumer material.
The printing and binding processes produce plenty of scrap material. We're careful to collect, sort and recycle all of it, from paper to aluminum plates. Each year we recycle nearly 1-million pounds of aluminum and 30-million pounds of paper across all facilities.
Responsible Sourcing
We're also committed to harvesting paper in a sustainable manner. We have been members of the Forest Stewardship Council (FSC) since 2008, and Chain of Custody Certified with the Sustainable Forestry Initiative.
These independent organizations protect our forests and ensure that trees are harvested in a manner that is sustainable and improves the overall health of forests. It may seem ironic that a printing company can actually help forests around the world, but through our partnership with these organizations, we're able to actually improve the health of forests over time. Responsible logging reduces the risk of carbon dioxide-producing wildfires and allows trees to thrive with more nutrients.
In recent years, our Purchasing Department also made major strides in finding materials with a smaller Volatile Organic Compounds (VOC) footprint. Among the biggest steps we've made is adopting the use of vegetable-based inks. Non-petroleum inks such as those made with soy or corn are safer for the environment than traditional inks in offset printing. These vegetable-based inks also help in the recycling process because they can be more easily removed from paper during de-inking.
A More Sustainable Operation
Our commitment doesn't only focus on the inputs of the printing process; it also extends to the entire operation itself.
From an equipment standpoint, we have made investments in cleaner, more efficient presses. When reinvesting in our web press offering, we installed a Goss Sunday web press, a low emission press whose atmospheric exhaust is mostly water vapor. The Sunday press is also designed to reduce paper waste with shorter paper cutoffs and fewer make-ready impressions.
We also utilize the latest technology to reduce leftover material through proper planning and efficient equipment. We plan tighter spoilage allowances, mix fewer pounds of spot color ink and plan for the minimum sheet size for each job.
Over the past 10 years, our efforts to create a greener operation has led to a 60% reduction in volatile organic compounds (VOC) emissions, and a 99% reduction in hazardous air pollutant emissions.
A Greener Future
As part of our commitment to the environment, we're constantly seeking new ways to reduce our energy use. Over the years, this has led to things like more energy efficient lights in our facilities and implementing consumer waste recycling policies at all of our facilities. For us, no energy saving is too small to be significant.
Over the past few years, we've compiled wind and solar data at our plant in Marceline, Missouri, with the hope that we can someday harness these elements for electricity.
When it comes to the environment, we prefer to be part of the solution. It's not just good business — it's good for everything and everyone who is important to us.
Watch this video below to see what we're doing to create a greener operation.