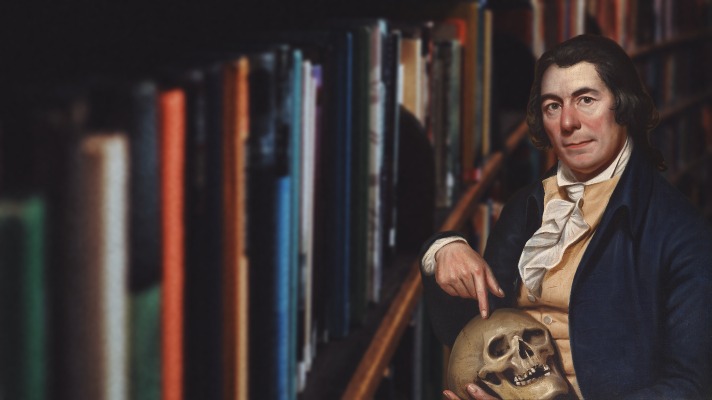 Was Human Skin Ever Actually Used as a Book Cover?
Halloween is close and we're officially in spooky season, which means nonstop scary movies and the celebration of all things macabre.
The release of Hocus Pocus 2 got me thinking about Winnifred Sanderson's spell book. The book in this movie – which is a completely fictional account of three resurrected witches seeking revenge in modern-day Salem, in case you're not familiar – is made with human skin. The book has a tough leather cover with an eyeball on the front, which opens and moves when the book is awake. The book-made-with-human-skin trope shows up frequently in movies that are popular at this time of year. In addition to Hocus Pocus, the Necronomicon Ex Mortis plays a large role in The Evil Dead movies and television series. Books made with human skin show up in H.P. Lovecraft's stories and Chuck Palahniuk's 2002 novel, Lullaby.
Clearly, the idea is intriguing. But how much is based in truth and how much is creative license? Was human skin ever actually used as book covers?
Horrifyingly, the answer is yes. There's even a term for it: anthropodermic bibliopegy. I'm going to warn you now, this article gets a little dark and has some references to death and torture. If you're squeamish, you may want to skip this one.
Why Did They Do It?
Medical historian Dr. Lindsey Fitzharris shared some reasons behind the practice with Vice news.
1. Punishment. If someone was executed, their skin would sometimes be used as a cover on the records of their crimes. One of the more well-known examples is the unfortunate Father Henry Garnet. He was a priest who heard confessions from many involved in the 1605 Gunpowder Plot to blow up England's houses of Parliament. Father Garnet wasn't directly involved, but because he didn't report the confessions, he was brutally punished and executed in 1606, and his skin was removed and used to cover a book detailing the proceedings against him. Even more gruesome, one of the copies made with his skin has the impression of Garnet's face on the front cover.
2. In tribute. Career criminal James Allen, also known by the alias George Walton, died at the Massachusetts State Prison in 1837. Before his death, he had the prison warden write down his life story and asked that his skin be used to bind two copies of the memoir. Upon his death, skin was taken from Allen's back and the resulting book was stamped with a Latin phrase meaning "This book was bound in Walton's skin." Allen had the skin-bound copies sent to his doctor and to John Fenno, Jr., who had impressed Allen by standing up to him during a robbery.
3. In memoriam. Legend has it that French writer and astronomer Camille Flammarion had a fan with a morbid sense of admiration. When the admirer was close to death from Tuberculosis, she bequeathed a strip of her skin to Flammarion, requesting it be used in his next book. If the story is to be believed, Flammarion complied and kept the book in his personal library.
4. Because the Victorians were weird. The 19th-century French treatise, On the Destiny of the Soul, which is now in Harvard's collection, has a cover made of human skin. The book contains a manuscript note claiming the skin used came from the back of a woman. The reason given was "a book on the human soul well deserves that one should give it a human vestment."
5. Because medical ethics still had a long way to go. Mary Lynch died in a Philadelphia hospital in 1869, when she was 28 years old. After her death, which was caused by a combination of tuberculosis and a parasitic infection, Dr. John Stockton Hough removed and preserved skin from her thighs. Years later, he used that skin to cover three books. There is no indication that Hough ever got any kind of consent from Lynch to use her body this way.
How common was it?
More common than you'd think, though it was never an everyday material. The practice is believed to date back to at least the 16th century, but was most widely practiced among 19th-century doctors. The Anthropodermic Book Project exists to test and confirm whether a book is actually bound in human skin. As of May 2019, they'd tested 31 suspected books and confirmed 18 of those books were human. Experts hazard a guess that many more actually exist, but are tucked away in private collections.
Confirmed?
The way book cover materials can be confirmed is through a process called peptide mass fingerprinting. Researchers aren't able to rely on DNA because it is often destroyed during the tanning process or by time. The PMF process identifies peptides – the short chains of amino acids that serve as the building blocks of protein. Each animal family shares a strain of protein markers, which allows chemists to determine whether the sample came from a sheep, goat, cow or member of the great-ape family.
Steal Their Look
If you want to create a macabre book of your own, we have a few cover options you can use to get the look (without the legal and ethical concerns). Goth and macabre styles are certainly having a moment, not just in the month of October. There are two ways to go.
In reality, once human skin is treated and tanned into leather, it is visually indistinguishable from leather made from more socially acceptable animals like cows and pigs. So, if you want a historically accurate cover like this, you really only need to choose one of our Leathertone options to use on the cover. However, if you want a more stylized book – like Book in Hocus Pocus or the Necronomicon in The Evil Dead – you can have some fun with the options.
To start, we'd recommend choosing a padded cover, and use our Chestnut Leathertone material. Then, use an emboss to create the look of stitches on the cover. We'd also recommend getting a grain impressed upon the cover material. Our GR 7 Levant option looks like skin, and GR 9 Caracul looks like fingerprints, while GR 22 Seal has the look of pores and GR 32 Pigskin has a look similar to skin. If you want to go all out, you could divide the cover into sections separated by embossed stitches, then use a different stamp on each section so it looks like it came from different people. Some books that actually used human skin retained relics of the humans they came from. If you wanted to imitate the impression of a face or other body part, you could use an emboss or deboss to achieve the look. For an extra touch, you could add an Overtone Rub on the entire book. With this option, Walsworth employees will hand rub a stain on the cover, which causes the color to get in all the crevices and make the material look more aged.
To Be Clear
To be clear, we do not condone the use of actual human skin as a book cover. The practice was grotesque and fraught with ethical issues. However, it's an interesting practice to look back on and think about during the Halloween season.