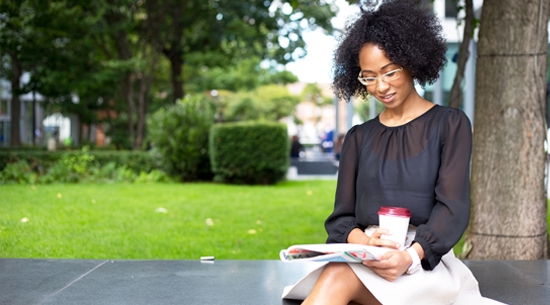 Appeal to Readers' Desire for Privacy with Print
Despite working in an industry that originated in 1439 (or earlier by some counts), here at Walsworth we're certainly not Luddites. We have a robust app-building program and believe that digital and print make for an excellent partnership. We write about it frequently.
However, there are some people who don't want the digital side of things. It turns out, people are worried about their online privacy. That doesn't mean you have to lose them as readers or customers. Make that hesitant attitude work for your organization. Use printed products to get your message in front of your tech-wary readers without compromising their desire to avoid digital tracking.
How many people worry about digital privacy?
According to Pew Research, a lot. Roughly 81% of the public believes the potential risks they face from data collection by companies outweigh the benefits. They feel like they don't have control over how their personal information is used and most people don't understand what the data is used for.
Keep your audience's concerns in mind.
But I need some data.
Obviously, the key pieces of data you'll need for a mailer are name and address. However, it's still possible to provide hesitant recipients with a sense of comfort and control. If you're mailing directly to them, make it clear how you obtained that information. Trade shows are good places to get industry-specific mailing lists. If you're transparent about getting their address from something they remember opting in to, it will come across as less invasive. Plus, it helps when it's a topic they actually have an interest in.
Give them the opportunity to opt in.
Give your readers a break.
One of the beautiful things about print – whether it's a magazine, catalog or book – is that you can just relax and thumb through it without expectation. You don't have to be vigilant about privacy or digital threats, you can take a break and just enjoy. In addition to concerns about privacy, many people – especially millennials – suffer from digital fatigue, making direct mail a particularly refreshing alternative.
Create an oasis for your readers.
But how do I get my numbers?
Good point! One of the reasons we love digital so much is that it's easy to keep tabs on how many people are actually interacting with your content. Unfortunately, there's not good way to get those precise analytics from print.
Find a way to tie in a digital aspect with value. Many catalogs use digital points systems that allow people to opt in. Consider using a code or specific URL that lets you track how many people came there from your printed piece. The key to this strategy is providing a high-value incentive to jump from print to digital.
Provide your audience a place where they can go for more information or personalization if they want it.
People like personalization, right?
Generally, yes. Personalized marketing, also known as one-to-one marketing, has been shown to result in higher open and click-through rates when utilized in emails. That's awesome, just be wary of the creepy factor that happens when personalization is used too much or taken too far.
People trust print.
People still trust print more than any other medium. Their trust in print advertisements exceeds every other type of ad, especially those delivered online. People find traditional print media more trustworthy than social media platforms and digital news outlets. Use this innate trust to put your readers/customers' minds at ease.