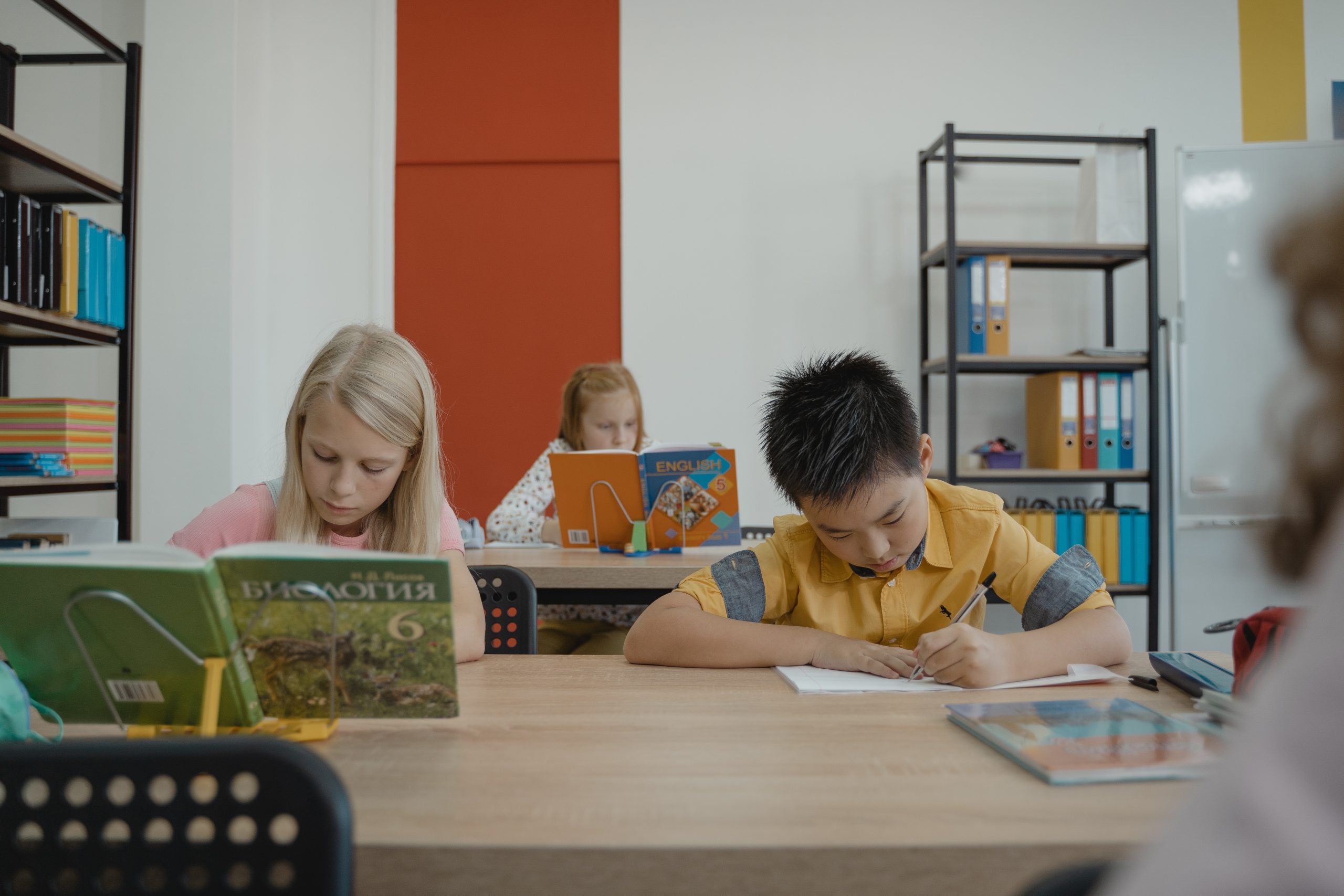 The Educational Book Market: Trends, Growth and Future Outlook
Educational books are a crucial resource in learning. From textbooks to curriculum materials, the educational book market encompasses a wide range of materials. Today, we will delve into the significance of the educational book market, explore recent developments and trends, and provide insights into its future trajectory.
Understanding the Educational Book Market
Educational books are a crucial resource in learning. From textbooks to curriculum materials, the educational book market encompasses a wide range of products. Today, we will delve into the significance of the educational book market, explore recent developments/trends, and provide insights into the future trajectory.
The Educational Book Market Consumer Audience
The educational book market primarily consists of resources designed for use in schools, libraries, homeschool settings and other educational environments. It encompasses textbooks, curriculum materials, assessment tools, teacher's editions and workbooks.
The market is divided into two key segments: K-12 (sometimes called El-Hi) and Higher Education. The K-12 segment focuses on materials tailored for classrooms from Pre-kindergarten through high school. The Higher Education segment focuses on education beyond high school, from college and trade schools on up. 
Manufacturing Standards and Specifications for Textbooks 
Not every printer is set up to cater to the educational book market because of requisite standards for the products as demanded by this market. The Manufacturing Standards and Specifications for Textbooks requires stringent compliance addressing materials, layout and construction which must be met for the product to be deemed acceptable. The standards arose not only out of the environment for the end use of the books, but also out of concern for durability given the typical lifespan of a textbook.
History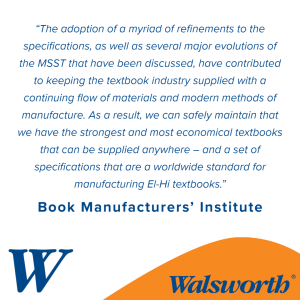 The history of the MSST can be traced back to the 1930s. Colonel E.W. Palmer, who was President of Kingsport Press, started going from state to state, meeting with publishers and state textbook directors to encourage uniform specifications. The Book Manufacturers' Institute revised and approved the first print specifications on Oct. 6, 1939. Those specs were based on what was being used in Texas at the time. BMI worked with the National Association of State Textbook Administrators and the Association of American Publishers to perform tests and develop requirements for K-12 textbooks. The organization shared the impact of decades spent fine-tuning these specifications.
Standards
The MSST is currently maintained by the MSST Committee. It is made up of volunteers from BMI, the State Instructional Materials Review Association and Educational Publishers. BMI provides a 120-page guide to MSST standards on their website. 
Those standards include regulations on things like: 
Types of binding 

Quality of adhesives

What can be printed on the endsheets

Margins

How easily the paper tears

Color of paper (only shades of white)

Tightbacking (the process by which the spine of the book block is affixed to its case with a strong adhesive so it doesn't tear away from the case)

Gauzing (gauzing is a rigorous cheesecloth material that can be penetrated by adhesive and is used to strengthen the construction of the book)
MSST aims to define quality standards for elementary and secondary school textbooks, ensuring longevity and durability. Although MSST does not dictate manufacturing methods, it sets benchmarks to which manufacturers must comply.
Books subject to the MSST guidelines are hardcover textbooks and non-consumable books. Other educational resources like workbooks and teachers' editions are not held to these standards.
Importance of the Educational Book Market
The educational book market holds significant importance due to its role in providing essential learning resources to students and educators. Educational books serve as a fundamental pillar of the education system, enabling effective teaching and learning experiences. It's also a huge subset of the overall book market, whether measured by revenue/spend or units produced. 
How It's Going
According to the Association of American Publishers, overall book publishing revenues reached an all-time high of $29.3 billion in 2021. El-Hi and Higher Education were a significant segment of the overall market. 
The El-Hi category revenue increased 25.3%, from $3.8 billion in 2020 to $4.8 billion in 2021. This notable increase was likely driven by students' return to in-classroom learning following the COVID shutdowns of 2020. 

Higher Education revenue grew 2.8%, from $3.1 billion in 2020 to $3.2 billion in 2021.

The pre-COVID numbers from 2019 were also promising, with El-Hi education revenue at $4.4 billion, a 30.7% increase over 2018. Higher education hadn't been performing quite as well. The 2019 revenue was $3.3 billion, down 10.3% from 2018. 
Those two categories combined made up a whopping 29.5% in 2019 and 27.4% of revenue for the entire book industry in 2021.
Consumer expenditure on educational books in the United States first surpassed the $10 billion mark in 2016. It stayed fairly steady for several years, then jumped to $12.8 billion in 2021, up from $10.4 billion the previous year.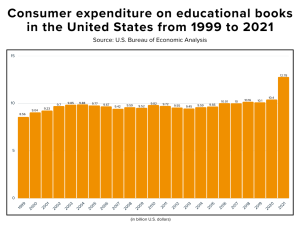 Disruptions
The educational book market is witnessing significant changes, driven by advancements in technology and evolving consumer preferences. The digital education publishing market in the United States is experiencing substantial growth, projected to have a compound annual growth rate (CAGR) of 15.9% from 2020 to 2025. "The State of eBooks in Academic Libraries: 2022," which surveyed 261 people about the collections of their academic libraries, found that 84.6% of survey respondents include eBooks and digital audiobooks in their collections. Roughly 90% reported having added new digital resources to their library in the past two years. 
Audiobooks have had a growing impact on educational books. According to IBISWorld's Industry Report from April 2022, "some classrooms have turned to audiobooks, not to entirely replace traditional books, but to serve as an aid for kids who are still learning how to read as it can help them understand how words are supposed to sound and also engage them more with the reading." Audiobooks have been growing in the general book market. They made up 8% of sales in 2020, increased to 10.4% in 2021, and again to 11.3% of sales in 2022. According to OverDrive, audiobooks account for 13% of digital book formats consumed on their classroom-focused Sora app. 
Another potential disruptor in the higher education book market is open-source educational content. Open Education Resource platforms are still a small movement, but BMI's 2022 Trends in Book Manufacturing reports OER has had some recent successes. John McMurry, author of the best-selling McMurry Organic Chemistry text, recently deeded the rights of his textbook to OpenStax. OER platforms work by offering open-source materials, like textbooks, free online. Oftentimes, they'll also provide the option to purchase a physical copy at a price significantly lower than traditional textbook sales price points. 
Even with the rise of digital resources, print remains a significant part of the educational book market. Repeated studies show print is more effective for learning and retention. Data technology company Broadband Now reports that 42 million Americans don't have access to broadband internet, meaning digital content can't reach the entire audience, while a physical book can reach everyone.
Evolving Trends and Future Outlook
Educational book publishers are embracing digital printing. Digital print – as opposed to offset printing – lends itself to shorter book runs. The higher education book market has the potential to make the most of this method with customized textbooks. IBISWorld wrote, "given that the majority of college and university professors have authority over curriculum and modify it regularly between semesters, publishers could provide customization options that could not only help educators tailor textbooks to courses but also limit the secondary market," which includes textbook rental and resale. 
Another boon to the educational book market is the increase in college enrollment, which IBISWorld wrote is expected to increase at an annualized rate of 0.2%. More college students means more demand for higher education textbooks and supporting material. 
As for the El-Hi educational book market, there's good news there, too. Public funding is expected to grow over the next several years. A bigger budget means districts are able to purchase more needed textbooks for their students.
Conclusion
The educational book market continues to thrive as a crucial component of the education system. With the advent of digital technologies and the emergence of alternative content sources, the market is evolving rapidly. Publishers are adapting to these changes by incorporating digital solutions and exploring new business models. As we move forward, the educational book market is poised for further growth and transformation, enabling students and educators to access high-quality learning resources in various formats. As for print, we know it will stick around, and publishers will find new ways for print and digital to work in tandem. 
Let's Talk
Want to know more about how Walsworth can help you serve the educational book market? Let's talk!