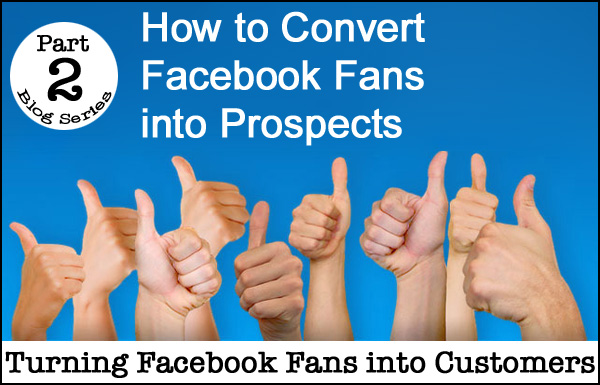 How to Convert Facebook Fans into Prospects
Special Announcement: This is the second post in the four-part series How to Create Successful Facebook Ad Campaigns – tips, techniques and strategies to grow your business with Facebook. To read all of the posts in this series, click here.
A Quick Review
Last week the power of Facebook marketing was revealed: Don't sell directly on Facebook; but use Facebook as a way to attract the right people – the right prospects – to your product or service so they can better understand the value you provide.
This strategy is accomplished by offering something for free – a giveaway so relevant, desirable and value-packed that it will hard for someone to resist it such as an eBook, a recorded webinar or an invitation to a live event.
After deciding on your free giveaway, the next step is to have the right tools in place so you can convert Facebook Fans into prospects.
Understanding Prospect Conversion Workflow
Before picking up the first tool, the best place to start is to understand the conversion workflow – meaning how a Facebook user becomes your prospect. Here's how it works:
Step One: Create the free giveaway offer
Step Two: Build a landing page that features the giveaway along with the ability for the visitor to submit their name and email address to receive the giveaway.
Step Three: Write a series of emails to send to the people who visited the landing page.
Step Four: Create a Facebook Ad, which takes the person from Facebook to your landing page (creating a Facebook ad is the topic for the next post in this series!)
Step Five: Measure results.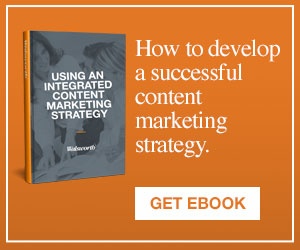 What Makes a Good Landing Page?
A landing page is designed to capture your visitors' attention by providing information specific to their needs – like your free giveaway offer. Unlike your home page, where the purpose is to inform, the primary goal of a landing page is to convert site visitors into prospects and then to customers, members or subscribers.
Question: So, what makes a good landing page? Answer: One that makes visitors want to learn more about your free giveaway, product or service and, hopefully, provide their name and email so you have the opportunity to keep in touch.
Here are the essentials to follow when creating a landing page:
Remember the basics. Include an information request form on the page that visitors can use to submit their name and contact information, enabling you to follow up with them.
Make sure your headline is interesting and compelling. It's just a few words, but your title is what grabs a reader's interest from the moment they land on your site. It should make visitors want to read more, so make it concise yet snappy.
Make it scannable. Let's face it: most people today want what they want, and they want it fast. Ensure them your site and its content are interesting by sprinkling your copy with subheads using a series of tags of varying sizes to divide copy into an outline-like form.
Include only high-quality, on-topic content. Cut out the fluff and stay focused. Keep keyword use natural and don't just churn out inferior copy to keep your site "updated." Make sure the content hits on all the pain points that will demonstrate how receiving the free giveaway will help the visitor in some meaningful way.
Make it easy to share and socialize. Include links to all the social sites in which you participate. Not only does this step aid in SEO, it also makes it easy for your visitors to share with their friends, family and colleagues so you can expand your reach without lifting a virtual finger.
Need some landing page design inspiration? Click here to see 15 great landing page examples.
Automated Email Follow-Up
By creating an email automation workflow, provided by a solutions provider such as MailChimp, you have the ability to stay connected with your prospects. After visiting your landing page and submitting their name and email address, you can now put the prospect into your email automation workflow, which is a series of emails sent in two- or three-day intervals:
Email #1
Thank the person for visiting your landing page or website.
Provide the free giveaway offer, which can be a link to a PDF, online video, etc.
Announce the paid service, product or program – let them know what it is and how to get it.
Create a sense of urgency by offering a special price for a limited time.
Email #2
Answer frequently asked questions about your paid service, product or program, which is a good way to talk about the value of what you're selling and handling common objections.
Remind your prospect about the deadline to receive the special price
Provide a customer testimonial
Email #3
Inform your prospect that now is the time to act
Provide a bonus for acting now
Putting It All Together
Now that you have decided on your free giveaway offer, created a landing page as a way for people to request your offer, and have an automated email series ready to go that will help convert the prospects into customers, you are ready to create your first Facebook ad.
This is an four-part roll-up-your-sleeves-and-get-ready-to learn-series. Each how-to post is intended to give you specific actions so you can use Facebook to grow your business beginning today. Here's what you can expect to learn over the next several weeks.
Need Facebook Marketing training right now? Please contact us to schedule a free consultation.