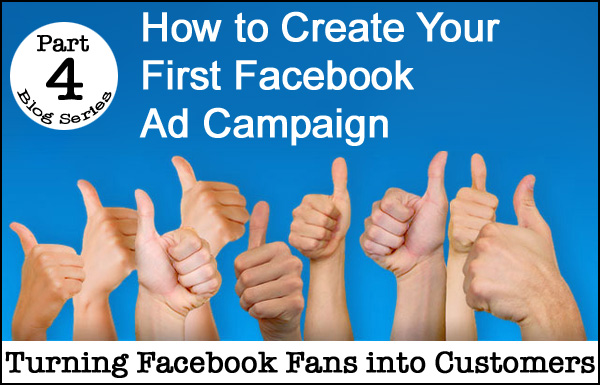 How to Create Your First Facebook Ad Campaign
Special Announcement: This is the fourth post in the four-part series How to Create Successful Facebook Ad Campaigns – tips, techniques and strategies to grow your business with Facebook. To read all of the posts in this series, click here.
A Quick Review
In this series you've learned how to create your first Facebook ad; how to come up with a can't-miss free giveaway offer and how to convert Facebook fans who want this offer into prospects. Now it's time to create your first Facebook ad campaign.
Let's good started…
Use Facebook's Power Editor
Facebook's Google Chrome®-based plug-in is recommended for business users because it offers more advantages than the regular Ads Manager. To access Power Editor, point your Google Chrome browser to: https://www.facebook.com/ads/manage/powereditor/
Here are three reasons why Power Editor is the preferred Facebook ad management tool:
It offers better control for targeting the right audience for your business.
Power Editor gives you more control with ad bidding.
It provides more options for ad placement.
Facebook Campaigns
Campaigns help you organize and measure your Facebook ads. Campaigns also help you leverage Facebook advertising by:
Creating separate advertising objectives for separate campaigns and then measuring those results against each other to see which objective works best for your business or offer.

For example, you could create three separate campaigns with a different objective for each one. After the campaigns run, you can compare the results from the different objectives and determine which one is best. Objectives include:
Page Post Engagement
Page Likes
Clicks to Website
Website Conversions
App Installs
App Engagement
Event Responses
Offer Claims
Video Views
Creating different ads for different audience types so you can determine which audience is the most responsive to your offer, service or product. The three most common audience types are Demographic Audiences, Custom Audiences and Lookalike Audiences.
Demographic Audiences is one you define by location, gender, age, interest and behaviors.
Custom Audiences is an audience you can define by using customer email addresses or telephone numbers.
Lookalike Audiences is an audience that has the same attributes as your custom audiences – meaning it's an audience that looks like your best customers.
Testing ads to identify which ads perform best. You can test different images, text, links, videos and CTAs (call to actions).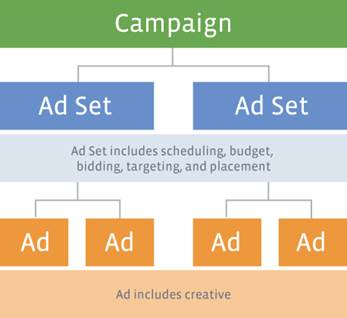 There are three components to a Facebook campaign (see the above image):
Campaign. Choose an objective (refer to the list of objectives above), which is what you want to accomplish. For example: Do you want to drive traffic to your traffic, or do you want to promote a video? Be sure each campaign has a unique, but relevant name.
Ad Set. Choose when you want the ad(s) to run, how much you want to spend, define audience targeting and placement (news feed, sidebar or mobile).
Ad. Choose what people will see. This includes images, videos, text, links and CTAs (calls to action).
Check out this video for more help on how to create a successful Facebook Campaign.
Campaign Checklist
Do this first
Determine an objective for your campaign. Do you want web traffic, leads or event registrations?
Set up your Campaign
Name your campaign
Choose your objective
Create your Ad Sets
Set your Ads
Be sure to select the Create Ad ("+") button
Name your ad
Select the Facebook Page associated with your business
Enable conversion tracking (look for more details in part 6 of this series)
Choose your placement (News Feed is recommended for optimal exposure)
Select your audience
What locations do you want to target?
What ages and gender do you want to target?
Determine your pricing
Decide if you want to use Facebook CPC (cost per click), CRM (cost per 1,000 impressions) or Optimize CPM (recommended).
Upload your campaign
Be sure to select "Upload Changes" so Facebook can approve and show your campaign.
This is an four-part roll-up-your-sleeves-and-get-ready-to learn-series. Each how-to post is intended to give you specific actions so you can use Facebook to grow your business beginning today. Here's what you can expect to learn over the next several weeks.
Need Facebook Marketing training right now? Please contact us to schedule a free consultation.